If a development plan goes forward, a new Kwik Trip gas station/convenience store on Janesville's northeast side will be just a "Kwik" jaunt across a parking lot from another Kwik Trip.
Kwik Trip plans by 2021 to break ground on a new store west of Target along Humes Road. That location is about a quarter-mile from an existing Kwik Trip at 3359 Milton Ave.
Under a plan announced this week at a Janesville Plan Commission meeting, Kwik Trip will build the new store at Humes Road and Bell Street on a lot between Target and the Hesser Toyota dealership.
Kwik Trip said the design will follow the company's "generation-III" concept for new Midwestern stores: a larger format that includes a fresh market along with a gas station and car wash.
Seth Waddell, a project manager for Kwik Trip, said the company intends to run both the new store and the existing Milton Avenue store. The two will be close enough that one will be visible to the other from across Target's parking lot.
Waddell said their proximity is part of a strategy to capture more consumer traffic along the busy Humes Road-Milton Avenue commercial corridor.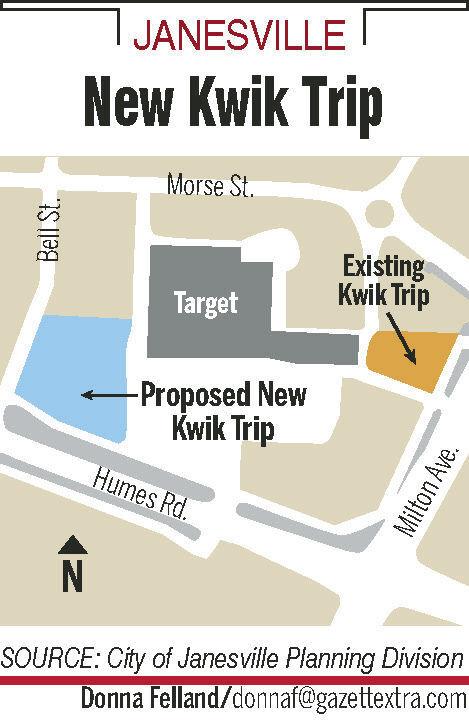 The two roads have a combined traffic count of 48,000 vehicles a day, according to state Department of Transportation data. That's roughly equal to daily traffic counts on Interstate 90/39's run through Janesville.
Kwik Trip believes that having a second store there will capture more traffic in an area poised for residential growth, Waddell said.
"The business strategy is not much different than airports in being designed to capture flow," he said. "You go down the road (on Humes Road) to the neighborhoods on that northwest side, and you see up-and-coming development. You see a lot more people living out that way, and we wanted to look into that."
The new store will be Kwik Trip's fifth store in Janesville. The company has made headlines for aggressive growth linked, in part, to its forays into fresh, cooked and prepackaged foods.
Waddell said the proposed Humes Road site is better suited than the existing location to accommodate "constant" truck deliveries of retail goods, which makes it viable for a larger-format store, including a car wash.
The plan commission will consider a conditional-use permit request for the new Kwik Trip on June 15, but Waddell said the company likely won't break ground until next year.
Waddell said the Milton Avenue Kwik Trip is one of the company's busiest stores in Janesville because of its location on a commuter route and proximity to an Interstate-90/39 interchange.
"The (Milton Avenue) store is a great site, and Kwik Trip has no plan in closing down there," Waddell said. "We plan to operate both at the same time, and one of the main things would be to relieve some of the pressure from that existing store.
"That's a very, very heavy intersection and very populated with a lot of great businesses. Pulling some of the business from the Milton Avenue store to a brand-new store is kind of our goal here."