When James Churchill sees snowfalls like the kind Rock County's had this winter, it makes him glad his trucking company no longer plows parking lots, side streets and driveways.
But his company, Churchill & Sons Trucking, is still in the winter game.
They're the guys you only see when snowfall after snowfall has been plowed and raked in piles so high they begin to obscure large buildings and makes local parking lots start to look like the snow fjords of Rock County.
It's then when Churchill's trucking crews—one of several local contractors who handle snow removal—show up.
It's a feat that's different from the fleets of city trucks and pickups that are seen plowing snow and pushing it into piles during and right after snowfalls.
During some especially snowy winters, Churchill's company tackles the job of scooping up those huge snow piles and loading them into trucks. It takes gravel trucks with plastic-lined beds and workers who are handy moving big end loader tractors around the often tight quarters of small parking lots.
This winter, the nearly 35 inches of snowfall Janesville has seen since December ranks in the top 10 snowfalls in recent record. And very little of it has melted so far.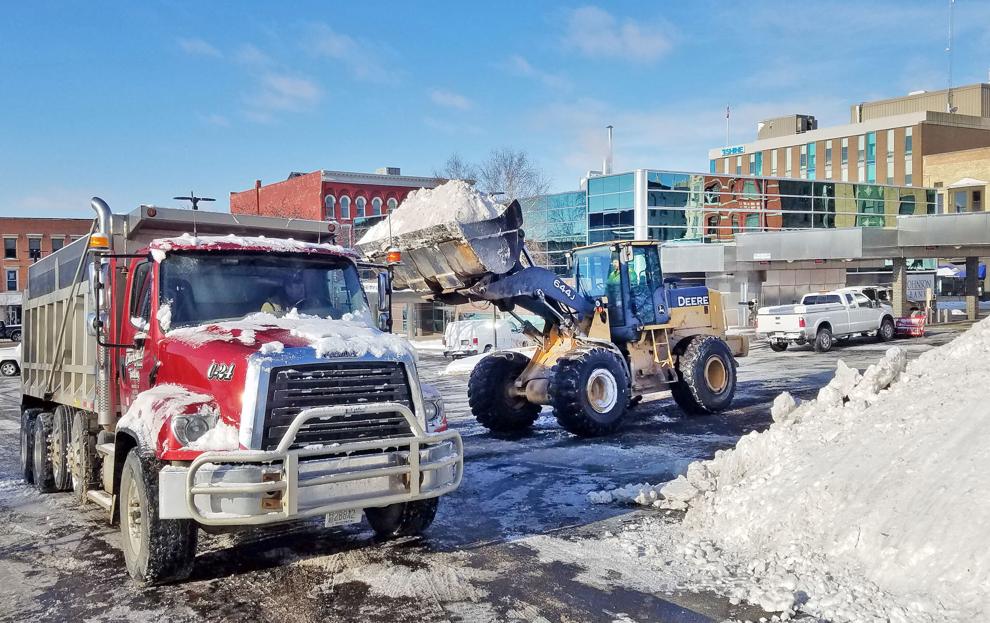 That's made the accumulated snow piles Churchill's crews have come up against more formidable than normal. Some piles have become 15-foot monsters.
Some of those hills of white have partially frozen under their own weight and melt, only to be added to in girth and height by another deluge of several inches of snow that plow truck drivers scrape up and add on top while they're tackling their own, seemingly never-ending job this winter.
Late last week, Churchill's snow-removal team was mostly caught up with contracts it has with local businesses.
He was glad for that as he watched big snowdrifts shift in the wind like desert sands in the farm fields outside his family's rural home Friday afternoon.
His drivers are balancing their work on snow patrol with another seemingly endless job—hauling loads of road salt on trips that this year have taken Churchill's crews to load up in ports in Chicago and Milwaukee.
"I'm really hoping that's a quiet week coming up with very little new snow. Because when there's 20-below weather coming in, well, let's just say that I want to be all caught up with this," Churchill said.
Churchill said this winter has been a memorable one for snow, both because of the volume and the fact it's all come in just a matter of four or five weeks.
The last winter that's brought such a demand for snow removal work was 2011—a winter that packed an 18-inch snowfall in a single 24-hour period in early February.
In one big industrial lot Churchill's snow crew tackled recently, the angular, 22-acre Morgan Corp. property off Highway 26 on the city's far north end, it took the better part of two days and dozens of truckloads to clear the mountains of snow.
On a job like that, Churchill's team has to break out a big gun: an 824K end loader with a 7-cubic-yard bucket normally used for scooping huge piles of gravel in a quarry.
Churchill said his company's regular gravel dump trucks work fine to load out snow to other locations that are out of the way of local businesses. Actually, he said, there's no snow he's encountered that's heavy enough to bog down a gravel truck.
But in the past, Churchill said he's tangled with some jobs that pit several snow removal contractors at once against snows that cover huge, industrial lots that dominate big parts of the city's south side.
Janesville's General Motors plant is one job that stands out in Churchill's mind. When the plant was still in operation, big snowfalls would heap across the massive lots and need to be plowed. That would generate piles nearly four stories tall, Churchill said.
"It was nothing for us to work down there at GM, hauling snow right around the clock for three and four days. I mean, it'd be our trucks, their trucks, farm trucks. Everybody's trucks would haul all that down there. Snow piles 30 feet or 35 feet high," Churchill said.
To Churchill, the child's winter game of "king of the hill" doesn't seem as popular as it once did. He doesn't as often see children plying big winter snow piles raked up in commercial lots near residential neighborhoods.
But in the 1970s and 1980s, Churchill said he would often come across snow piles he was hired to remove to find networks of tunnels children had dug to make snow forts. Back then, he got in a habit of circling around the hills beforehand to make sure no kids were around.
"That was a big worry that you always had to check on," he said.
This winter has brought an unusual windfall in snow removal work; it's one contractors like Churchill can't count on every year. Many years, it simply doesn't snow enough or stick around long enough to create the same demand for removal.
This winter's snow has been something of a godsend, though, as Churchill's company has battled through the economic vagaries of the COVID-19 pandemic alongside so many other businesses.
"It's been good to have this work. It's been a good extra moneymaker this time. I think of it as just like putting the whipped cream and the cherry on top of the ice cream," Churchill said.
Indeed. And as ice cream goes, it's been a very, very large pile.