A demolition crew on Wednesday was tearing down the former Perkins restaurant at the center of Janesville's busy Highways 26/14 retail corridor.
Jeff Woodman, who owns the property and an adjacent retail strip mall along Highway 14, said he's holding onto the former Perkins property, which when cleared will be home to a new chain restaurant.
Woodman said his local real estate holding and development company, the Marwood Corporation, is now working with a well-known, "national chain restaurant" company that wants to build a new restaurant building at 3315 Milton Ave.
"It's out with the old and in with the new," Woodman said Wednesday afternoon as he watched a local demolition crew operating a backhoe.
On Wednesday, Woodman said he was unable to give the name of the coming restaurant chain. But like the former Perkins, he said the new restaurant would be a casual, "sit-down" restaurant.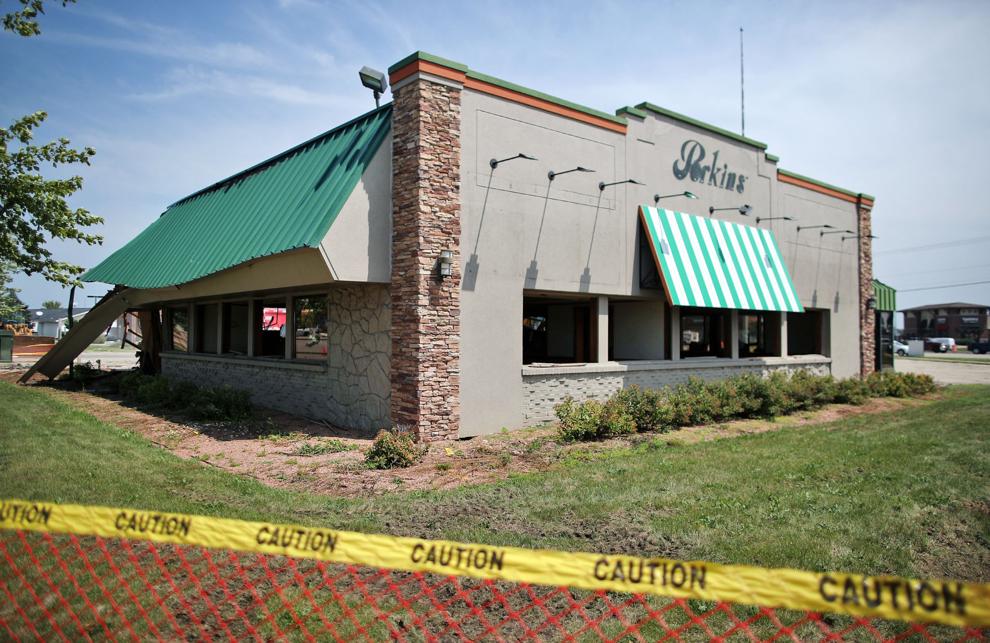 The former Perkins closed in August 2019, part of a bankruptcy restructuring move by Perkins' ownership that included closing all Perkins' corporate restaurants. The Janesville Perkins originally opened in 1979.
The spur of Highway 14 and Highway 26 over the last several months has seen the loss of a few restaurants linked to shifting dining trends during the COVID-19 pandemic. But along the same spur, about a quarter mile to the east, Kwik Trip this summer opened a new, 9,000-square-foot store.
Woodman's family sold that lot, located at 1919 Humes Road, for $1.7 million in 2019.
Woodman's family has for several generations owned the former Perkins property and adjacent land along Highway 14 that now houses a strip mall and a Target store. Woodman said he grew up on the Perkins land when it was still home to a family dairy farm.
Woodman said he and Marwood's three other partners sought to continue owning the land after the Perkins closed. In May, Woodman auctioned all the restaurant's equipment.
Since Perkins closed, Woodman said the property has drawn "significant" interest from multiple restaurant chains, including Portillo's and Chick-fil-A, but he said both of those corporations sought to buy the property outright.
Marwood marketed the property to local restaurant operators in case any sought a move to the busy retail corner. The intersection, which draws heavy traffic off of two Interstate 90/39 interchanges nearby, sees a volume of about 52,000 vehicles a day, according to state traffic data.
Woodman said he's seen data that shows the one-mile surrounding retail corridor typically draws about 50 percent of all retail spending in Rock County.
Woodman said he's still in negotiating a development deal with the unnamed restaurant and making construction arrangements. Woodman said in past developments in Janesville, he's often insisted on local contracting and supply of materials, plus local union labor, in his deals.
"I make it clear that Janesville still is a (labor) union town," Woodman said.