As Catherine Moore carefully finished President Joe Biden's portrait, she perfected the subtle shadows around his eyes and the lines flowing from his lips.
Then she sent the original color drawing of America's 46th president to The Washington Post.
On Jan. 20, the newspaper printed the portrait on a full page in its special inaugural edition.
For Moore, the presidential portrait, which she drew from photos, was a milestone.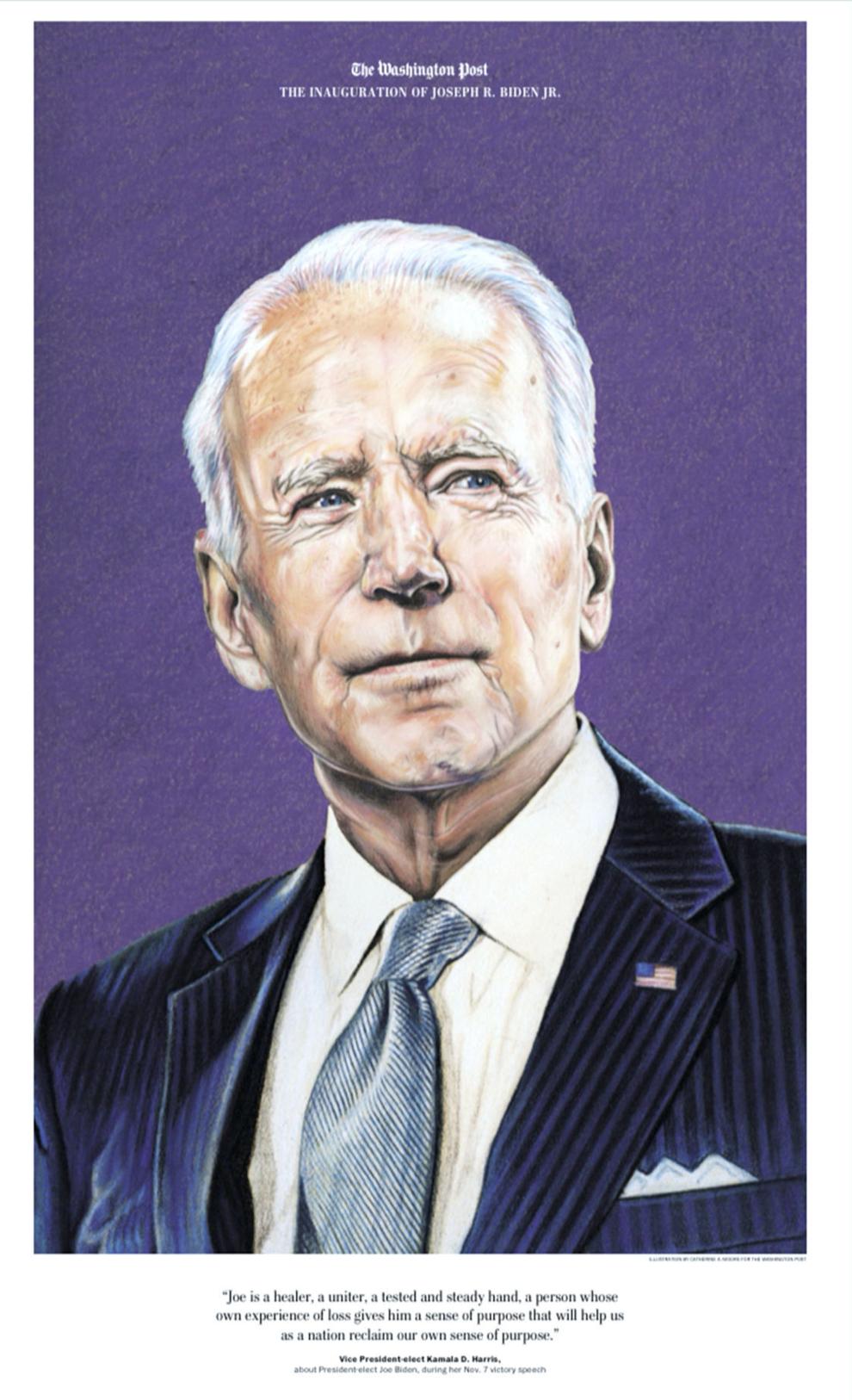 The former Janesville resident is a 2003 graduate of Craig High School and teaches art full time at a college outside Atlanta.
She also is a nationally recognized freelance illustrator whose clients include The Washington Post, Ralph Lauren and Men's Health Magazine.
In 2016, she sketched a graphite drawing of the Statue of Liberty with a clenched fist in protest. She made postcards of the image and mailed them to art directors at newspapers, magazines and design agencies.
The piece made a lasting impression.
Chris Rukan, art director at The Washington Post, contacted Moore two years later when Justice Anthony Kennedy retired. He asked Moore to complete a graphite portrait of him, which the newspaper used on a full page.
"After that, other art directors from The Post started reaching out to me," Moore said.
Eventually, she also created a portrait of Duke men's basketball coach Mike Krzyzewski for publication in the newspaper, which has a large national audience.
In late October, The Washington Post contacted Moore to ask if she would create a portrait of Biden. She agreed.
Days earlier, the newspaper had asked if she would draw a portrait of former President Donald Trump. She declined.
"I didn't do Trump because it sounded awful," Moore said. "I thought it would be very inconsistent to my past work and probably damaging to what I wanted to build in a portfolio."
The newspaper wanted portraits of both men because editors did not know which one would win the November election.
A lot of Moore's art depends on finding good photos from which to work.
In Biden's case, The Post supplied her with a series of photos taken by Post photographers and photos the newspaper owns.
"Any portrait ends up being a combination of numerous references," Moore said. "It is a lot easier when I have art directors who own the rights to lots of photos of high quality, and they are easy to draw from."
In the Biden portrait, Moore drew his navy blue suit first. Then she worked on his face.
"There are subtle micro- expressions that will make it work or not work," she said. "A portrait needs to be more than a likeness. It needs to capture something about the person."
Moore slept on it before submitting the final version to the newspaper.
"When I finished, I felt good about it," she said. "I knew I had done my best work for the job. I was able to get to a higher level of detail than in some of my portraits."
In Biden's portrait, "he shows a look of determination and humbleness, which is something I think everyone needs to see in a leader now," Moore said. "The gaze to his side is looking forward to something. All rolled together, this is more than a portrait. It is a metaphor for future leadership."
The presidential portrait is important to Moore.
But another great moment in her career involved her portrait of former President Jimmy Carter.
A friend of hers who is a professional photographer took a photo of Carter. Moore got permission to use the photo as a reference while creating a portrait of Carter.
When Moore finished the drawing, a friend presented it to the former president.
Today, the portrait is on display at the Jimmy Carter Presidential Library and Museum in Atlanta.
Moore also has finished life-like portraits of late Georgia Rep. John Lewis and Stacey Abrams, who served in the Georgia House of Representatives for a decade.
She is proud of her portfolio, which includes both graphite and pastel-and- colored pencil drawings.
Moore is interested in turning her talent to books.
"Book illustrations have more staying power," Moore said. "I want to make work that is still meaningful and is published more than once."
Teaching allows her to be choosy about assignments.
"I have the ability to turn down requests I don't want to do, so I can keep my integrity as an illustrator," Moore said. "I make less work, but I make better work. That is really important to me."
Anna Marie Lux is a human interest columnist for The Gazette. Call her with ideas or comments at 608-755-8264, or email amarielux@gazettextra.com.