It has been 20 years, but the wounds of the Sept. 11 terror attacks are still with us, as is the need to fight terrorism, said speakers at Janesville's 9/11 memorial ceremony Saturday.
Everyday Americans, they said, have a role in dressing the wounds and addressing the threats.
Janesville City Manager Mark Freitag, who was in the Army in Louisiana on 9/11, thanked the 150 or so people who attended the memorial in Firehouse Park, where a 9/11 monument was erected in 2012.
"Terrorists attacked our nation. They attacked our Constitution, they attacked our way of life, and they attacked each one of us as Americans," Freitag said.
Freitag noted the attacks changed the ways authorities keep people safe, from airports to sports arenas.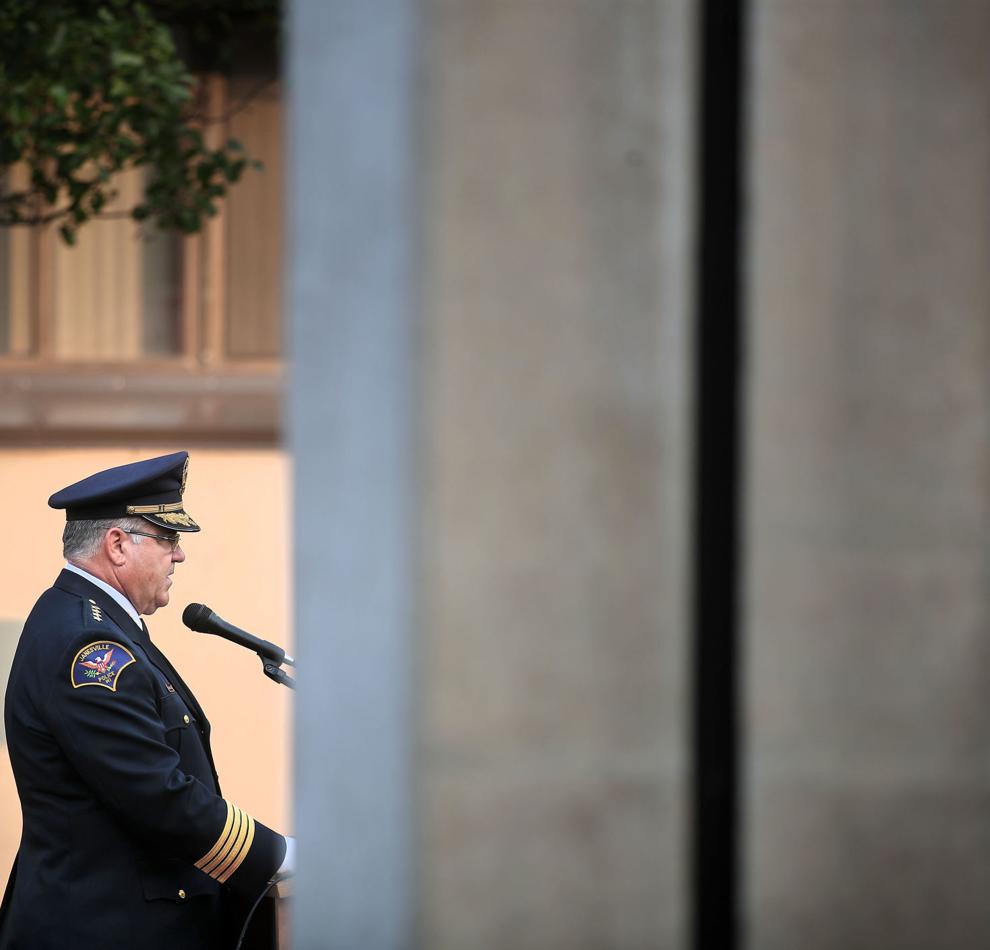 "We've also embraced this new mantra of 'See something, say something,' and that is, we have to be vigilant," Freitag said. We have to be aware of our surroundings, and if something doesn't look right, we need to be suspicious and we need to report it to authorities. …
"But those attacks did not change who we are as Americans—brave, patriotic, compassionate—and I pray that they never will," Freitag said. "That American spirit rose to the occasion. In the following weeks, months and years, thousands more died fighting the global war on terror beyond American soil. Recently the war in Afghanistan has officially ended. Folks, I will tell you that our war against terrorism has not. And anybody who believes differently, I would offer, is kidding themselves.
"Terrorism is rooted in evil, and this is a sin-filled world," Freitag continued. "We cannot concede to terrorism, and we will not let it tear our nation down.
"I call on all Americans … to put "united" back in United States," Freitag said. "I encourage everybody to work toward common good with courage, common sense and collaboration. We can honor those that died on Sept. 11, 2001, and those that have died since by becoming better and making this nation a better nation today than it was 20 years ago.
"We need to embrace our diversity and recognize that our differences make us strong," Freitag said. "We are the great melting pot, for through our freedom, our prosperity and our culture, we defeat the broken, misguided and evil actions of immoral, barbaric and murderous terrorists worldwide."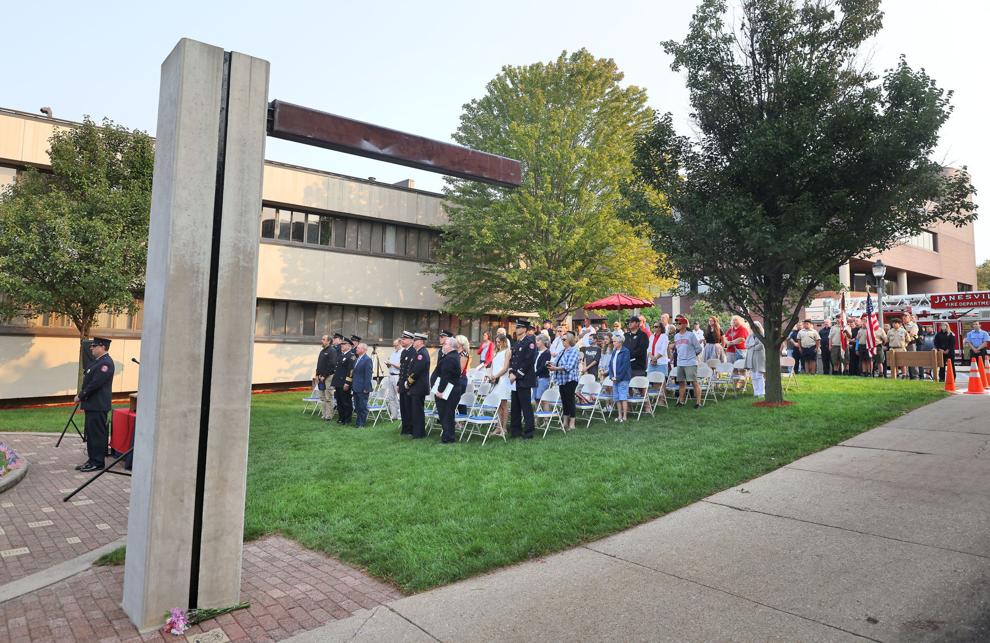 Janesville Police Chief Dave Moore said "America let its guard down" before 9/11 and that security and intelligence gathering are much better now because of improvements made since then.
"The American way of life and our significant freedoms offer significant challenges to law enforcement," Moore said. "We all want to enjoy our uninterrupted freedom. We also demand to be safe. These two rival interests are forever interconnected. So today we stand in the shadow of this monument. We reaffirm our honor to those that have passed. We affirm our respect for freedom, and we reaffirm our promise to be vigilant to indications of terrorism."
Janesville Interim Fire Chief Jim Ponkauskus said the story of 9/11 must be passed to the new generation. Only 18 of the city's 95 sworn firefighters were with the department 20 years ago, he said.
Ponkauskus pointed to one lesson of that day: the fragility of our lives. He quoted New York Fire Department EMS Chief Lillian Bonsignore: "Your today can end today, and what you have today you may not have tomorrow. You should spend every day just remembering that. And the people you have and the memories you have with those people can come to abrupt ending."
Janesville police chaplain Jason Benjestorf asked God to comfort the survivors and dispel their anxiety and nightmares.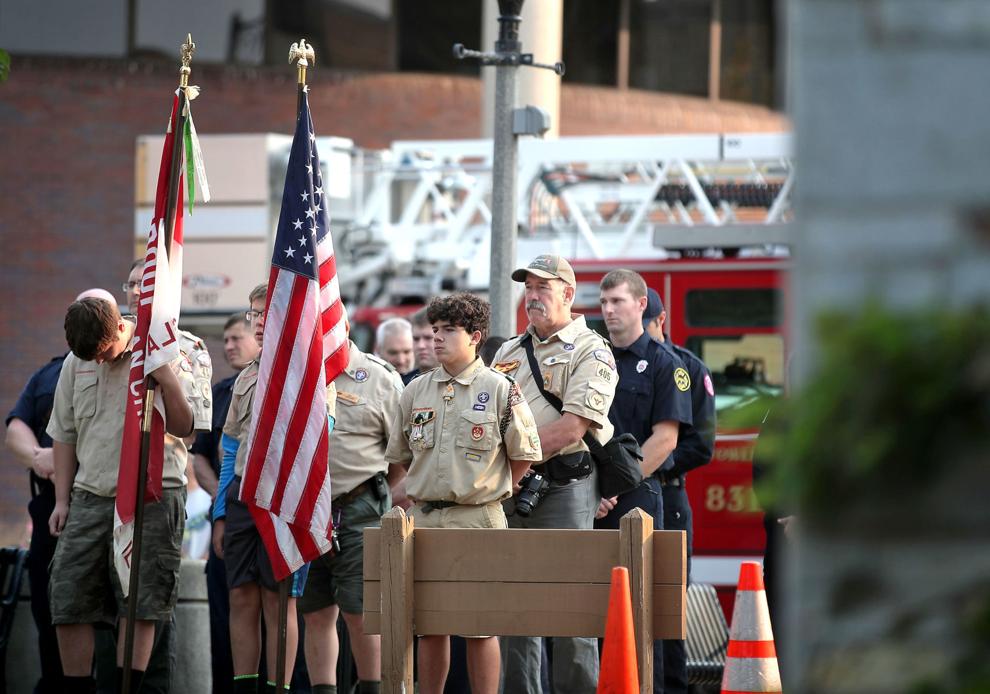 "May our suffering from these attacks awaken in us an awareness of the pain and fear that so many around the world live with each day," Benjestorf said. "May we know how to pray for those who struggle against oppression and injustice. Heal the wounded of these attacks and help their family and friends rest in your security.
"Guide the choices of our world leaders. Give them wisdom and discernment not only as they work to resolve the lasting effects of 9/11 but also as they try to alleviate terror of all sorts. From genocide to hunger, from drought to bombings, may their actions bring your peace to all the people of the world," Benjestorf said.
Boy Scouts from First Lutheran Church were there to support the organizers, Fire Fighters Local 580, as they have done for 10 years, said Scout Leader Rick Elliott.
The Scouts planted 343 small American flags in the grass, symbolizing the firefighters who died while responding on Sept. 11, 2001.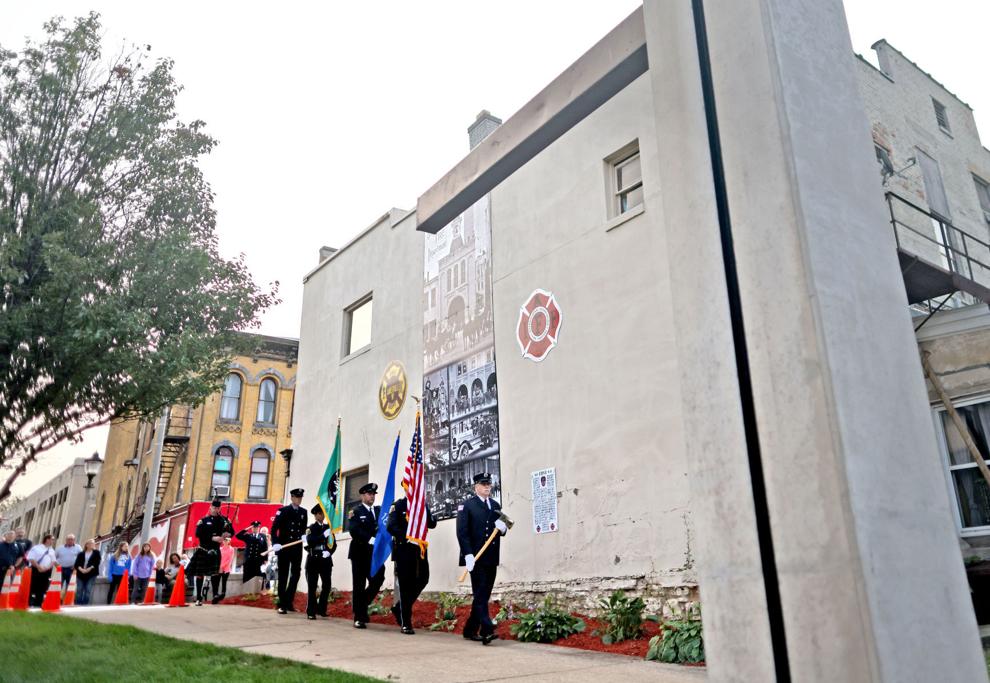 The boys weren't born when the attacks happened, Elliott noted, so the activity made recognizing 9/11 special for them.
"9/11 is for all the heroes that went there and saved other people's lives, and a lot of people died during that, which is really sad," scout Dylan Fowler said.
"All those people were heroes, who went in the buildings and saved lives," scout Alex Snook said. "It means a lot because a lot of people died just for being human. They didn't do nothing wrong. So it's very important to me to learn about it."