One of the things that drew Patti Viertel to her future husband was his kiss.
Joe and Patti had known each other for years. Joe's older brother Claire married her older sister Sally. They saw each other at many family functions and at dances where Joe's father played concertina in a band.
"Joe was not only the best kisser in the world, but the best dancer, too," Patti recalled.
"I guess he set off the fireworks when he kissed me. He was an artistic man, and there must have been something artistic in his smooching."
When he proposed, she didn't hesitate.
They were together 44 years before she kissed him for the last time. It was the night of Sept. 21.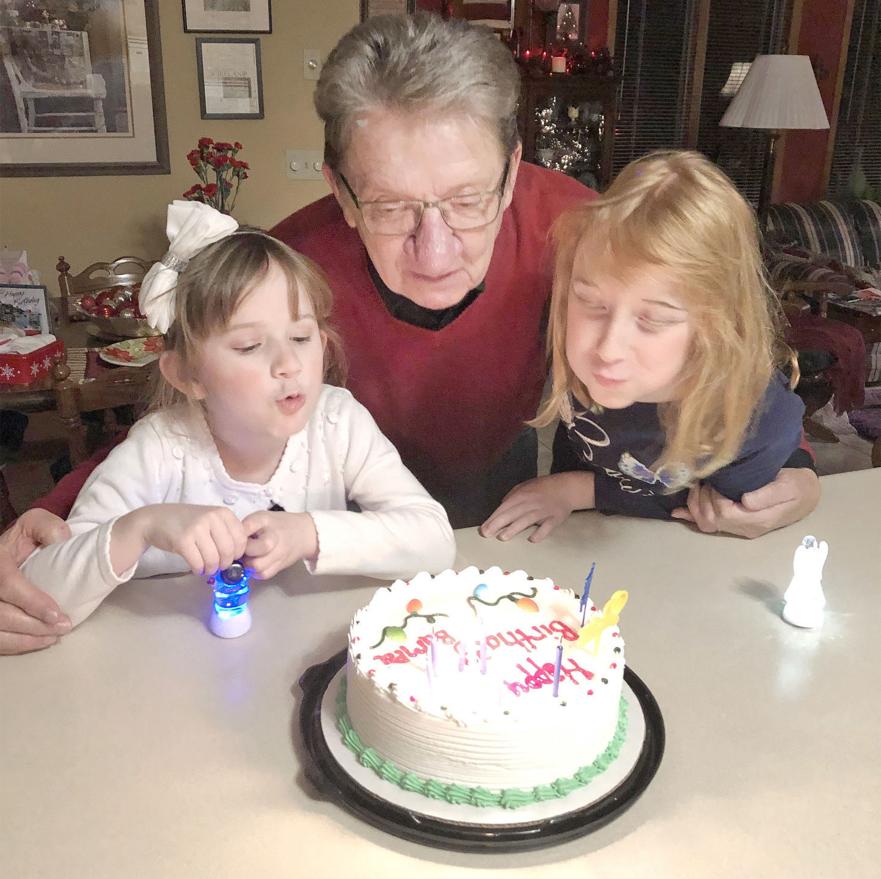 They had both been extremely tired and were sleeping long hours over the weekend. That Monday night, she kissed him on the forehead.
He was burning up. The retired nurse knew something was wrong. She took his temperature: 103.
"I knew immediately when I kissed him that this was dreadful," Patti said. "Most people don't do well with high temperatures. It's not something you want an elderly person to get.
"I couldn't get him in the car fast enough," she said, regretting now that she hadn't connected their sleepiness to COVID-19.
"I don't recall fatigue was a big thing to watch for," she said.
Patti got a call the next day, saying one healthy family member could visit Joe. Patti, who always expected Joe to get better and come home, offered the visit to their only child, Jess Rinehart.
Doctors had diagnosed pneumonia, Rinehart said, but something made her go: "It was almost like I knew it was the last time I was going to see him. … I had this intense, gut feeling I needed to go."
She went on her lunch break. As she was helping her dad with his lunch, a nurse came to the room: "Oh, honey, you have to go. His test switched to positive."
Positive for COVID-19, that is.
Rinehart kissed him on the forehead and left. Neither she nor Patti would see him again.
Joe's condition worsened. He was taken to SSM Health St. Mary's in Madison that Friday. Eventually, he was on a ventilator, then he seemed to improve, said Patti, who kept in touch by phone.
Patti would test positive, too, but her symptoms were mild. They had been careful, so she doesn't know where they got it.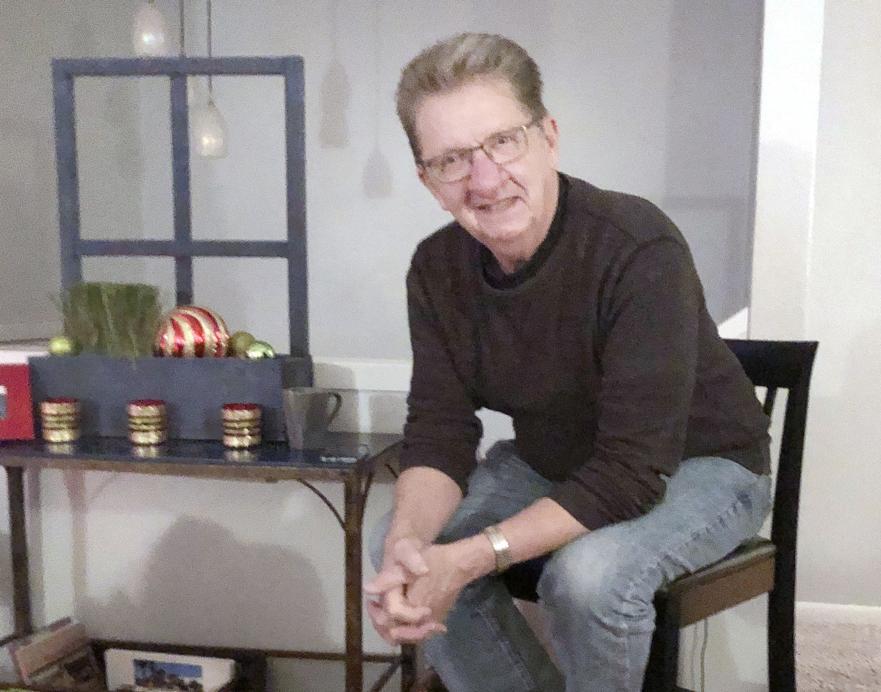 "It came as a terrible shock, and we're still trying to grapple with that," Patti said.
At the same time, the family is remembering an exceptional man. "People person" doesn't even begin to describe his ability to enchant total strangers. He made friends at work, at church, at Rotary Gardens, where he volunteered, and everywhere else he went.
"I don't think he ever met anybody he couldn't be friends with. He always made people feel special. He had a way of bringing out their stories, not just his own," Patti said.
Joe not only made lots of friends. He worked hard to keep them. He was always looking for an excuse to plan a party. It's what made him happiest, Patti said.
Joe had started a tradition of making his grandmother's pffernusse cookies during Christmastime, inviting friends to join in. He also invented a Christmas tree tour, in which friends would go from house to house to admire each other's decorations.
"He's the type of guy that just gives you permission to have fun," said a friend, Jim Allen, who found himself speaking of Joe as if he was still alive. "If he notices there's beginning to be a little lull, he just jabs you in the ribs and says something funny. I learned so much about having a good time being with Joe."
"His energy seemed really inexhaustible," said Jim's wife, Ann. "It seemed to be fueled by joy. I'm sure he had dark days, and yet his ebullience was just unerring. He always was helping to energize the gathering, whatever it might be."
Joe worked most of his life for JC Penny as a store visual merchandising manager.
"He absolutely loved it," Patti said of the job. "I don't recall him hardly ever missing a day. He liked to help customers on the floor. He was always delighted when somebody asked him a question and he could help. "He just really enjoyed people, getting to know them."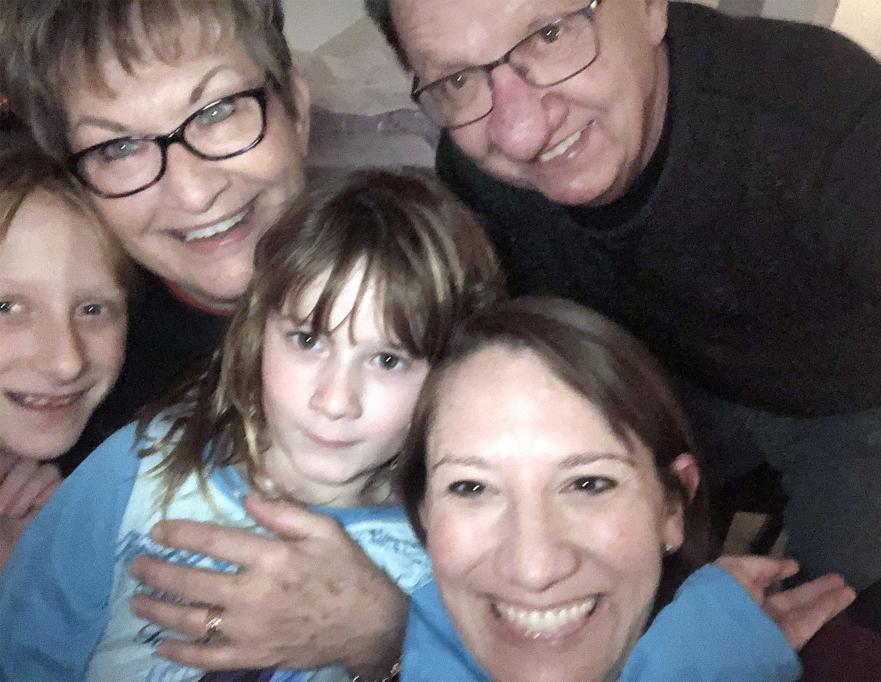 Joe helped plan the Nativity of St. Mary Church's annual fall festival each year and was known for his ability to recruit helpers. Patti said she couldn't recall anyone ever being able to say "no" to him.
That included strangers sometimes. Joe liked driving country roads, and if he saw a garden he admired Joe would stop to tell the owner about his admiration, Patti said. The chat would lead to donations of pumpkins, apples or bales of hay to fall festival.
Joe found time and energy for his family, as well.
"The sun rose and set on his daughter, and it rose and set twice on those granddaughters," Patti said.
Rinehart said he would do anything for her girls at the drop of a hat.
Grace, 8, and Natalie, 7, called him "Bumpa" and were always asking if he could come over and play.
He took them on nature hikes, teaching them to skip stones. He would also play Barbie dolls with them, something he did with his daughter when she was a child, Rinehart said.
Patti remembers how hoarse Joe's voice was toward the end, almost a whisper.
"I got to talk to him and tell him how much we loved him, and even people in Australia were praying for him, and hundreds of cousins all over the place," Patti said of their last conversation.
Then she got the call. It was 11 p.m. She thought it was Joe calling to say goodnight. It was a doctor asking for permission to stop CPR.
"Somewhere along the line I guess I had to tell them yes, it was OK to stop, but I don't know. I don't remember talking very much," she said.
Rinehart had brought a family photo, and nurses placed it in front of him, which gives Patti some comfort.
Rinehart is remembering a man who taught her by example: "He was so compassionate and so caring, and I think it made me realize I want to be even more like that, especially now. 2020 has been a hell of a year, and I think people need that, just to be good to each other."
"I can't thank them enough, the nurses and respiratory therapists and doctors," Patti said. "They were very, very generous with their time for me."
Patti wants to write a letter to the hospital staffs at SSM Health St. Mary's in Janesville and Madison. She wants to tell them they would have liked him. He would have made them laugh. He would have thrown a big party with lots of food and drink.
"They would've been happy to know who he was and how appreciative of all they did for him," Patti said. "I can't get through the crying enough to write the letter yet."
Patti still feels bad she never got to say a proper goodbye.
"I figured in old age I'd be the one taking care of him," said Patti, who is younger than Joe. "I'd be able to show him how much I loved him," she said, sniffling through tears. "I had it all planned out where his hospital bed would be and privacy screens.
"I knew he'd have a ton of company."