In 1984, when Tom Widner took a job washing dishes at the former Ground Round, he was just another teenage busboy working up enough cash to score a Kawasaki Ninja motorcycle.
Widner sold the motorcycle years ago.
Flash forward 37 years to April 2021. The old Ground Round is gone, replaced by the newer Panera Bread. Exact same address, though—2753 Milton Ave.
And Tom Widner, who now is almost 53, is still there. He's general manager of the Panera Bread. Actually, Widner was just named Panera Bread's general manager of the year.
Widner now has a wife, Sarah, and two teenage sons—one of whom, Tommy Jr., works at Panera under Widner.
Widner has stayed put. For parts of five decades through at least four recessions—his entire adult life—he has hung with work running restaurants in the exact same spot along Milton Avenue. First Ground Round, then Panera.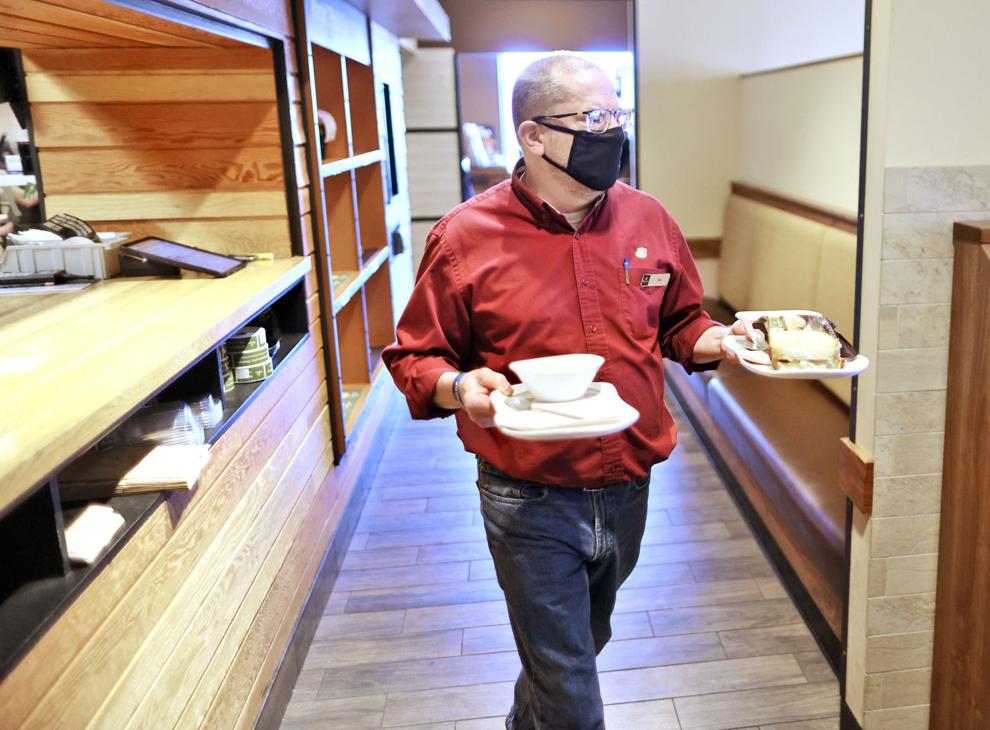 Now, manager of the year. Maybe it's because he's stuck around.
That might be why Panera Bread picked Widner out of about 1,500 other Panera general managers (Panera calls them "partners") at restaurants across the U.S. as the company's top-performing restaurant boss in 2020.
Like other restaurants that have successfully pivoted toward drive-thru and curbside dining during the pandemic, Panera has survived the storm of COVID-19 and its battering of the restaurant industry.
The pandemic has dealt a few blows to the Milton Avenue dining spur. A few sit-down restaurants are gone. A defunct, family-owned buffet here. A chain Mongolian grill there.
Widner thinks Panera's continued success in Janesville has much to do with brand loyalty and trust that Panera has cultivated in its customers everywhere. That's something Panera's top executives might appreciate hearing.
But Widner's winning streak and the top company award for that work came late last month, after a full year of meeting head-on the pandemic and its challenges: staff illnesses, scheduling nightmares, new personal protection and social distancing commandments.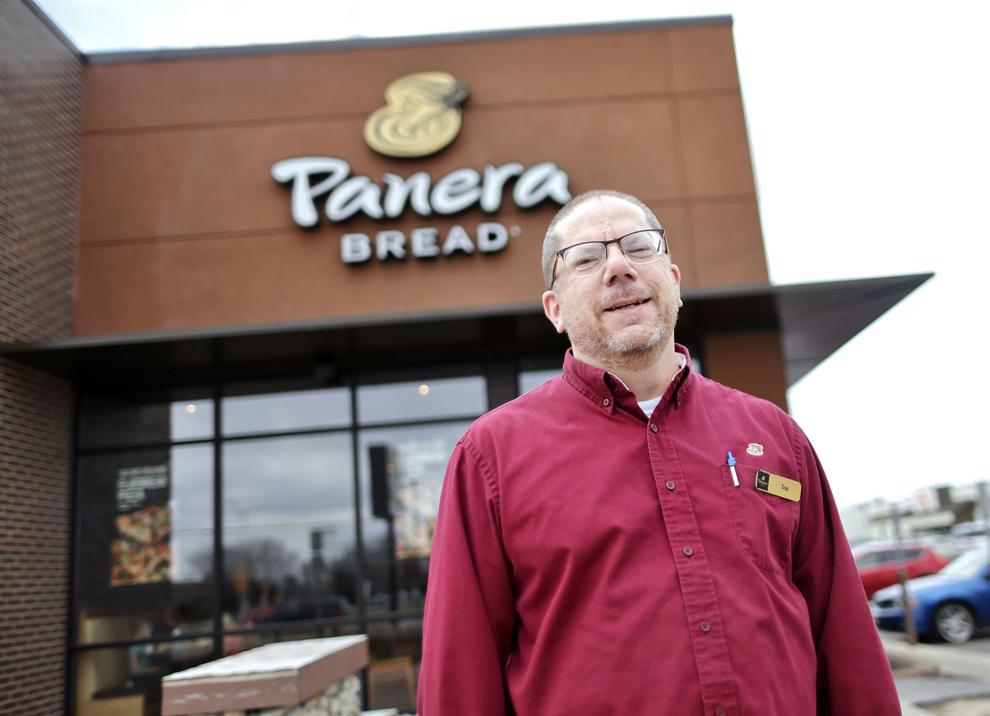 Widner learned he is Panera's top store manager while checked morning emails on his sales volume and other crucial news. He does the checking early before he leaves home. At the restaurant, he starts his day alongside staff prepping fresh food ingredients and sometimes baking Panera's bread.
Widner's grown up through the restaurant industry. Sometimes, standing in one section of the Milton Avenue Panera, Widner said he'll suddenly remember what it was like to wrestle the teeming dining bar at Ground Round.
Then, it's back to keeping an eye on his Panera's scheduling scheme: a wave that starts with eight or nine staff who staff the shop and ready the day's fresh food, all the while as customer traffic ramps up.
Later in the day at lunch, 16 staff are running and gunning sandwiches and baked goods to bigger and bigger gaggles of dine-in customers each day as the nation's public and private health care systems see to the vaccination of millions more people.
Meanwhile, Widner said, it seems like nothing can slow the dramatic increase in drive-thru dining that's been the only real predictable trend the pandemic has given us. One morning late last week, Panera's drive-thru was stacked up six or seven vehicles deep. It wasn't quite 10 a.m.
Inside, Widner came out of the kitchen's side entrance with quick purpose but stopped to make sure a customer had everything he needed. On the upper corner of his cloth face mask read "Panera Bread." Above, his eyes were direct and in charge. Like a working soldier or fast-casual restaurant man.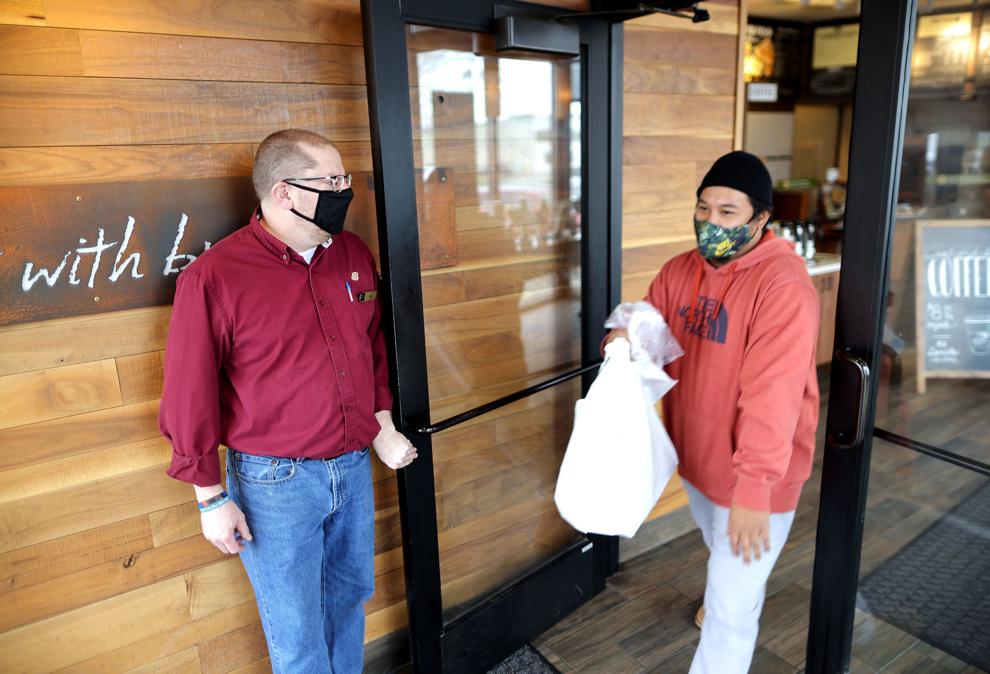 Widner's seen his own life change through twists and turns that moved him from managing a Ground Round to managing a Panera Bread at the same spot, all while his children grew and wave after wave of late-teens and young adults cycled through.
Some have moved on to college, factory jobs, who knows? Some Widner has helped get jobs at Paneras in their college towns. Another assistant manager more recently "graduated." That means Widner's worker went on to manage another, bigger Panera in Appleton.
Widner sees himself more and more as a kind-of-dad to a young staff that now includes his own son. Widner's letting his kid buy a car, not a sporty, Japanese speed bike.
Widner's dad, a Janesville General Motors assembly plant worker during the defunct auto plant's boom days, wouldn't buy the sport cycle Widner wanted.
Widner had six other siblings at home. Dad said: "You want a motorcycle? That's fine. Get a job to pay for it."
Widner has come up with a couple of his own theories on work. A few of them he probably imparts to his own young staff.
One is: "Hard work never goes out of style."
The other: "You'll make mistakes. Just slow down and take your time a little. You'll be fine."