Janesville is going through a facelift of sorts as several artists descend upon downtown for the city's 10th annual Art Infusion week currently underway. From chalk art to large murals, there will be a variety of eye-catching pieces on display.
Five artists are spending the next few days painting murals on the sides of buildings throughout Janesville, leaving their mark for all to see. Back for its second year, the wall murals have added attractions for residents and visitors alike to enjoy.
For Christine Rebout, executive director at the Janesville Area Convention and Visitors Bureau, the opportunity to inject downtown with art is invaluable.
"It's really wonderful to have the murals added, because it's something that's accessible to any age, any demographic (and) any ability to come and experience this," she said.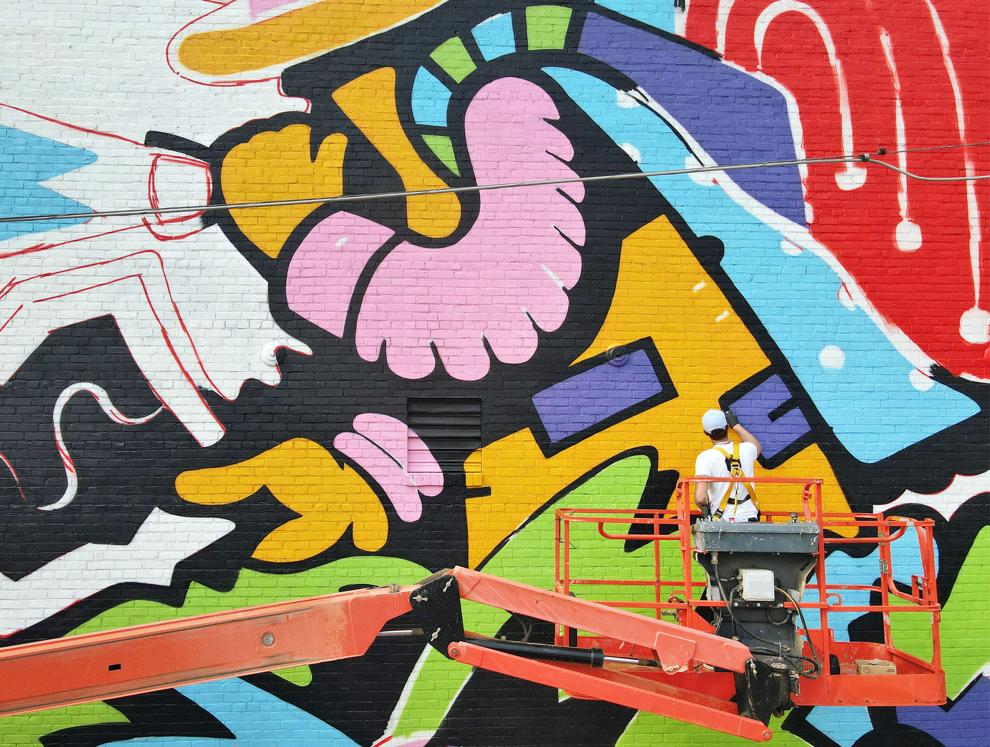 Rebout said the process begins with determining which buildings are ripe for paintings. Some factors to consider when looking for a "big large blank canvas"—as she put it—are willing building owners, access for artists and visibility of the final image.
To select people to paint the murals, the JACVB sent out a request for proposals. The bureau received responses from 67 artists, which Rebout said, "was really exciting, but it was also a tough process because you have to weed through them."
After the field of artists was narrowed to 10, the candidates submitted designs for the proposed buildings. A jury within the bureau then whittled the candidates down to the final five.
This year Art Infusion features a group of artists from outside of Janesville and one returning muralist. The artists are David Mark Zimmerman of Milwaukee; Nathan Brown of Nashville, Tennessee; Ivan Roque of Miami; and Ruben Aguirre and CJ Hungerman, both of Chicago.
Returning for another go-round is Zimmerman, also known as Bigshot Robot, who created the "Midnight Snack" piece last year. Zimmerman is working on a mural that will pay tribute to pre-Janesville indigenous people. He is painting the piece on the exterior of Ace Hardware on South River Street.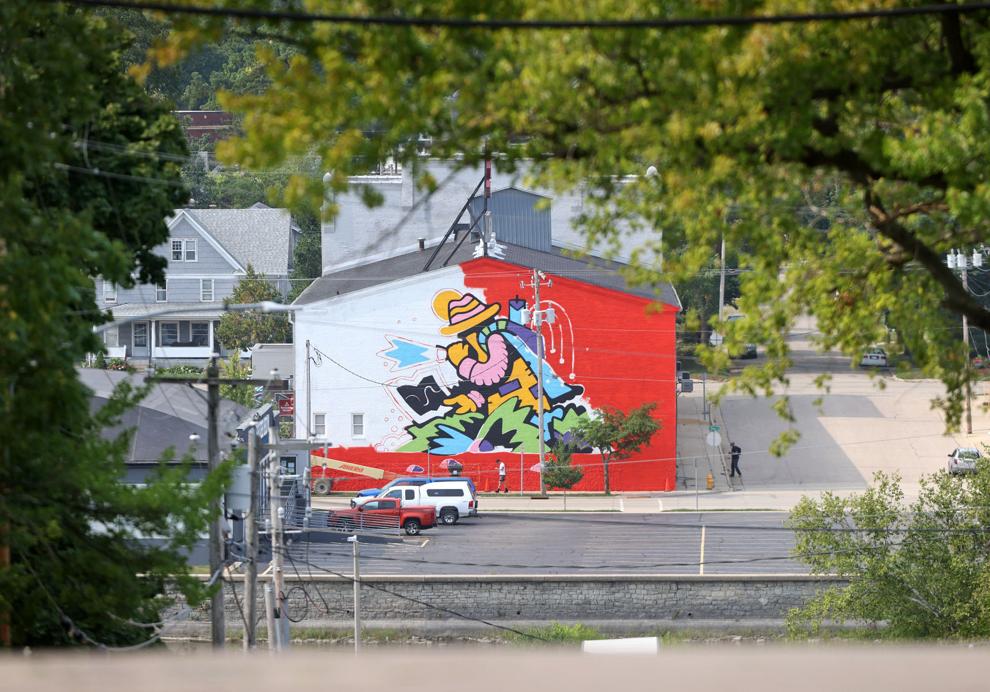 Zimmerman said he is excited to once again showcase his talents in an area for which he has grown fond.
"I kind of fell in love with Janesville a little bit last year," he said.
Zimmerman says he draws inspiration from "the absurd ends of things," especially those that evoke human emotion.
"I think color is one of the biggest factors of my work, (and) how they kind of work together and can create certain kinds of moods," he said.
His current project is named "The Adventurer," though he says that is subject to change.
Brown is making his first appearance in Janesville and brings with him a geometric mural concept for the side of the Forward Foundation Building on Jackson Street.
Brown said his piece combines his love of architecture and 3D shapes.
"I love how gradient colors and shapes in nature and how they create all the things they do," he said.
Brown said his process for coming up with ideas involves walking around the whole city to get a feel and a "vibe" of the place. Drawing from naturally occurring elements, his mural will be framed with an inset to give the appearance that the image is coming out of the wall.
Though he's only been in town for a short period of time, Brown said is enjoying the art that is featured prominently.
"I saw all the renovations that are happening downtown and all the things that have been created for arts and culture," he said. "I was pretty impressed."
Roque, coming from Miami, is bringing a bit of his hometown palette to a project at the Rock River Charter School. Using a spray painting method, Roque is applying aquas and pinks he says are representative of Miami.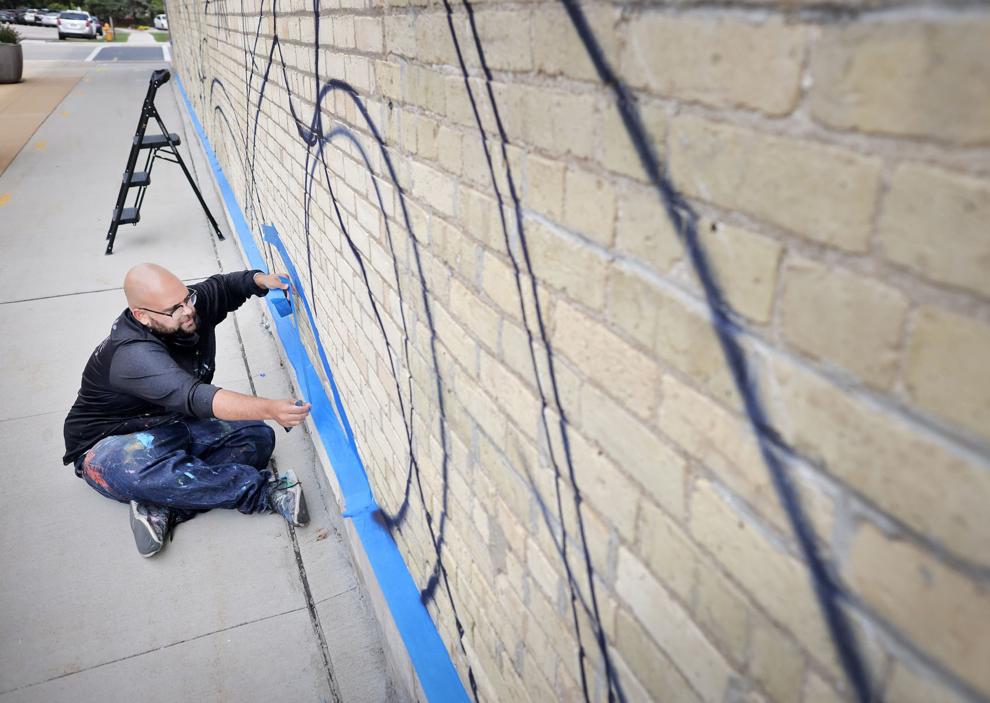 "My main inspiration comes from ocean life and life in general," he said, adding that the Rock River is inspiring his piece. Images of owls to represent wisdom and knowledge, flowers symbolizing transformation and vines to stand in for time and energy, he said the mural speaks to the fluidity of life.
Roque said he, too, is enjoying Janesville and the appreciation for art he sees here.
"I love the art that is being transformed here, especially with the public art," he said.
Art Infusion will run through the rest of the week and into Sunday. Visitors will get a chance to meet the three artists today and Thursday, as well as the other two over the weekend.