All across the world and here in Wisconsin, June is Pride Month for the LGBTQ community and local groups like Janesville Pride, Building a Safer Evansville (BASE) Pride Coalition, Rock County LGBTQ+ and Beloit's Yellow Brick Road.
In one event held Thursday, Hedberg Public Library in Janesville provided tie-dying stations for people to make their own T-shirts at an event dubbed "Pride-Dye."
The local groups are planning several other events to help celebrate how far the community has come and the work ahead.
The Gazette spoke with Ali Larson from Janesville Pride and Mark Mellecker from BASE Pride Coalition about Pride Month.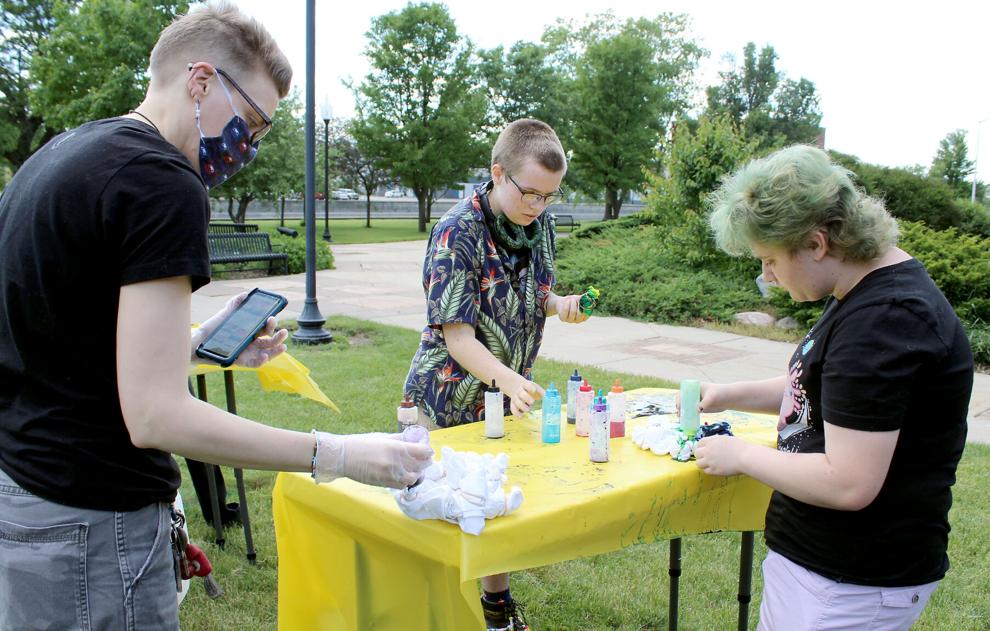 Janesville Pride
About a year ago today, Larson was combing Facebook to find Pride events locally. Larson said she was given the runaround and finally got responses from some who said they didn't have any Pride events planned. One person suggested Larson herself form a group.
"I am not one that backs down from a challenge," Larson said. "I started the Facebook group for Janesville Pride and within a week we had over 1,000 followers. In the short span of a year, we have taken Janesville Pride from a glimmer of hope on the Janesville Community Page to a full-blown 501©(3) nonprofit organization and are planning events around the city throughout the year."
The Facebook group now has more than 2,000 members. Larson works with multiple partner organization yearly, including BASE, Rock County LGBTQ+, Yellow Brick Road in Beloit and more.
"We kind of hold each other as fans through this whole process and promote each other," she said. "When it comes to the really big events in October (for LGBTQ History Month), and we all come together to celebrate everyone at the same time."
Larson said her group is looking forward to the Janesville Pride Picnic at Palmer Park from 4 to 8 p.m. Friday. The event is for all ages.
Then, on Monday, the Janesville City Council will consider a resolution recognizing Pride Month, as it has every June since 2017. There will also be nightlife events planned in conjunction with the city's actions.
"We are putting together a bar crawl downtown in Janesville around the main streets by the river," Larson said. "Everything from trivia to getting drag queens involved. Then supporting our local bars that support the LGBTQ community."
Larson also wanted to make sure to do something educational for Pride Month, as well. All throughout the month, she is providing some education on the Janesville Pride Facebook group page on LGBTQ history.
"While we have made incredible steps forward, we still have a really long way to go with trans women's right and Roe v. Wade being restricted and health care not being available to all when it comes to the queer community and then also with Black Lives Matter."
Larson added that she wants to focus on what Pride is really meant for and make sure everyone knows its origin.
"The first Pride was a riot that was led by queer, Black trans women of color who were tired of everything that was happening," Larson said. "And it was stemmed by police brutality. We're honoring the people that came before us with our campaigns to remind the queer teenagers who may not know who Marsha P. Johnson is or Sylvia Rivera and what those names mean to the community and what the AIDS epidemic was like."
Evansville Pride
BASE is a community coalition and was established in 2009 in response to substance abuse concerns, suicide and drunken driving.
"In 2018 we noticed that LGBTQ+ youth had faced larger rates of substance abuse then their non-LGBTQ+ peers," Mellecker said. "We were noticing alcohol was an issue, across the board substance abuse was up and mental health was up in terrible fashion."
Following that discovery, the coalition starting doing LGBTQ outreach work in the Evansville community. One part of that outreach work is promoting inclusivity and raising protective factors, he said. According to a recent 2021 BASE survey, almost one in three youth in Evansville identify as LGBTQ.
"While it's made some people uncomfortable here in Evansville, it's made more people feel welcome. It's been really wonderful," he said. "We started doing Pride Month in 2020, and with the pandemic it changed how we were supposed to do things."
Last year was the first official Pride Month in Evansville after BASE helped get a proclamation signed by the mayor and a rainbow flag up at City Hall. The Eager Free Public Library in Evansville has has a LGBTQ book display all month long and also has informational handouts, bookmarks, stickers and pins for free. The library also has book recommendations featuring LGBTQ authors, stories and characters.
"We love libraries, but the fact that they're taking the visibility to the next level and providing an interactive thing, that has been really cool," he said.
Mellecker also said the coalition is working on a float for the Independence Day parade next month that touches on LGBTQ activism, history and significant people in the community.
"What's more American than recognizing our history and roots?" he said.
Yellow Brick Road Organization
The Beloit-based Yellow Brick Road Organization is planning an event during Pride Month where teens can express themselves and meet new friends in a safe space.
The group will host its first "Queer Prom" event June 17. The prom, with the theme "Steampunk Fairytale," will be held at The Birch Room on the second floor of 3807 S. Riverside Drive from 7 to 11 p.m. Tickets will cost $5 online and $6 at the door. Tickets can be purchased at the website yellowbrickrd.org/queerprom.
Yellow Brick Road is an LGBTQ+ nonprofit group in Beloit. This organization has hosted a variety of events throughout the year spreading the message of inclusion.
They co-organized a Black Lives Matter Pride rally in 2020. The organization also hosted a Ride for Pride Car Parade in the past.
"This is the first year Yellow Brick Road is hosting a Queer Prom," said, Meghan Trimm, Yellow Brick Road vice president.
Queer Prom is an event for teens who are members of the LGBTQ community or allies.
"Queer Prom is primarily a dance," Trimm noted. "Teens can nominate each other for prom royalty and we will crown three royals that night. There also will be concessions. It should be very fun and a great opportunity for youth to meet other LGBTQ+ people their age and have some fun."
There also will be a musical performance by Kat and the Hurricane, who are supporters of the organization.