More than 100 people showed up along Milton Avenue to protest the killing of George Floyd, the Minneapolis man who died after a police officer knelt on his neck for almost nine minutes.
A second, smaller group of people planned to step in with guns and bees if things got out of control—which they didn't.
The protest was organized by the Rock Valley Fellowship of Reconciliation, a local group that might be best known for its weekly peace vigils in front of U.S. Rep. Bryan Steil's downtown office. Group members said they were pleased and surprised by the turnout.
Norm Aulabaugh, who helped organize the event, said when the police asked him how many people they expected, he said, "I don't know, six?"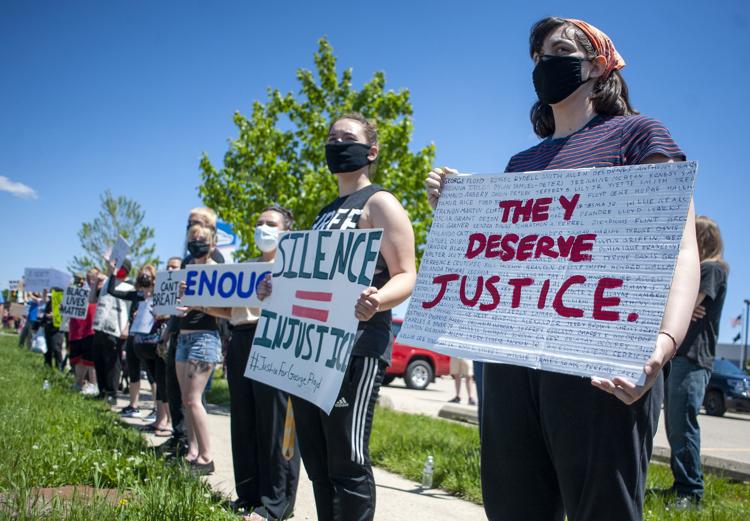 Instead, the sidewalk and terrace in front of the post office at 1818 Milton Ave. was filled. At one point, a handful of protesters also occupied the median separating northbound and southbound traffic on Milton Avenue.
Erik Vazquez, a youth advocate at Franklin Middle School, said it is crucial to show support for those who get unjustly treated elsewhere.
"Even though we don't see as many bad things (in Janesville), it's important for us to stand up for the other cities," Vazquez said. "Our city can be an example of what it is to actually be a community helping each other, a community working with the police rather than fearing them."
Still, it's wrong for people to think that because it doesn't happen here, it's not an issue, he said. African American and Hispanic men feel like targets, whether they are out for a jog or in police custody.
Vazquez, a former Marine, said he went to the rally in honor of his people, his students and Black Lives Matter.
Steve Atkinson of Janesville said he came because enough was enough.
"For years, I've watched injustice after injustice stack up and nothing done," Atkinson said. "I've seen those that are underprivileged be punished exponentially more than those who are not."
Watching George Floyd die on video made him wonder what kind of world he was leaving for his children.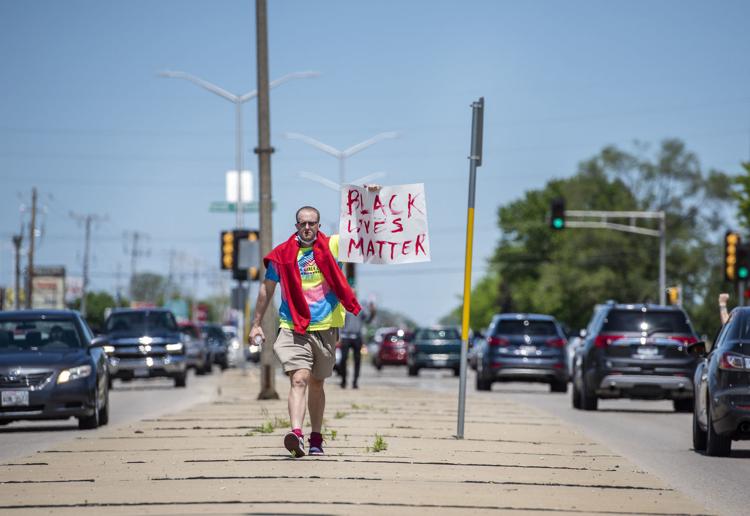 Kathy Holcombe, a member of the Rock Valley Fellowship of Reconciliation, said she was worried about the unrest that has taken place in other cities. In Madison; Rockford, Illinois; and other places, the peaceful protests have devolved into physical confrontations and looting.
Big Lots, a retailer located in the same strip mall as the post office, was closed for the day. An employee who declined to be identified said the corporate office asked them to move the items from the front of the store and close for the day.
The Janesville Police Department had two officers present. A Rock County sheriff's deputy was there, as well.
They were backed up by a variety of individuals who said they were ready to step in if needed.
Shawn, from Racine, and his friend Owen, from Janesville, both had sidearms and said they would assist the police if things got out of control. The two men declined to give their last names and stood in the CVS parking lot because guns are not allowed on federal property.
Shawn pointed to the protests elsewhere in the country where police were overwhelmed by protestors.
In one city, a person took an AR-15 out of the back of a squad car, and another armed civilian took the gun away from him.
"I don't want to see some out-of-state or out-of-towner start something here," Shawn said.
Both men said they don't have any crowd control training, but they have been to the firing range and know how to handle their weapons.
When asked if the police needed backup, police Sgt. Dean Sukus said he felt police had "things under control here."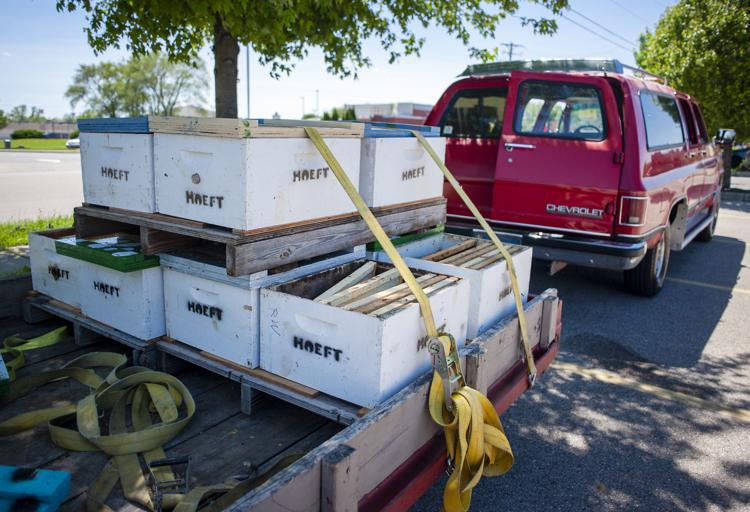 Greg Hoeft of Janesville brought 12 boxes of bees to the event.
The bees were on a trailer that he towed into the post office parking lot, just behind the protestors.
Hoeft, whose name was on the side of the bee boxes, posted his plans on Facebook: "The riot control bees are in their holding yard waiting to clear the streets of Janesville and keep peace to this county. I'm willing to bring them in and kick them over if things get out of control."
A photo shows Hoeft loading the boxes of bees on a trailer.
Police learned that he planned to release the bees if the protest became unruly.
Hoeft was asked to leave and did, Sukus said.