Late last week at Woodman's Food Market, there was a broad selection of chicken wing sauces on the shelf right above the chest freezer where frozen chicken wings are supposed to be stocked.
Yet in the freezer bins below the trove of mild, spicy and bourbon-glazed wing sauces, there were no actual chicken wings to be had.
In what might seem like a cruel prank the Friday before a college football weekend, the store was temporarily sold out of wings.
Like many markets across the U.S., consumers in Janesville this fall are seeing emerging shortages in some common items, including certain types of poultry, some canned goods and even pet food. It's a trend linked to the ongoing COVID-19 pandemic.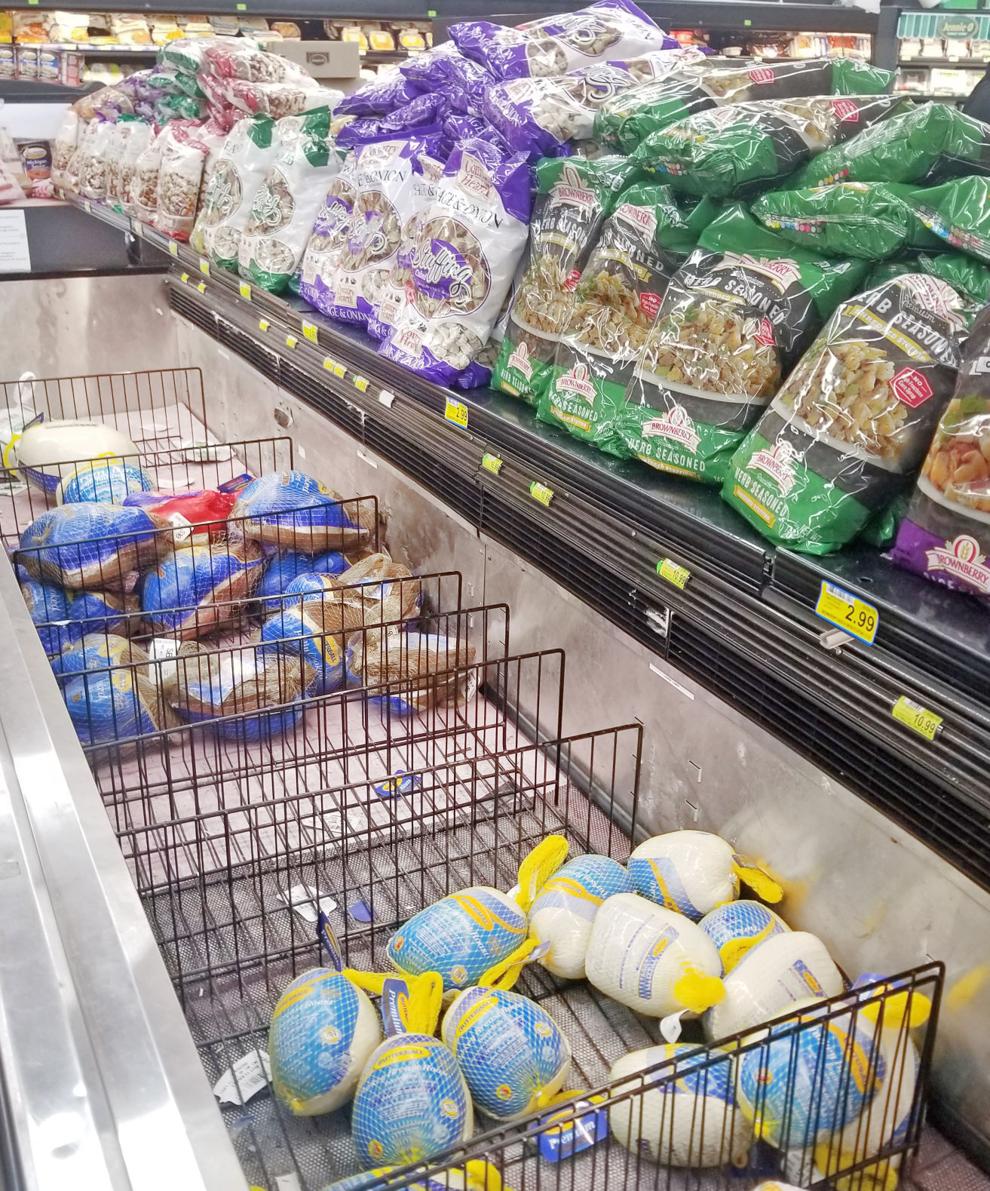 Local grocers say the more recent shortages come as grocery distributors find themselves increasingly squeezed on both ends of the supply chain. A labor shortage has crimped production at some food and food packaging plants, and it has also fueled a shortfall in truck drivers who deliver foodstuffs to supermarkets.
It's a one-two punch that some consumer market economists had predicted earlier this year, and it's now leading some distributors to shave down the allotment of some items they send grocers or scuttle deliveries outright as they wrestle with the continued pressures of the pandemic.
Isaac Evenson, a customer service manager at Basics, an organic grocery cooperative at 1711 Lodge Drive, Janesville, said he has seen a growing dearth of inventory on Basics' holistic health care shelves. Late last week, the store was totally out of some health supplements such as zinc tablets, which tend to sell well as cold and flu season kicks into gear.
Evenson said Friday he was waiting for a delivery truck that got delayed a full day, he said, probably because the distributor is in a staffing pinch. Other delivery trucks that show up sometimes don't deliver enough items to meet demand.
"You keep ordering things, and the things you keep ordering don't come," he said. "There's times when there's not just enough labor to produce or deliver it, and you can see why. Every business you drive past, you see 'Now Hiring' signs everywhere. Everyone's shorthanded. So I empathize with them (distributors) just like how I hope the customer empathizes with us because we're all dealing with the same problem," Evenson said.
Evenson said most of the shortages seem to be short-term. In other cases, a given shortage is simply replaced within days by a shortage of a different staple.
Remedies stores have enacted during the COVID-19 era, such as limits on the amount of common items customers can purchase at one time, don't alleviate the problem. For instance, Evenson and Kathy Moe, store manager at Mounds, the pet food store next to Basics at 1725 Lodge Drive, said some plastic packaging has been hard to come by because the production and supply chain is bogged down by short-staffing and continued high demand.
It has made it more challenging for Basics to package up fresh deli items. At Mounds, some pet food brands that exclusively use plastic packaging aren't able to ship goods because of shortfalls in packaging or the diversion of packaging to overseas markets, Moe said.
"We can only assume what we're told, and one of the things we're told is that plastic packaging has been in short supply, and so some pet foods that come in plastic packaging we just don't get," Moe said.
One aisle at Mounds has signs hanging on empty shelf space where pet foods made by Royal Canin, a brand popular among customers with pets that have special dietary needs, are typically stored.
The sign tells customers some varieties of Royal Canin aren't being shipped to stores because of "production issues" and that those varieties might not ship until sometime in 2022.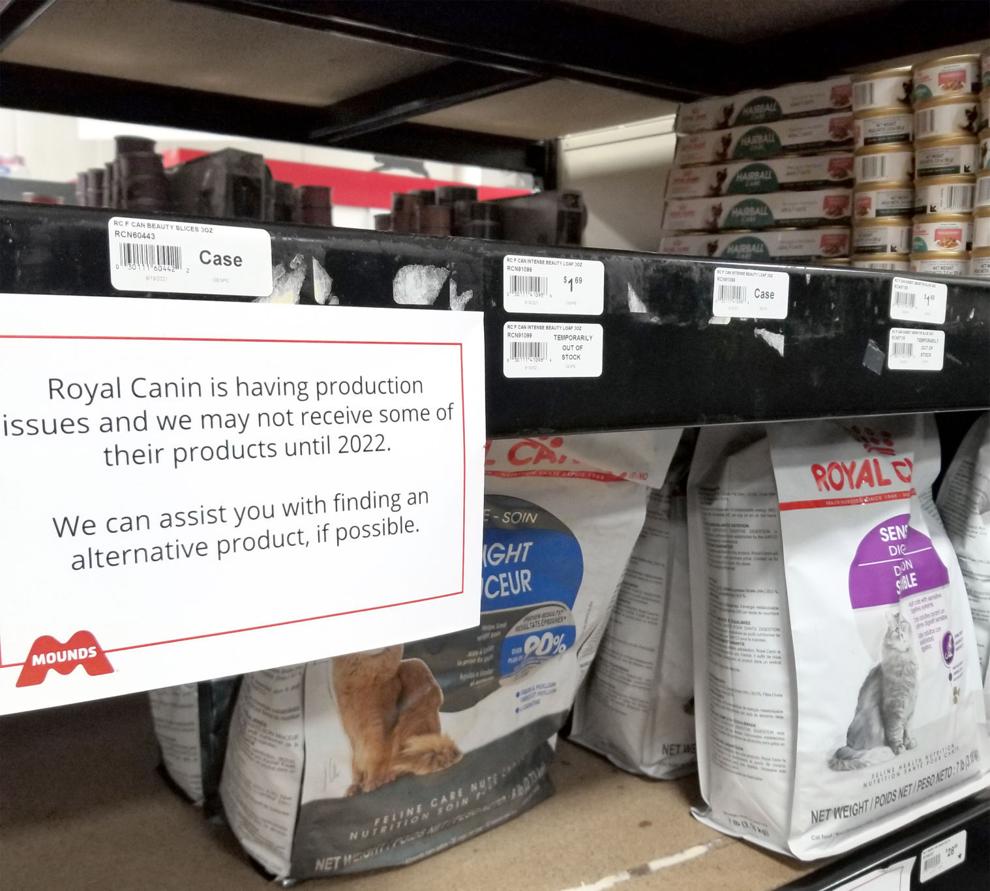 Moe said Royal Canin specializes in prescription pet food, and it is working to first serve customers whose pets are prescribed special foods by a veterinarian. The company has sent Mounds information on alternate varieties that customers can choose if the store isn't carrying the type of pet food they normally buy
Larry Zimborski, a store operations manager at Woodman's, said he has heard the same woes about bottlenecks in distribution and production. Locally, he has heard plastic producers say they're having a hard time getting enough plastic pellets, the raw material used to make molded plastic packaging.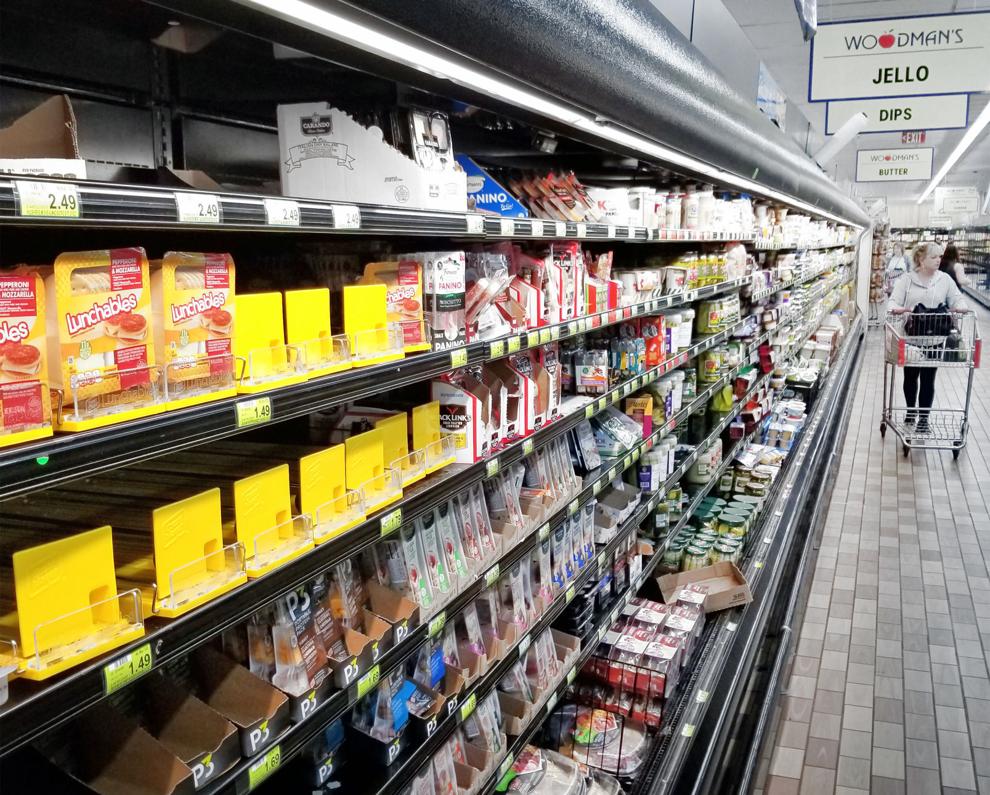 Late last week, Woodman's was sold out of seven or eight varieties of Lunchables, a popular line of prepackaged lunch fixings—though some varieties, such as pizza and nacho Lunchables, seemed in plentiful supply.
Hearkening back to the earlier months of the pandemic, Woodman's now has placed a temporary limit on how much bottled water customers can buy. It is another staple sold in containers made of plastic, so availability has been hit or miss.
"We'll get a little better for a while," store manager Jared Hackbarth said. "But a lot of times you can order X amount of truckloads of this or that, and we're still not even getting a fraction of that shipped."