Festival Foods now can deliver groceries to parts of Whitewater, giving residents at least some access to a traditional grocery store after years of hungering for one.
It has been just over five years since Daniels Sentry Foods closed in Whitewater. Since then, Walmart has been the city's main grocery option, and a local group has been working to create a co-op.
The city's announcement, which was shared Monday, says some residents within the 53190 ZIP code now have access to delivery from Festival Foods stores in Fort Atkinson or Janesville.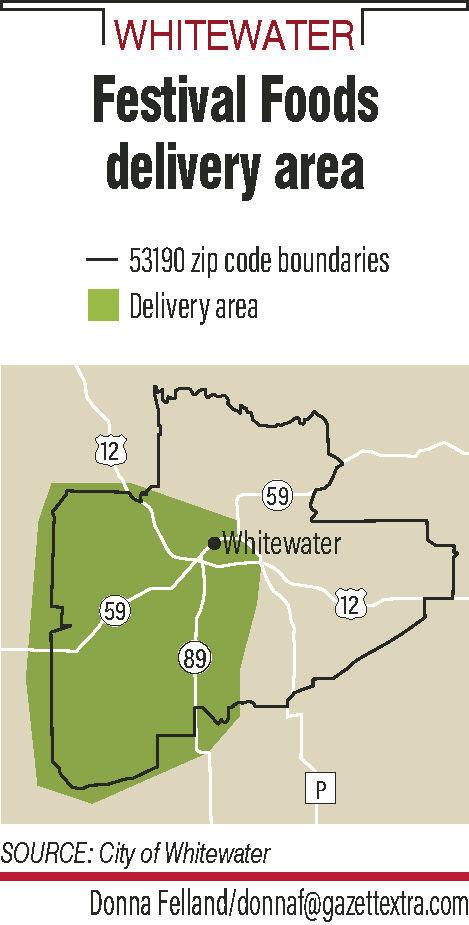 "I was excited, and I placed my first order once I got off the phone with her (a Festival Foods representative)," said Cathy Anderson, Whitewater's economic development director.
Anderson said she placed her $72 order at 12:53 p.m. Wednesday, Jan. 6, and it was at her door by 2:58 p.m. that day. She paid $3.60 for delivery, plus a tip—though she was not sure if the delivery charge changes based on order size.
Festival Foods contracts with Instacart for its delivery services, according to the city news release. It offers a two- or five-hour delivery window or a "window of your choice," the release states.
Anderson said she hopes Festival will find the expansion successful and eventually want to cover the entire city.
Monday's news, while it is welcome, does not end the effort to bring a grocery store to the city, she said.
Anderson has been in her job for about six months, and she said the city is approaching grocers that are geared toward serving rural areas. The larger grocery chains have requirements for new sites that Whitewater doesn't meet, she said.
"I just want folks to know that here in this office, we are definitely concerned about the healthy living for our residents," she said. "You have to be able to have access to food."