It's not much to look at right now, but a downtown property owner hopes a dilapidated parking lot near Janesville City Hall could be transformed into a "gateway" to west side downtown.
Paul Murphy said he and his brother Tom Murphy are working with a developer to build a new set of storefronts—three office suites along with a drive-thru coffee and sandwich shop—in a lot now used for overflow church parking at High and Wall streets.
Murphy said a developer approached him during the height of the pandemic last summer and suggested the 6,000-square-foot lot would make a good location for a 3,200-square-foot set of commercial suites with an anchor drive-thru coffee and sandwich shop geared toward light breakfast and brunch fare.
During a walk around the underused lot, Murphy said the commercial project, which is being called the Wall Street Suites, would be a step up for the property, which is adjacent to a high-traffic stretch of Centerway.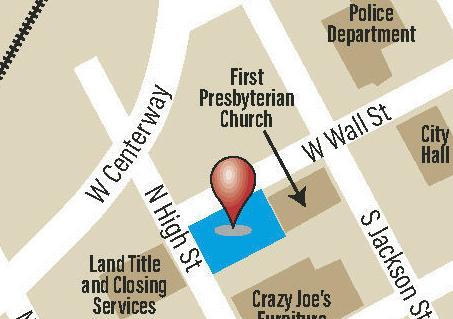 "If you walked across Centerway and looked toward this lot, you'd see it just does not look very inviting. It's not a great-looking entryway to the downtown, even though that's what it is. It's sort of the back side of downtown's west side," Murphy said. "And so the idea is maybe we make it become more of a gateway in."
The lot at 313 W. Wall St. is adjacent to a smaller, seven-stall, city-owned parking lot along High Street.
If a proposal gets city approval, Murphy hopes to build out the one-story properties with a two-story façade. He would also acquire and convert the small city lot to a patio and park space with an entry for a drive-thru off High Street.
Murphy and a developer have filed preliminary plans with the city. The project, according to plans Murphy provided, could include an area next to the proposed park space where a food truck could park and plug into utilities.
The city's plan commission would need to OK a zoning change to allow a food drive-thru and a conditional-use permit, and the city also would need to OK transferring and consolidating the city-owned lot into Murphy's property.
Zoning reviews and a required city council public hearing for the project are being mapped for early May, according to a city memo.
It would be the first new storefronts to be built along the West Milwaukee Street business corridor in years.
And while the development is small-scale, it would offer a dramatic upgrade to a spot that for years has been inactive, tucked west of the First Presbyterian church and just south across the street from City Hall's large, municipal parking lot.
Paul and Tom Murphy in 2019 bought an adjacent commercial property to the south at 15 N. Jackson St., and the Wall Street lot he now plans to build on came with that purchase.
Murphy said the church has used the lot for some parking in the past, and he hadn't had plans for the spot until a developer approached him with the idea of building out a space for offices and an independent food business.
Murphy thinks the west side of downtown is beginning to see a renaissance in part because of emerging apartment projects. The lot where he seeks to build office space and the food drive-thru is one block from the 92-unit River Flats apartments. When completed this year, they are expected to fill quickly.
One block in a different direction is the former Monterey Hotel, which owner Jim Grafft and a developer plan to rehab into apartments.
Murphy said he expects more people living on the west side of downtown will begin to spur more redevelopments like the one he proposes.
Although it's still not clear when Murphy's project could move forward, he said he has a tentative lease arranged with a tenant of one of the office suites—a business that contracts with the federal government—that wants an office in downtown Janesville.
He said the food drive-thru likely would be run by an independent operator, not a chain, and likely would have morning and daytime hours.
The drive-thru, food truck spot and adjacent patio being proposed all would leverage the COVID-19 era trend of people continuing to want to eat outdoors or order food to go.