Now that crews have stripped away ceilings, walls and rooms that for years broke up and covered the grandeur of the former First National Bank, the new owners have noticed something.
There's room inside the place to breathe again.
Sherri Stumpf, CEO of Blackhawk Community Credit Union, hopes the credit union's renovation of the downtown building at 100 W. Milwaukee St. will wrap up by 2021, making way for a Legacy Center honoring former General Motors plant workers.
In tandem, crews are transforming the circa-1913 building's newer west side—the bank's drive-thru and offices that overhang it—into a fully enclosed, multiuse office and retail space.
Stumpf said she's working with at least two groups that are eyeing the 7,000-square-foot west annex as a possible urban market.
She said the upstairs space in the annex seems bigger now that it's cleared of walls that partitioned it into offices. The future downstairs will connect with the original bank building and double the annex's size with a new, enclosed space that could house a grocery store.
"When we got this side of the building all cleared out, we looked around and said, 'Wow. That's a lot of space. A lot of room to breathe,'" Stumpf said while giving The Gazette a tour of the building Friday afternoon.
Stumpf said her credit union and the groups who might locate a grocery and coffee shop in the old bank are taking stock of new apartment plans in the works on downtown's west side.
Between an expected influx of apartment dwellers and other redevelopment work, investors think there will be a market for a small grocery store near the riverfront, she said.
"We're hoping to get a whole lot more people living downtown, and you've got the new hotel next door. It (the grocery store) would be geared toward people who live downtown who'd need food items, especially last-minute kind of things," Stumpf said.
"I don't think it would ever be a substitute for a full grocery store, but you can get quite a bit of food items in a space this size. The idea is to have food that people could stop and pick up something for a meal quick or you wanted ready-to-go food."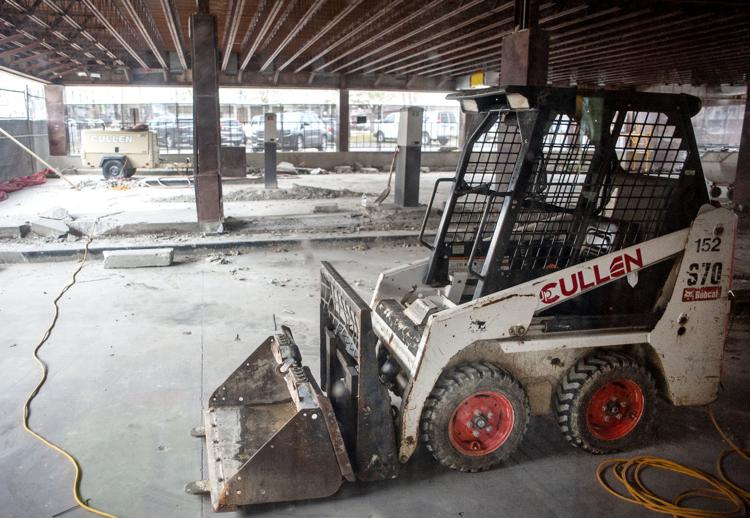 Those retail plans coexist with other ideas for the main project: a museum-like Legacy Center in the bank's vaulted main room.
Tim Rice, the project's manager, said work to revive the ornate, arched plaster ceiling and its pillars and skylights is on schedule, as is work to convert the west annex to retail and meeting space.
Stumpf said the credit union has firmed up a floor plan for the Legacy Center that uses former bank vaults to house records and documents about the GM plant.
The plan provides space on the upper floors for people to sift through GM history. Artifacts from the plant will be located on both floors, and crews are working to build a replica revolving door with a steel security curtain inside—part of the bank's original architecture.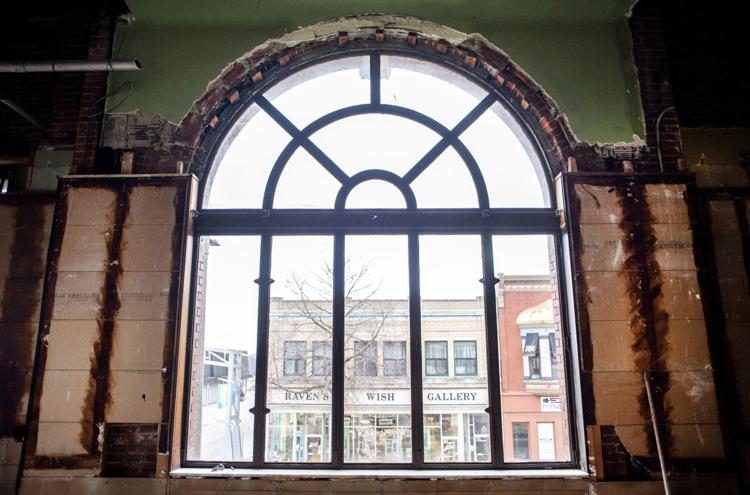 A room facing West Milwaukee Street will have a large glass bay with a garage door that opens to the street, Stumpf and Rice said. That room will be used to showcase classic vehicles made at the GM plant through the years.
"We'll probably put the vehicle on a riser that turns in a circle," Stumpf said. "People driving by will be able to see that showcased car from the street. People bringing a car to display could drive it right through the door in the front."
The credit union has selected a company that will curate a variety of reclaimed items and present them in a way that memorializes the plant and its workers and enhances the historic bank building.
"The idea is to make the space inviting and not 'museum-like,'" Stumpf said.
On the west annex, crews Friday were breaking up concrete islands that once shuttled pneumatic tubes from the drive-thru to bank tellers. The end of the former drive-thru will continue to operate as a drive-thru, but not for money exchanges.
Instead, coffee and other items from the shops could go there.
Stumpf said project contractor JP Cullen has been working on plans to relocate the tin façade from the former Town and Country restaurant a block away and move it to the west annex.
The credit union also owns the former restaurant and plans to sell it to a developer—likely for demolition and removal.
Rice said he's not sure if crews can get the façade off in one piece. If they can, it might be used on the Legacy Center to match the historic façades along that stretch of West Milwaukee Street. Otherwise, crews might somehow re-create the façade.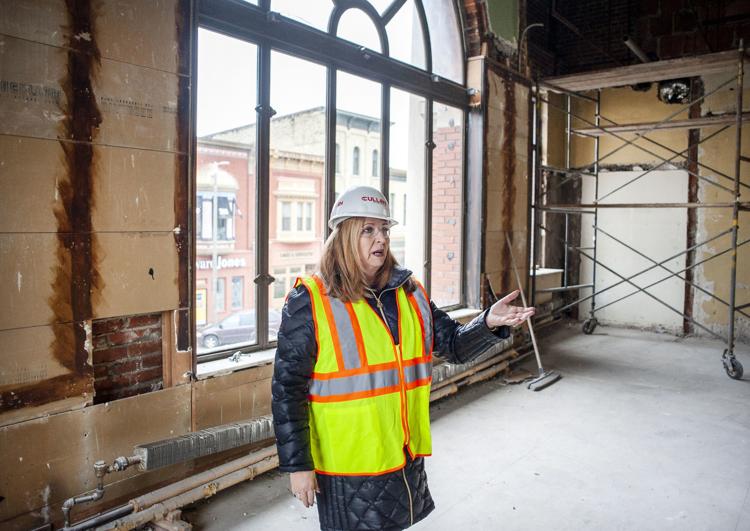 Blackhawk Community Credit Union reclaimed the former Town and Country in lieu of foreclosure last year. The building is under a city raze-or-repair order, and Stumpf and Rice said it's not in salvageable condition.
Stumpf couldn't give details, but she said the credit union is entering into a purchase agreement with a developer who would buy the building and most likely tear it down for market-rate apartments with storefront retail.