At a political talk aimed at campus Republicans at UW-Whitewater on Wednesday, former campaign manager and senior consultant to former President Donald Trump stopped short of telling students they should rally around Trump in the 2024 election.
After all, as of April 2022, more than two years ahead of the election, Trump has not officially committed to running again.
But Conway spent equal time Wednesday talking up Trump's four-year track record during a bifurcated talk on the "peaceful" presidency of Trump compared to what Conway told students and other audience members on Wednesday is a "divisive" and "chaotic" period under President Joe Biden.
Conway, 55, a professional pollster who in 2016 was the first woman in history to lead a presidential campaign to victory, was among the closest personal advisers to Trump's candidacy and presidency between 2016 and 2020, when Conway opted to leave the White House to spend more time with her family.
Hosted by the UW-Whitewater College Republicans along with the conservative-leaning, Scott Walker-helmed Young America's Foundation, Conway brought a speech that rolled back the clock to talk of her time on the Trump campaign and in the White House and about her work as an organizer of a campus Republican club during her years as a college student in Washington, D.C.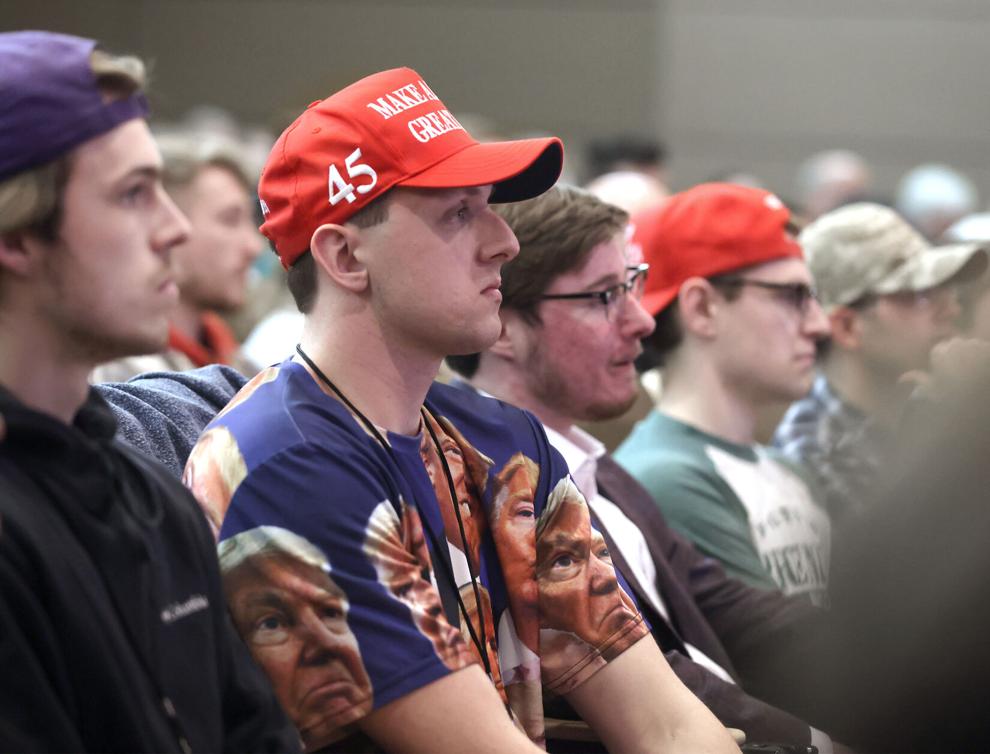 The talk came as part of a tour of Midwest college campuses and other stops for Conway ahead of the release of her new book, "Here's the Deal," a memoir about her work on the campaign trail and in the Trump-era White House.
In an hourlong talk in Hyland Hall's auditorium, Conway told about 200 spectators that Wisconsin remains a political battleground state and that conservatives—particularly younger voters—still have a chance to affect political change in Wisconsin and beyond.
It was a major point that got somewhat buried in rhetoric that New Jersey native Conway crafted Wednesday about Biden's age, the country's economic state, inflation, the fentanyl crisis, the country's emergence from the COVID-19 pandemic, immigration, abortion policy and school choice.
Conway said that according to some polls, including a recent CNN poll, Biden's popularity among younger voters has dipped over the last year from 59% approval in April 2021 to 41% approval last week. Other polls have shown Biden's appeal among younger voters has never been particularly strong.
That might be one reason why Conway is keying on college campuses to try to galvanize conservative support.
"Apart from the fact that they're smart, young people call themselves independents more than Republicans or Democrats," she said. "So what does it mean to be an independent? It means you don't really trust politicians and government because government is part of the problem ... and that you're looking, you really are open to hearing about ideas."
Whether she was talking more about the twists and turns of a global pandemic or an election cycle that didn't turn out how her former boss and 74 million American voters had hoped, Conway said she believes that the strain and layers of tumult people have lived with over the last few years could be an advantage for Republicans, the political party Conway indicated could be helped simply by virtue that it is not currently in power in the White House.
"Now is really the time when you have people's attention, when they are suffering," she said.
One UW-Whitewater student, Trace Morrissey, 19, said the November 2020 presidential election was the first he voted in. Morrissey said he voted for Trump in that election.
Morrissey, a college freshman who is a member of the UW-Whitewater College Republicans, said he has taken in appearances this year from Wisconsin gubernatorial hopeful Rebecca Kleefisch and other state-level political candidates.
He said he is not yet sure whether most young members of the Republican Party like him are interested in seeing another 2024 election run from Trump or a different conservative candidate who embraces Trump's platforms.
"I don't know how I'd answer that," he said. "I definitely have my own viewpoints, but I'm still trying to dig deep enough to see who is most aligned with what I believe. I'm only old enough that I've been able to vote in one election."