As a Department of Natural Resources conservation warden, Austin Schumacher is trained to distinguish between animal trails and human trails.
So when he saw evidence of a struggle in a marshy area and creek near Edgerton Middle School, he suspected it was a sign that a missing boy had come that way.
Schumacher was honored earlier this month with a DNR lifesaving award for his actions Nov. 1, 2019, when he rescued a boy who was lost in the woods near the middle school.
"I didn't expect any sort of award," Schumacher said. "I was just doing my job, and I don't have any doubt in my mind that any other first responder that day would have done the exact same thing as me."
After the student ran away from the middle school around 2:45 p.m., Edgerton police called in numerous law enforcement agencies. The Janesville and McFarland police departments, Rock County Sheriff's Office, Edgerton Fire Department, DNR and residents all helped search for the boy using police dogs, drones and a firetruck ladder.
Schumacher had never been to the area and wasn't familiar with the terrain, which includes thick woods. But with the temperature dropping and snow on the way, he knew time was short.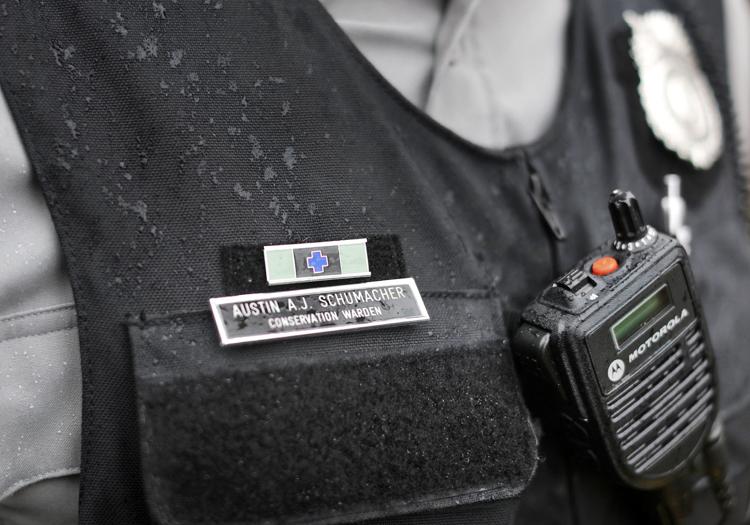 He examined satellite views of the area, searching for openings and places a child might go. He circled back to the middle school and put himself in the boy's shoes, trying to guess where he would have gone after leaving the school.
Equipped with binoculars tucked inside his hip boots, his phone as a map, a 20-pound tactical vest and his gun, Schumacher began combing the woods. He eventually saw what looked like a trail through a marshy area and on the banks of a nearby creek.
"I started following it," he said. "At first I wasn't sure if it was him, but it was the best thing we had."
Schumacher lost the trail several times and had to turn back and retrace his steps. At certain points, he found himself waist deep in creek water or crawling under heavy brush in the mud.
"It was definitely frustrating," he said. "It was not the best conditions to be following a track because it would transition to a waist-deep creek, to a bank, to areas with no snow. You could tell, based on the track, the child was confused and disoriented because it (the track) zigzagged."
While following the trail, he found the boy's wet shoes and socks. After that, he tracked footprints in the mud.
After two miles of tracking, Schumacher found the boy. He was curled into a fetal position and tucked in a tree line on the edge of a field. The boy was soaking wet from swimming across the creek, shivering and unable to walk.
His feet were bleeding from walking barefoot.
Schumacher draped the boy over his back and told the boy to lock his arms and feet around him. He carried the boy more than a mile through the woods to a nearby road.
"Several times, I fell to one knee to catch my breath and keep going," Schumacher said. "… It was extremely exhausting. The motivation when I finally found him to get him back home to his family kept me going, but it was definitely exhausting."
He delivered the boy to his family a little more than two hours after he went missing.
When he received the call, Schumacher said he had no idea how events would unfold.
"When the call came out, I knew it was cold out and getting dark," he said. "I figured there was only a few hours left, and when I heard he had already been missing for about an hour, it raised the stakes even more. I called out and asked if they needed help.
"Putting myself in that family's shoes, having someone missing in those circumstances, it's awful. I was willing to do whatever I could do to get that child back safe."
While Schumacher said he was just doing his job, Edgerton Police Chief Bob Kowalski said the warden's actions likely saved the boy's life. When he heard the entire search-and-rescue story, Kowalski felt grateful.
"I thought it was incredible," Kowalski said. "His training definitely was an asset to us on that day. Because he's with the DNR, he had some equipment that most street cops may not have."
Kowalski said Schumacher's award is well-deserved.
"I think it was great that they recognized him for his actions. It was a great partnership with all the law enforcement agencies working that day," he said.
Schumacher believes it was never about him. He's just happy to have been in the right place at the right time.
"The biggest thing is I'm not a hero or anything sort of like that," he said. "I have full confidence that any first responder that day would have done the same thing as me, and I'm just glad for the training that I had, that the stars were aligned that day, and I was able to find that child and he was safe."