A city economic development official says hundreds of newly built apartments are now coming available in Janesville, and hundreds more could be on the way.
The drive for more new apartments—developers say it's fueled by local demand—seems to be an unquenched thirst, at least for the time being.
Since 2019, Janesville has seen private developers launch new apartment construction throughout the city of 63,000, and those projects are bringing 487 new units to the market. But many of those projects have seen much of their capacity filled immediately, and there are waiting lists now for those seeking tenancy at some of the new apartments.
City Economic Development Director Gale Price said developers and the city have taken stock of continued demand that appears to have persisted despite three sizable new apartment developments being built—including:
The 92-unit River Flats downtown.
The Glade, an eastside complex of 260 units along the Interstate 90/39 corridor.
Diamond Ridge, a 115-unit complex off Milton Avenue on the northeast side.
Price said that for developers including Diamond Ridge, the hustle is on to build out the remaining 20% of its planned units a year ahead of schedule.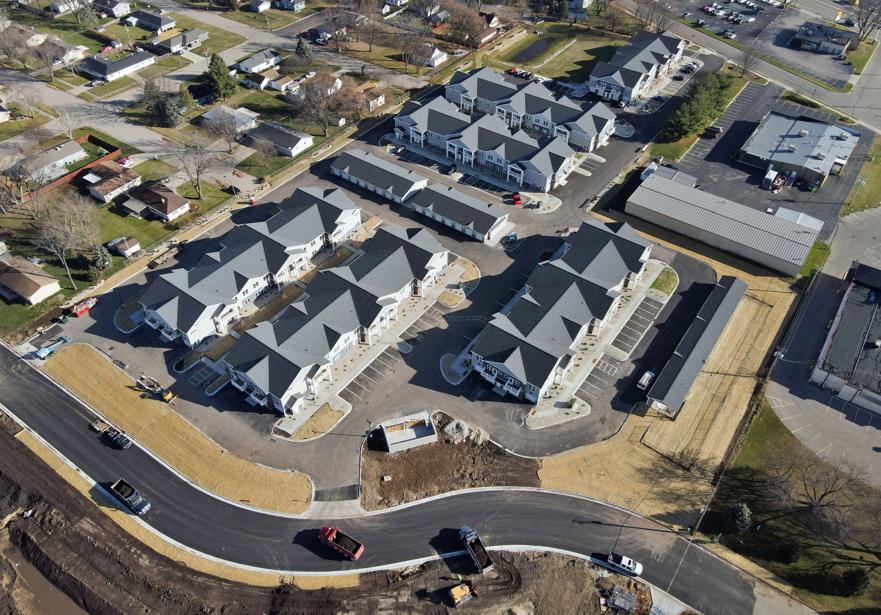 Meanwhile, other longtime plans, such as the conversion of the former Monterey Hotel downtown to apartments, could be headed to city planners and the plan commission soon, city officials say.
Price said the city and developers' analysts believe the rental market would support 250 to 300 additional new units at the current demand, and he said there's no shortage of emerging plans by developers to bring more.
"They (apartment units) are all being absorbed much, much faster than assumed by the developer and the pro forma. They pretty much are leased up soon after the buildings opened," Price said of one developer's decision to move ahead with new units on a faster timetable.
"Seriously, those developers thought (it would take) nine months to absorb (demand), and it's been two months."
Developers of The Glade, a new set of luxury apartments off East Racine Street, plans to continue its buildout of hundreds of units to add three more apartment buildings. And Price said the developer has signaled that demand for more upscale, "executive" units—ones with multiple bedrooms—is outpacing interest in smaller "efficiency units."
"They were 100% occupied within 45 or 60 days of opening the first two buildings this year, so the Glade is reducing the third building by nine units by taking efficiencies and combining those with one bedrooms to make more two-bedrooms, as those units are being absorbed very fast into the market," Price said.
It's a turnaround on the supply side that's helping quench demand for new apartments across a range of price levels. River Flats downtown has tabbed its development—a public-private project the city subsidized with tax incentives—as catering to those seeking "affordable housing."
Most of those units are two and three-bedroom deluxe models, and most are currently unavailable because they've been rented.
Price said despite some prices for new units tipping toward a premium, developers say there's no shortage of tenants willing to pay out.
"Rents for the new product is something that people were skeptical about, but the fact is that there are salaries in the community that support the rents. People are making a conscious choice to not buy, but to rent instead," Price said.
Price and developers believe federal elimination of tax write-offs based on real estate taxes and interest payments has some people opting to rent, which lets them off the hook on maintenance and other long-term costs of home ownership.
At Diamond Ridge, many apartments are now filled. Newer cars abound in the parking spots at a complex so newly completed that grass seeding still stands bald and covered in straw. Rows of tenant mailboxes are still secured temporarily to boards fastened to construction sawhorses as earth moving vehicles continue grading on the edge of the property.
Price said he believes a continued influx of labor in Janesville and Beloit will likely continue to drive demand for apartments as people look to move here for work. Meanwhile, Janesville is seeing a continued trend toward people downsizing from their homes to apartments, or moving from older apartments to newer ones coming online.
Later this month, Jim Grafft and a Madison partner are expected to bring the city plans to convert the defunct Monterey Hotel to apartments—a plan sources say could bring about 53 more units downtown at a time when private stakeholders and the city are focused heavily on revitalizing the downtown's riverfront.
The seven-story, former art deco hotel in its vacant, aging condition, has long been viewed as a both a hurdle for downtown redevelopment and a potential centerpiece for revitalization.
Earlier this fall, when Forward Janesville's charitable arm bought the 23,000-square-foot former First National Bank building, a vacant, historic building that dominates a city block on West Milwaukee Street, the chamber of commerce said it planned a market study to see whether the downtown needs more rental housing given the hundreds of new units already being built.
Developers in the past few years have eyed the property for potential apartments. But Tim Lindau, who heads Forward Janesville's board, told The Gazette that the chamber—which doesn't normally operate as a real estate holding company—wants a market evaluation to determine the best use for the circa-1913 bank and whether additional apartments would be marketable given the likely cost to a developer to buy and retrofit the former bank.
Price said he's advising developers who look to continue apartment builds in Janesville to consider a recent, national trend: work from home.
Price said demographic demand indicates that some younger urban workers in Madison and the Chicago area who have shifted to working from home during the pandemic are eyeing apartments in Janesville as base camps because of the relative affordability of rents.
One staffer in the city's IT department told Price his friend found prices for apartments in Janesville so enticing he moved back to Janesville from Chicago. That tenant now does a blend of commuting to Chicago and work-at-home from his new Janesville flat.
"When I heard that, I jumped up and yelled, 'That's great!'" Price said. "It's a very real trend, and it's happening, so we really want to look at it as an opportunity to go after."
This story has been altered from an earlier version to clarify that The Glade is among new local apartment developments that has been charging $1,300 to $1,800 in rent for some deluxe, multi-bedroom units.