Black kids at Janesville public schools have been cited, arrested and referred to juvenile authorities at a rate that is more than seven times higher than the rates for other races, according to a Gazette analysis of police and school data.
Despite making up 6.2% of the student population at Janesville public schools, black kids accounted for one-third of all citations, arrests and referrals from the last two school years, according to the analysis.
Janesville school data shows 355 black students enrolled for 2020, and police data shows 158 of the reported police actions in the last two school years were for black kids. That's 445 police actions per 1,000 kids. The rate for all other races is 58 per 1,000.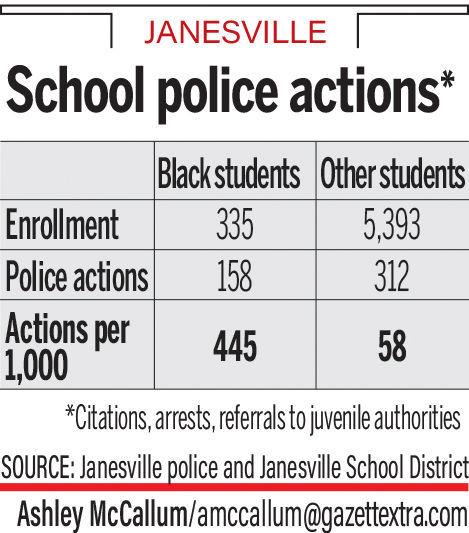 Janesville School District Superintendent Steve Pophal said he wasn't surprised by the numbers.
"Schools are a reflection of the communities in which they reside, and so the problems that exist in any given community, whatever those may be, including racism, invariably end up manifesting themselves at school," Pophal said.
The issue caused concern for Lonnie Brigham of Janesville, who works with at-risk youth and has worked with a citizens committee advising Janesville police on relations with black people.
He called the disparities in the data "scary." He pointed to the school-to-prison pipeline idea, which is that a police record from an early age follows a person throughout life, leading to fewer opportunities for employment and schooling—as well as a higher likelihood of incarceration.
"To me, that's just a sad commentary on the school-to-prison pipeline," he said. "Because once these kids get a record, they are marked for life."
Janesville police officials said a majority of the police actions—citations, arrests and referrals to juvenile authorities—stemmed from school officials referring matters to police and were not initiated by school resource officers.
The Gazette analyzed Janesville police data from the start of the 2018-19 school year until a little after schools shut down for the COVID-19 pandemic.
The data includes citations, arrests and juvenile referrals made at the addresses of Janesville public schools between Sept. 1, 2018, and April 1, 2020. People older than 18 were filtered out. Each person for each incident was counted as one, no matter how many counts each faced in the incident.
In an interview with The Gazette, a police official said the department had not examined police actions at Janesville schools broken down by race.
Behind the numbers
Janesville Deputy Chief John Olsen said it's difficult to draw conclusions about the numbers without looking at the details of each incident and knowing the history and background that led to each moment.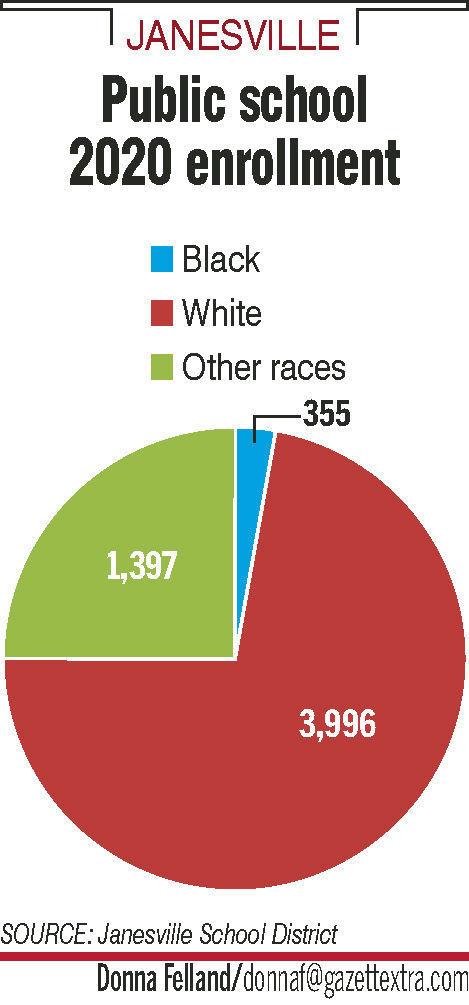 "That's why I struggle with just looking at numbers without looking at what actually happened and how we got to this point," he said.
Olsen said every person has biases, and officers go through training to recognize that and base their decisions about enforcement actions on behaviors.
Janesville police have examined referrals from the schools overall, but he said they had not broken them down by race. He said they also did not have a report for all arrests broken down by race.
Pophal said that while arrests are at the forefront of discussions across the country and the district should examine procedures, parents in the past have worried there wasn't enough police involvement in schools.
"I meet with Chief (Dave) Moore regularly. Both of us continuously approach our work from a service point of view. We're not here to make arrests; we're here to solve problems," Pophal said.
Brigham praised Moore as forward-thinking and said the city's officers get good training on unconscious bias.
But that's not always enough.
"You can lead a horse to water, but you can't make him drink," Brigham said.
Even if the enforcement actions aren't intentional, an unconscious bias can lead to disparities, he explained.
Pophal said resource officers bring a lot of good to the district.
"Positive relationship building is leading to prevention. Because I can tell you as a former principal of 20-plus years in middle and high schools, our liaison officers had great relationships with kids," Pophal said. "And for every incident they had to respond to, there were 10 that they prevented from happening. … And those don't get measured because how do you measure those, right? How do you track those? But I can tell you the number of those that happen is exponentially larger than the list that you have from interventions after there's been a problem."
Santo Carfora is a former Craig High School teacher and a member of the Diversity Action Team of Rock County. He also delivers anti-bias training to police and others.
He said black kids are "a little less trusting" of police, so they might be more willing to act against police.
"In a lot of cases, I think the black kids are more on guard, and so they tend to be less cooperative," he said.
Carfora said "kids know how to push the buttons," which can lead to overreactions from police.
"Like anything else, sugar goes a long way," he said. "And the students who are kinder and nicer are treated kinder and nicer."
He said schools should handle most discipline problems, but sometimes police are needed. Officers in schools need to build relationships with students, and he thinks Janesville has done a good job with that.
Pophal said changes in curriculum might be part of the answer.
"Whose history is being taught and what does that look like if I'm a black student? Do I see myself at school? Do I see myself in the resources that the school distributes and uses to teach everybody or don't I? I suspect we have work to do in some of those areas," he said.
Olsen said the numbers in the data show the "last resort" option for officers.
"We don't want them (students) in the criminal justice system," he said. "But sometimes making that referral gets them other services that they may need."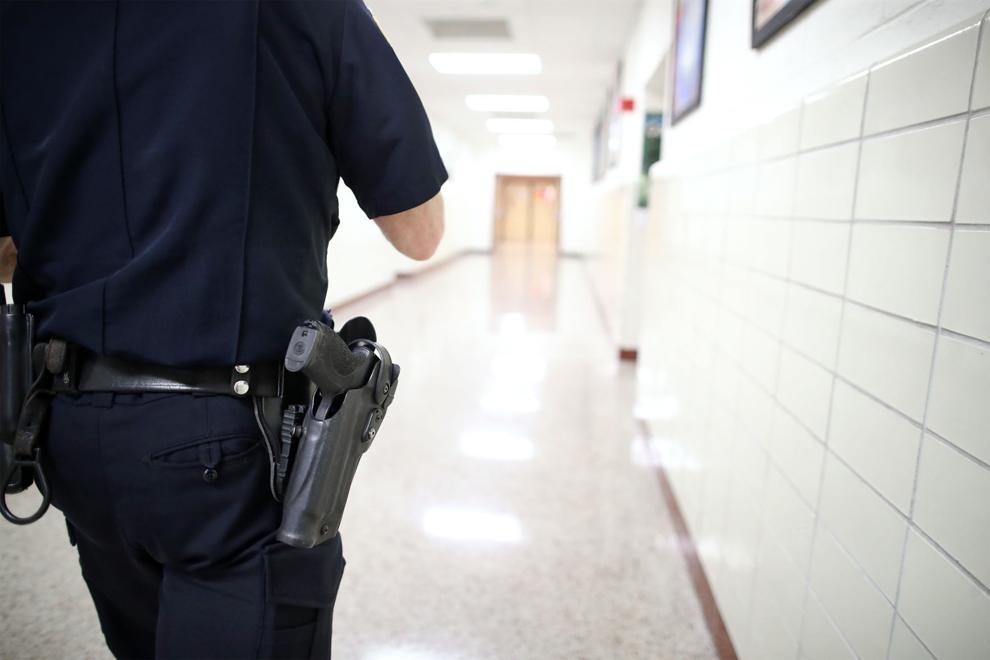 Police or school?
Pophal said the district works closely with local police to ensure all parties understand there is a difference between breaking school rules and breaking laws. Liaison officers decide whether to issue citations or make arrests, and the school leaders decide whether to discipline students.
The Janesville School District employs five full-time resource police officers, one each at Parker and Craig high schools as well as Edison, Franklin and Marshall middle schools. The officers also respond to other schools, if needed.
The officers are there to make sure the building is safe and to deal with any activity that is deemed illegal, said Kim Peerenboom, director of pupil services for the school district.
"They're there to ensure laws are not being broken and policies are being followed," Peerenboom said of resource officers in schools. "Really, first and foremost, they're there to build relationships with the kids, the students and their families and to help them seek out resources, if needed, and to be more of a positive role model so that there isn't fear that when you see the police it's something to be afraid of."
Rock County District Attorney David O'Leary said at a recent meeting he was concerned schools refer too many disciplinary matters to police. He said he was seeing "an abdication of any responsibility for school discipline by the schools," and he wanted more clarity on officers' roles.
Peerenboom said school discipline issues always are handled by building and district leaders first. If school officials discover a crime might have occurred, they refer the incident to the officers, who conduct an independent investigation, she said.
Incidents that immediately warrant police action in schools include those involving weapons, drugs, illegal contraband, extreme bodily harm, broken noses, severe bruises and serious threats, Peerenboom said.
Other incidents, such as a social media fight between students that takes place off campus but carries over to school, also can lead to a police investigation, she said.
Olsen said school resource officers most often are investigating matters referred to them by teachers, administrators or other school officials.
He said he hopes school officials do what they think they can do for a student before they involve an officer to "get these students the services that they need."
Not every incident sent to a police officer leads to a citation or arrest, Olsen said. Sometimes, they end in warnings or meetings with parents, he said.
Olsen said officers do much more in schools than issue citations and make arrests. He said resource officers are involved in building security, staff training, parent meetings and presentations on topics ranging from bullying to alcohol and drug safety.
Locally, the Rock County Criminal Justice Coordinating Council has looked at examining disparities in policing more broadly.
The council has reviewed data on disorderly conduct specifically, believing it is a bellwether because officers have more discretion about whether to arrest for this offense than for other offenses. The review showed racial disparities based on 2018 adult arrest numbers from Janesville police, Beloit police and the Rock County Sheriff's Office.
When looking at kids arrested at Janesville schools, disparities exist there, too. Black kids more often had a disorderly conduct charge—40% of the time—than their white counterparts—about 30% of the time.
In the school data, disorderly conduct was the most common offense for black and white kids. Other common offenses seen among those kids include truancy, battery, disturbing the peace (fighting) and possession of marijuana and/or tobacco.
Pophal said the school district and police department are working to improve school policing.
"Chief Moore and I and his team and our team—and we're one team—are continuously trying to err on the side of solving problems, preventing problems and serving the community rather than just making it about accountability and arrests and citations and locking people up," Pophal said. "That is truly a last resort. … There's lots of prevention and problem-solving that's happening in front of that.
"And we all still have work to do because it's still imperfect."