The lost hikers could go north, but there would be a lot more trees.
If Caroline and Arun Israel, who had wandered off the Ice Age Trail northeast of Storrs Lake in the town of Milton, went east, they might run into a swamp.
It had rained recently, so the area was wetter than normal. Caroline said they already had encountered multiple swampy areas.
They would try west, toward the setting sun.
The Cottage Grove couple called 911 at about 5:45 p.m. Sunday, Sept. 13. If they were lost for much longer, their problems would multiply without the help of daylight.
Matt Bender, a dispatch supervisor, took their call. Dispatchers rarely get calls like this, so he said his mind was going "1 million miles per hour."
"I was way more stressed than he was," Bender said in an interview this week. "They were completely calm."
Bender tried to guide the couple west, but the creek they walked toward was not as narrow as it had appeared on the 911 center's RapidSOS system, which is pretty accurate location technology the center has had for about a year.
"I don't know how we are going to get out of the woods," Caroline is heard saying on a recording of the 911 call shared with The Gazette.
Bender consulted with a colleague and decided to try to guide the couple southeast toward a home not far from East Ryan Road. They would have to "be really careful" to avoid marshy areas, he said.
The couple ended up reaching a swamp, but they were able to change their course and avoid it.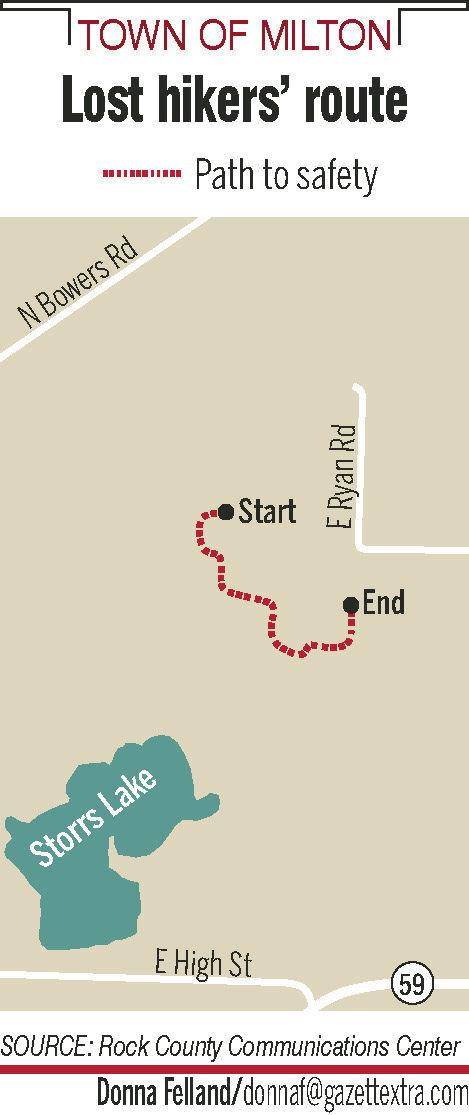 Bender guided them along a tree line, and after about an hour from when the couple first called 911, they reached safety.
Minutes after the call ended with the Israels meeting up with a Rock County sheriff's deputy, Bender emailed the dispatch center's director and operations manager with the subject line, "Call of my career."
"It's easy to guide on a map, but I can't imagine what it was like walking through those thick woods," he wrote. "I haven't felt this good in quite a while, but it was so great to help them to safety."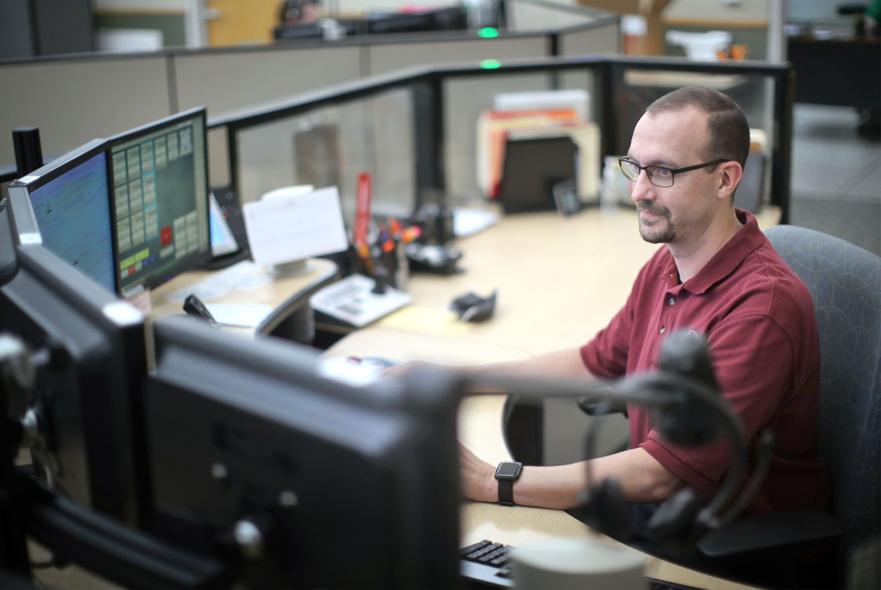 Caroline told The Gazette on Thursday that Bender was "amazing" and patiently led them where they needed to go. When their call got disconnected at one point, she said a little prayer that when they called back they would reconnect with him.
"We are grateful," she said.
Bender, 41, has been working at the center for 16 years. Dispatchers use the RapidSOS system frequently, he said.
Not every phone has the operating system needed to give a location, but this method gives a more accurate pinpointed reading that can update in real time when compared to the center's computer-aided dispatch program.
"It's a great tool," he said.
"If I wouldn't have had RapidSOS, I have no idea what I would have done," he added.
Getting first responders out to the couple's location would have been much more difficult, Bender said.
It's not often that people in Bender's position have such a direct hand in helping 911 callers, he said. Sometimes they move from one call that is a medical need, to a barking dog complaint, to a stolen flowerpot.
This call with the Israels will stay with him, though.
"After this many years, not a lot of stuff sticks," he said. "This call, you really, really help somebody in their time of need, and without you, who knows what would have happened to them?
"It would be in the top three calls that I'm going to remember when I leave here, probably," he said.
As Arun and Caroline neared where sheriff's deputies were waiting for them, Bender had them yell out to confirm they were close.
They could hear each other, and the couple could finally get a ride to their own car.
"Thank you so much," Arun said.
"All right," Bender responded. "I'm glad you guys are safe."