As you might have noticed, we're in a bona fide, midsummer heat wave. But wait: It's not midsummer. Not even close.
In fact, National Weather Service meteorological archives show that it's not been this hot and muggy in early May since 1993. Then, daytime highs hit 87 degrees. On Wednesday, the mercury hit 93 degrees and partly sunny in parts of Rock County as a dome of hot, humid air continued to hover above Wisconsin.
The "partly sunny" part is what'll get you. It's that soup, that heaviness in the air that feels more like early July weather, that caused local grower Tim Reilly to break a legit summertime sweat first thing Wednesday morning.
"It's weird. One day you're running the furnace at night, the next day, it's this," Reilly said as he dumped a sack of Pioneer seed corn seed into one of the hoppers of a planting machine parked alongside a freshly furrowed, 100-acre farm field off East McCormick Drive on Janesville's north edge.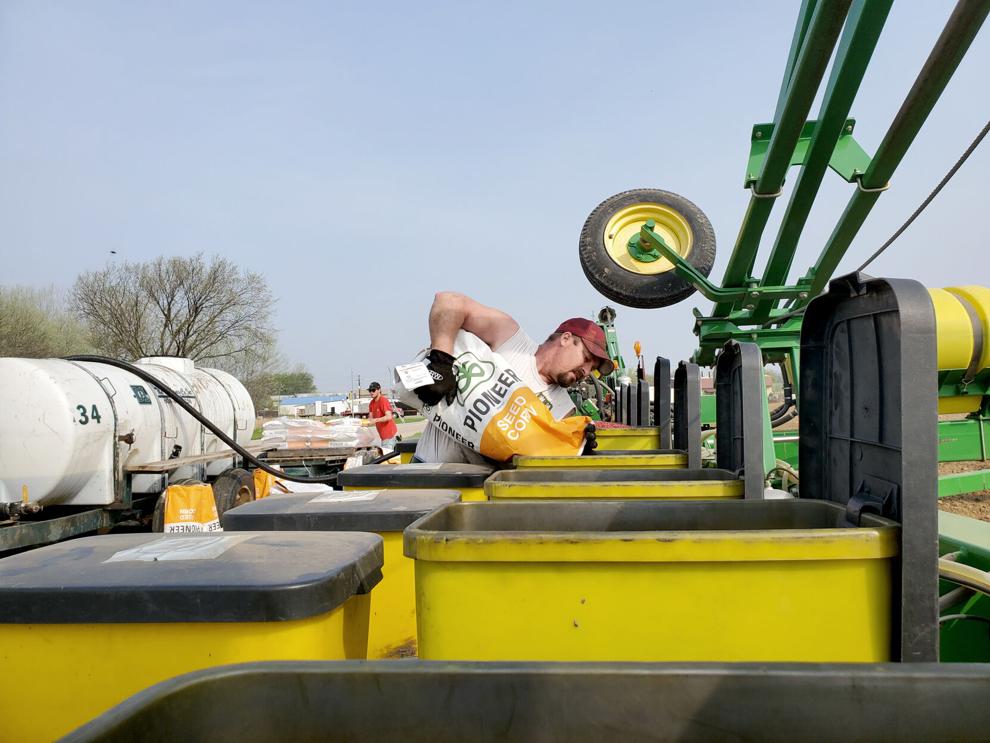 Reilly was wearing boots, jeans and a T-shirt with the sleeves ripped off. His bare arms were dusted with dry field dirt the way that flour coats moist chicken that's headed for the deep-fat fryer.
That's not typical spring corn-planting attire.
But given the weather in recent weeks, this sudden warm snap smacks of agricultural irony in more ways than one.
Until just a few days ago, Reilly's spring corn planting schedule had been prisoner to an unseasonably cold and at times snowy spring with a recent wet spell softening a months-long drought.
Reilly had been waiting for soil temperatures to finally hop up to levels that will give corn seedlings the nudge they need to sprout. He said planting in that field was running about 10 days behind normal.
Not a major delay, but he and Jayden Dunphy were hustling field-side early Wednesday to load a planter with seed and get planting. Their strategy was to hedge a mounting chance of rain that forecasts show could come later this week.
By 9:15 a.m., it already had topped 84 degrees with a heat-index temperature of 95. By rights, it should have been partly sunny with a daytime high of about 65.
That's what Wisconsin normally gives you in early May, National Weather Service meteorologist Kevin Wagner said. Not the blazing, 103-degree heat index temp like what came and lingered all afternoon and evening Wednesday.
Wagner said a dome of warm air from the Gulf of Mexico has reared its head up north. The warm, muggy air has formed a protective cap in the upper atmosphere that's caused it to stick around, keeping any serious threat of rain and precipitation pushed off to the west, in Minnesota.
Wagner said a comparably colder front ought to push down into Wisconsin toward this weekend, bringing the next real shot at rain and likely cooler, more seasonable 70-degree weather by next week.
"This (heat-wave) pattern will start to break down by about Friday," Wagner said. "A cold front could come in and it could stall, and that could make it just a bit cooler by Saturday, and rainy. By Sunday, we're back in the '70s, and after that, you probably won't need to be running the air conditioner again for a while."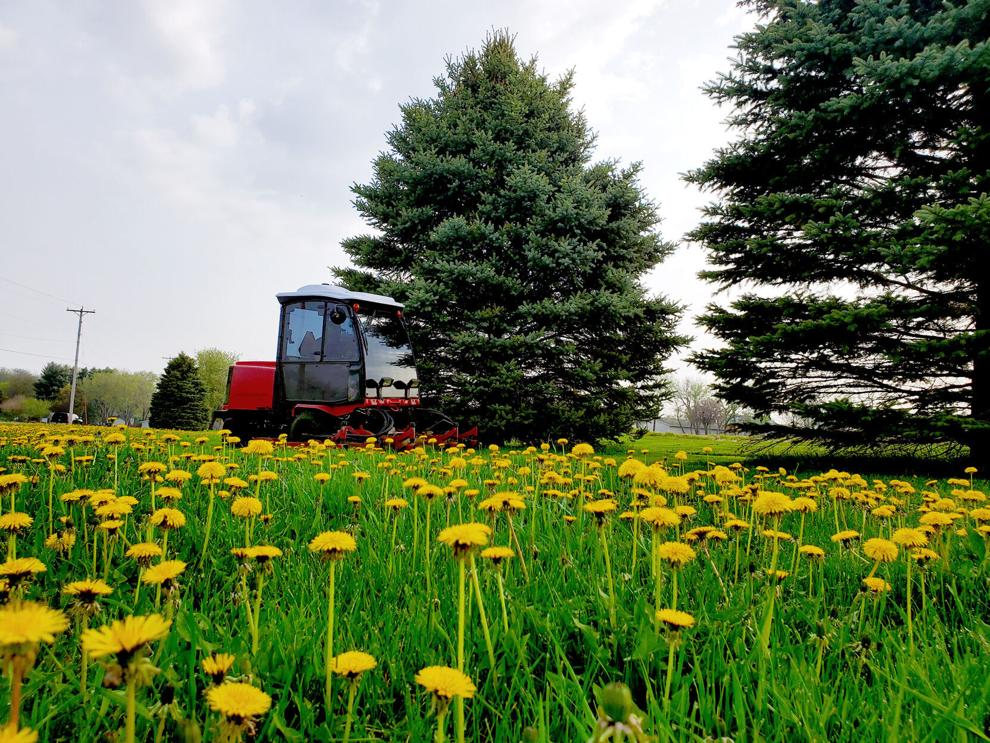 Andy Oldfield, who runs Janesville lawn service Andy's Lawn & Snow, said in the several years he's cut grass for a living, he can't remember a slower, colder spring coming to a roiling summer boil this fast.
Oldfield was in the midst of his day's work, which entailed 12 customers' lawns, some of which had reached heights of 10 or 11 inches over the last few days.
That's grass long enough to require a zero-turn mower to make three, sometimes four passes to clean up the heavy, sodden clumps of cut lawn. Oldfield said he's now in for 12-hour days, about as long as a spring day and local rules will allow him to mow.
Some lawns have gotten extra shaggy, Oldfield said, because residents are now observing "No-Mow May," a grassroots environmental movement that's meant to support bees and other pollinators. The idea is to let grass grow all May to foster more spring blooms such as dandelions to bolster bees.
Some local residents, however, have begun to blanch at the sudden rate their grass and dandelions are growing. For them, "No-Mow May" has become "May I back out of this deal May?"
"I had a couple of clients for the year that said they were holding off on cutting to try to the No-Mow May. Both of them opted out of that pretty quick this week. After that rain last week, and then the warm weekend, it didn't take much at all, and whoah! Suddenly, it's long," Oldfield said.
"We're now definitely playing catch up. A good handful of calls for people that just want to knock it down now because they just they can't stand what it looks like. It's like summer now. Crazy how fast it's come."
Splash pad opens
On the north side of town, meanwhile, there's a whole lot of splashing going on.
Shelly Slapak, who runs the city of Janesville's parks recreation division, said city workers rushed this week to open the splash pad at Riverside Park.
Slapak said it will be open now until September. Actually, she blasted that announcement out on the city's Facebook page on Wednesday.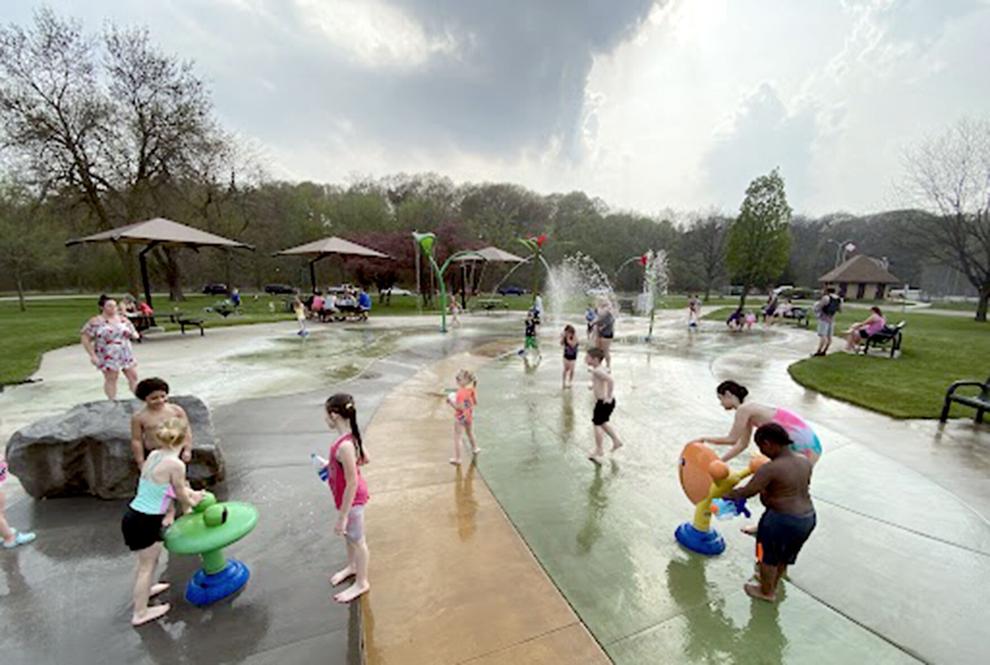 By mid-afternoon, families were flocking there.
For those hoping to splash around in the city's downtown water feature, the Bubbler at ARISE Town Square, Slapak said that's not open quite yet.
The Bubbler has an electronic control system that's user operated, and the system needs repairs. Slapak said the city will announce soon when it might open—probably when it gets really, really (really) hot.