JANESVILLE
Woodman's Market Manager Larry Zimborski has seen crowds like the ones that have bombarded the Janesville supermarket recently.
It's usually floods, looming blizzards and Super Bowl Sundays that pack the parking lots and create lines like those seen Friday at the east-side's biggest 24-hour grocery store.
But Zimborski said Woodman's has never posted rationing notices on the doors.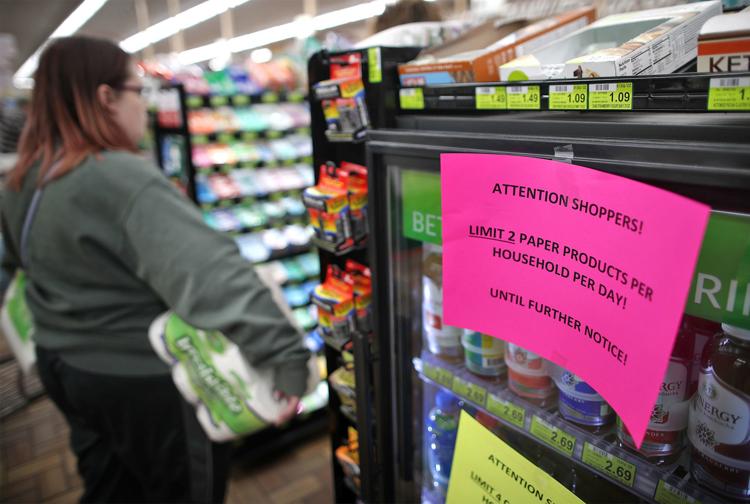 On Friday, the store informed customers that they'd be limited to two paper products, two large cases of bottled water per household and two cleaning products per day until further notice.
"Eighteen years, and this is the first time I've seen a run on toilet paper," Zimborski said.
Late Thursday and all day and night Friday, droves of shoppers cascaded in and out of supermarkets in the wake of a state public health emergency prompted by the nationwide COVID-19 disease outbreak.
Zimborski and others pulled 12-hour shifts, trading off on the cash register and the shelves, to keep up with crowds that filled the Woodman's parking lot and store.
The store was working to manage inventory that, in some cases, is now under a nationwide allocation system being implemented by some suppliers.
Zimborski said Woodman's has tried to spread out its supply of toilet paper among its own stores. Meanwhile, suppliers have put Woodman's and other stores on notice that they'll be able to ship a limited amount of toilet paper for the foreseeable future.
That prompted in-store purchasing limits on bottled water and paper products such as toilet paper. A notice at the customer service desk warned shoppers that "products purchased in excessive quantities are nonrefundable." The measures aimed to keep people from hoarding staples, Zimborski said.
Employees said it became obvious overnight Thursday that limits were necessary.
"When you're seeing single customers coming up to the checkout with full carts of just bottled water, dozens of cases of water, you know it's time to limit it," said Sarah Bin, a customer service employee at Woodman's.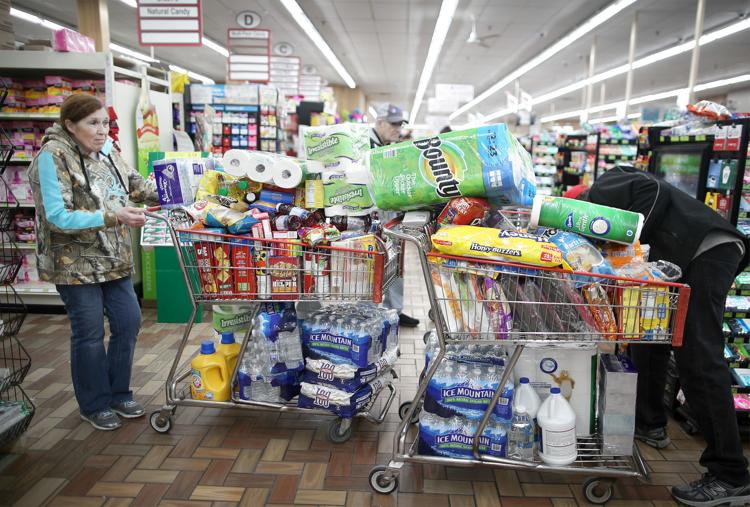 Friday night, The Gazette observed two women shuffling an overflow load of toilet paper between three shopping carts in what appeared to be a consumer shell game aimed at cheating the store's limits on paper products.
The shelves late Friday were emptying of comfort foods such as orange juice, mac and cheese, and chicken soup.
Despite the crush, the Janesville store stayed open all night between Thursday and Friday, and a clerk said the store would remain open overnight into Saturday.
At midday Friday, Zimborski picked up a few empty cardboard containers and headed back up the freezer aisle as the shopping crush rolled on around him.
"You go as long as you can, but at some point everybody here has got to get a little bit of rest," he said. "I'm not thinking about illness or getting sick right now. It's not in my mind. You just want to keep from getting burned out."
For more local coverage on the outbreak of the new coronavirus, go to gazettextra.com/coronavirus.