WHITEWATER
Terry Tumbarello has had to start recent meetings with a disclaimer.
"Everything I'm about to tell you might change 10 minutes after the meeting is over," UW-Whitewater's director of residence life for University Housing said this week.
Life on campus has shifted from business as usual and students putting away winter coats to online classes and packed suitcases in the wake of the COVID-19 pandemic.
On March 18, UW-W asked all students living in residence halls to leave and go home. In that same announcement, the university said it had decided to conduct classes online for the rest of the spring semester.
Tumbarello said the last few weeks have been "hectic and chaotic." University Housing had to organize the move-out—or handle exemption requests—for nearly 3,800 students who live in dorms.
The UW System on March 19 announced it will refund prorated charges for housing and dining, a decision that university chancellors agreed with, according to a news release. The reimbursements will come before the end of the spring academic calendar and will exclude scheduled spring breaks.
"We recognize the tremendous upheaval this pandemic has inflicted on the lives of our students, and we appreciate their patience and their sacrifice," UW System President Ray Cross said in the release. "This reimbursement is the right thing to do."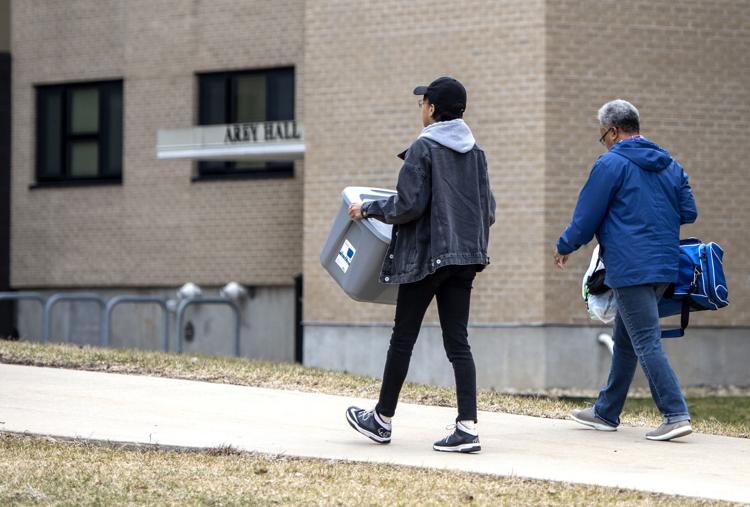 The move-out, Tumbarello said Monday, is an "ongoing process." Some students have already moved out, and he said times for students to do so have been staggered throughout the week via scheduled appointments to adhere to social distancing mandates.
The effort has been complicated because it comes during UW-W's spring break. On March 12, UW-W announced it would start its spring break a week early—starting March 14—and run through when it was regularly scheduled to end Sunday, March 29.
The university encouraged students living on campus to take "essential belongings, academic materials, laptops and medications with them" and not to plan on returning until at least April 17.
But in a world where news changes suddenly and directives flow down from the state and federal level, UW-W about a week later asked all students who were able to leave the dorms to do just that.
The university has acknowledged, however, that not every student can go home—whether because of travel restrictions or a lack of internet access for online classes.
Tumbarello said the exemption form is a way for students to explain their situations and estimate how much time they need before moving out—even if it's for the rest of the semester.
While he said there is no "hard deadline," the regularly scheduled move-outs are set through late afternoon Friday. Several students only needed an exemption through this upcoming weekend to move out, he said.
Some students left for spring break and needed to come back sooner than expected, but Tumbarello said officials are granting exemptions and working out details with those students.
He stressed they're not going to just throw away someone's stuff. If they have not heard from particular students, officials will try to contact them directly, he said.
Tumbarello said it was too early to estimate how many students were staying in dorms, but he said a "high majority" had moved out or were planning to move out before semester's end.
He praised the work his staff has done to make it all happen. And although the changes came quickly and asked a lot of students and families, he said everyone on that side understands "that we're in a crisis."
"We have been inundated with positive comments" about how the process has unfolded, he said.