In the coming days, 300 Rock County emergency medical services workers will be vaccinated for COVID-19.
Vaccines for EMS workers have been allocated from a shipment of 1,950 Pfizer vaccine doses Mercyhealth received Tuesday, said Jay MacNeal, medical director of prehospital and emergency services.
EMS workers are among those at highest risk of COVID-19 exposure because they come in contact with many members of the public in situations such as car crashes and fires where people likely aren't able to take all the recommended COVID-19 safety precautions, MacNeal said.
The Janesville Fire Department has been preparing for vaccinations for about three weeks, Deputy Chief Jim Ponkauskas said.
The department got approval to host a vaccine clinic to aid in vaccinating first responders once doses are available for non-medical workers such as firefighters and police officers, Ponkauskas said.
Part of preparation included gathering names and contact information for everyone who wanted to be vaccinated so officials could reach them once the time came, Ponkauskas said.
Ponkauskas was the first EMS worker to be vaccinated at Mercyhealth at about 1 p.m. Wednesday.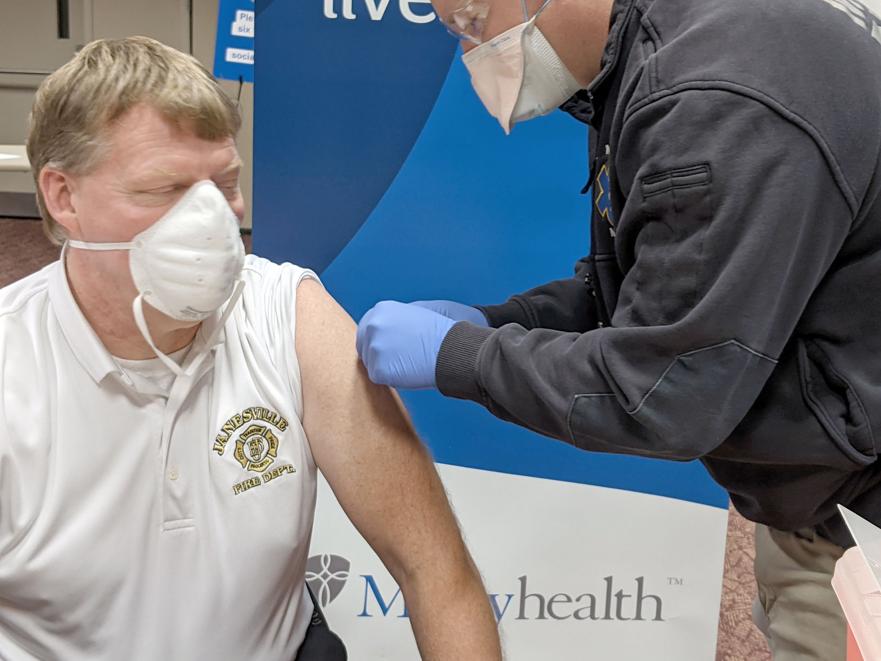 MacNeal called Ponkauskas with news of the vaccines about two hours prior. The systems in place for distribution were effective and allowed people to start getting vaccinated quickly, he said.
Of Janesville's 97 fire department staff members, 84 have signed up to get the vaccine at some point, Ponkauskas said.
It is important the community reach herd immunity for COVID-19 by having a significant portion of people get vaccinated, Ponkauskas said.
Fire department officials urge members of the public to get vaccinated as soon as it is offered for them, Ponkauskas said.
Members from other fire departments across Rock County will be coordinating with Mercyhealth to get EMS workers vaccinated, MacNeal said.
The initial round of 300 vaccines will cover about 75% of the county's EMS workers, MacNeal said.
Mercyhealth had administered 1,120 of the 1,950 COVID-19 vaccinations as of 4 p.m. Wednesday.
MacNeal, who has a master's degree in public health, said there is more misinformation circulating about the COVID-19 vaccines than he has seen for any other public health effort.
MacNeal encourages people to reach out to their primary care physicians for more information.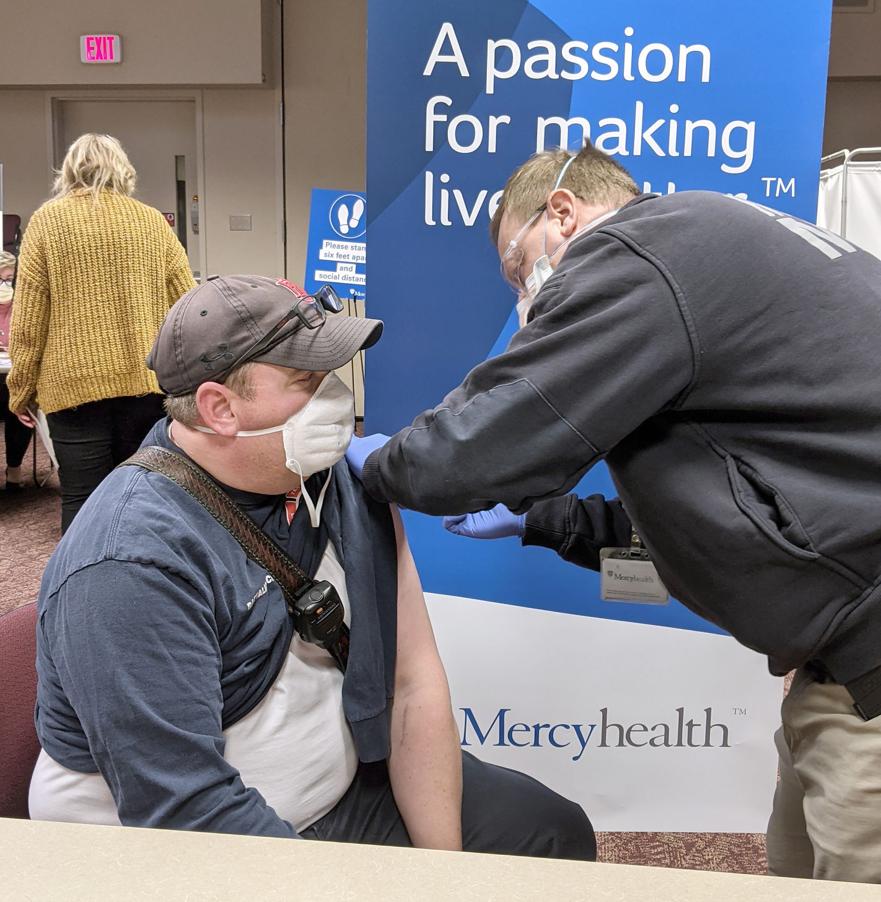 The Pfizer and Moderna vaccines both require two doses given about three weeks apart. It is crucial that people who get vaccinated receive both doses to build proper immunity to the disease, experts say.
Health officials nationwide predict vaccines will not be available to the general public until spring or summer 2021.
There are 1,203 active and confirmed cases of COVID-19 in Rock County, according to data from the Rock County Public Health Department.
Since March, 11,580 people have had confirmed cases of the coronavirus in Rock County, and 108 people died, an increase of two since Tuesday.
Local COVID-19 data has been improving in recent weeks, but health officials warn that holiday gatherings for Christmas and the new year could derail that progress.
Residents are encouraged to celebrate at home with only members of their households.
If residents plan to see people outside their households, health officials urge them to wear masks at all times, social distance and limit the number of people they see.