A nurse is sometimes the last person dying COVID-19 patients see during their final moments.
Patients' families and friends are not allowed to visit them, and nurses are among the few hospital staff members with the training and equipment to be in the highly specialized rooms with patients suffering from the disease caused by the novel coronavirus.
Nurses can become attached to patients after caring for them for days or weeks. But they're not truly family. They're likely not the people patients expect to speak their final words to or see before they close their eyes for the last time.
Many days during the pandemic are somewhat normal for nurses. But other days are emotionally traumatic, filled with the pain of watching someone die.
Those days are hard to forget, said Kara Sankey, chief nursing officer at Mercyhealth Hospital and Trauma Center in Janesville.
"Not every day is like that, but there are some days," Sankey said. "Those days are really, really challenging. Even one of those days can stick with a nurse for a very long time."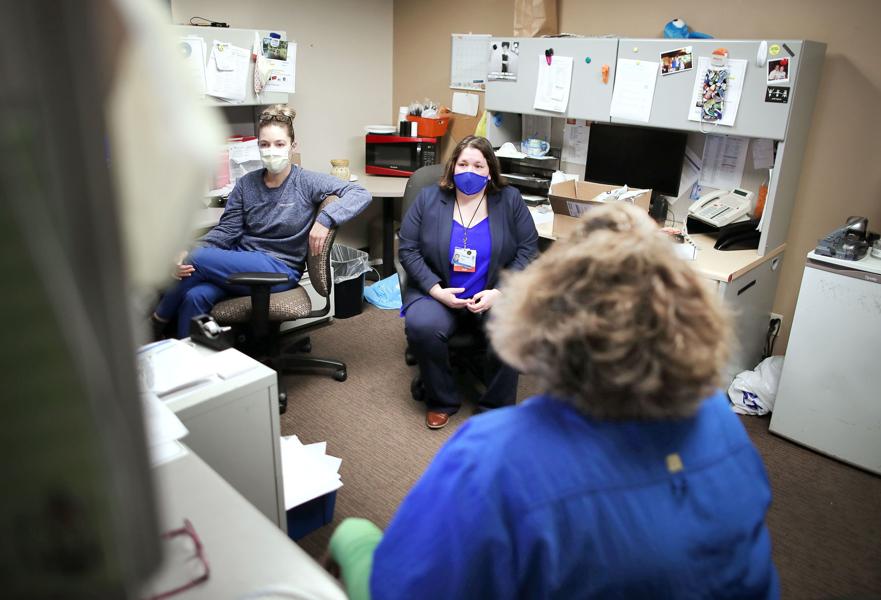 Rock County's health care systems continue to be stressed amid the pandemic.
Locally, the number of COVID-19 cases, hospitalizations and deaths soared this fall, peaking in mid-November. At the peak, 74 people were hospitalized.
On Nov. 1, 46 Rock County residents had died from the disease. That number increased 89% to 87 by Dec. 1.
Before the pandemic, Sankey's job was to set goals and coordinate plans for the hospital's nurses.
The pandemic forced her to manage day-to-day operations, coordinating communications and dealing with "chaos" to make sure every unit is covered and medical staff have what they need, she said.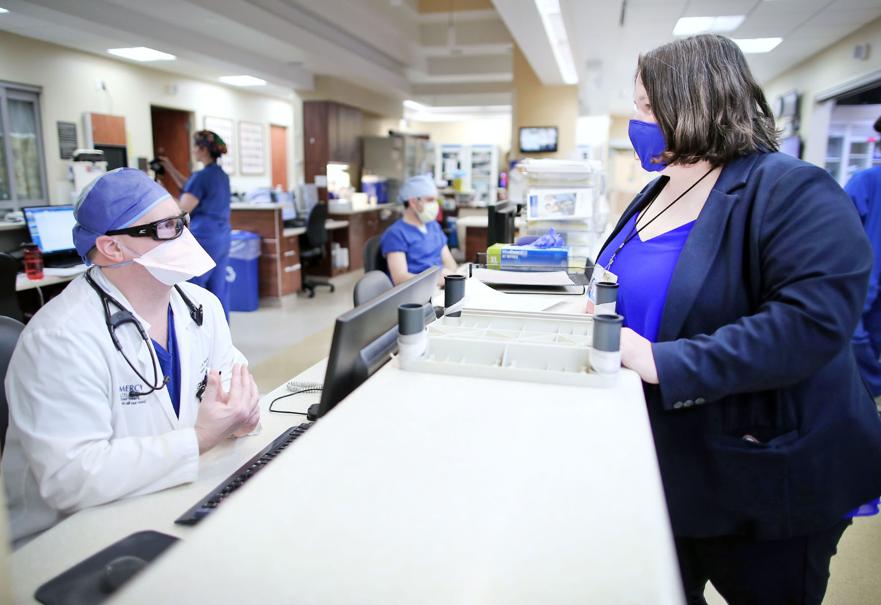 One of her most important jobs is one that has always existed but has become amplified this year: supporting nurses emotionally and making sure their needs are met.
Sankey said the most important thing she can do to help nurses cope with stress and emotional trauma is to listen.
"Self care is important, but now more than ever, we have to really pay attention to what staff are saying," she said. "It is deep."
Sankey is humble and doesn't complain about the additional duties. She knows there is only so much she can do, and she is constantly prioritizing to make sure things run as smoothly as possible.
"I spend a lot of time with them (nurses). I let them talk about it. We find the critical issue, where is the issue, and start working through that," she said.
"Sometimes they just need to talk about it and have you understand."
Resources are available if a nurse or staff member needs additional help, Sankey said, and she can refer her staff to those resources.
Sankey encourages nurses to celebrate when their patients go home or when they get transitioned to a lower level of care.
"There is not a party or anything like that, but nurses talk and share so others know good things are happening," she said. "... And they really are genuinely happy to hear that. They share that. It gives them hope."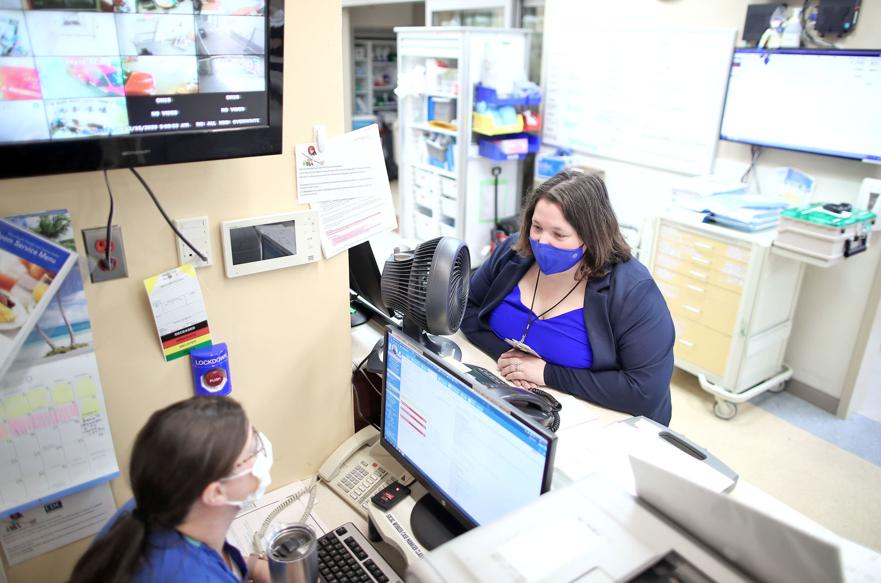 There is no job Sankey won't jump into and help with when needed. Leadership means helping out in any way you can—whether that means taking on patients, working night shifts or even mopping floors, she said.
The strained health care system—locally, the biggest struggle is adequate staffing—forces Sankey to be creative.
"Prior to COVID, if we would change or do major changes to model our units, we would have months to prepare," Sankey said.
"What this (pandemic) has done is sometimes you have four hours to prepare."
The hospital must regularly build or move units to accommodate both the COVID-19 and non-COVID-19 patients. When the second major wave of coronavirus patients appeared in fall, staff had to build a second COVID-19 unit quickly, which meant moving patients and realigning staff.
Nurses from different units must be ready to change responsibilities quickly. For example, a surgical nurse accustomed to caring for patients who have had hip or knee replacements might have to pivot to care for sick people.
That does not mean those nurses are doing work they are unqualified for; it might just be a bit out of their comfort zone, Sankey said.
Sankey, meanwhile, oversees it all.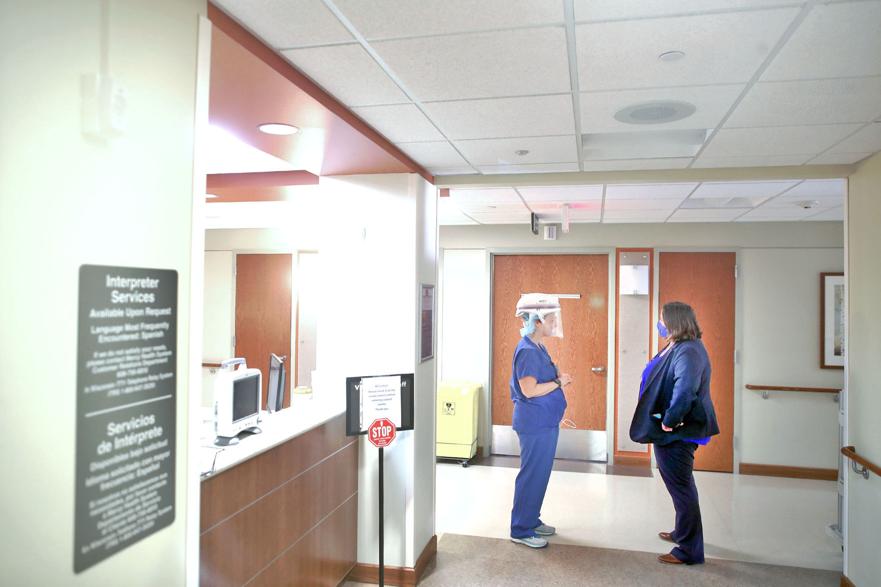 And each change has an effect in nearly every other area of the hospital, Sankey said.
Turning one area into a COVID-19 unit means the pharmacy has to change its methods for delivering medicine, and food service has to determine how to deliver food.
Every decision must take staff and patient safety into consideration, especially when handling COVID-19 patients, Sankey said.
Safety protocols themselves present rippling challenges throughout the hospital, Sankey said. Extra cleaning requirements can mean delays in getting patients into beds. People waiting in the emergency room might have to wait a bit longer for bed space, especially if the hospital census is high and staff are strained.
Not every day is horrible, Sankey said, but there are a lot of really terrible days.
People don't realize that numbers don't always paint the full picture, she said. The hospital might have fewer patients on a given day, but that doesn't necessarily mean the pandemic is under control or is no big deal.
It takes only one or two horrible situations to weigh on hospital staff or cause stress in a unit, Sankey said.
Trish Reed, a Mercyhealth spokeswoman, said Sankey downplays the amount of work she has done to help others and the community.
"Kara is basically a superstar. She is freaking fantastic; she is humble," Reed said. "... From an outside perspective, she is a rock star, and her team loves her."