A round of applause broke out after the first health care worker at Mercyhealth Hospital and Trauma Center, Janesville, received his COVID-19 vaccine Tuesday.
A long-awaited moment arrived for hundreds of health care workers as vaccines began being administered at about 2:30 p.m.
The line for people waiting to get the vaccine snaked down and around a long hallway. By 4 p.m., 184 employees had been vaccinated, according to a news release.
Imdad Ahmed, an electrophysiologist, was the first to get the vaccine in Janesville. And while the event was historic and much anticipated, it took only a few seconds before he could continue on his day.
"Today is a historic day for us all," Ahmed said.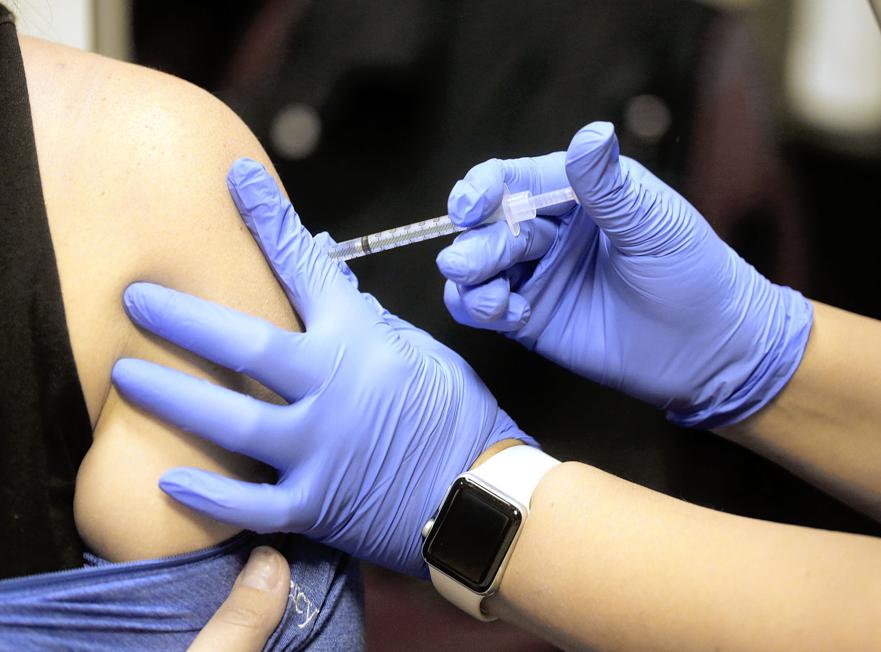 Mercyhealth received 1,950 doses of the vaccine created by Pfizer, the first to be approved by the federal Food and Drug Administration.
Those doses had to be shared among Mercyhealth facilities. Of the 1,950 doses, 375 were sent to Mercyhealth Hospital and Medical Center-Walworth.
A hospital conference room was transformed in a matter of hours into a vaccine hub Tuesday, said Trish Reed, spokeswoman.
The Janesville hospital had the benefit of being able to mimic vaccine processes from its sister hospitals in Rockford, Illinois, which began vaccinating staff last week.
Vaccines are expected to be given through Thursday in Janesville, Reed said.
Steve Kravick, a Beloit resident, was among the first to be vaccinated Tuesday. He has worked as a maintenance mechanic at Mercyhealth for 43 years, he said.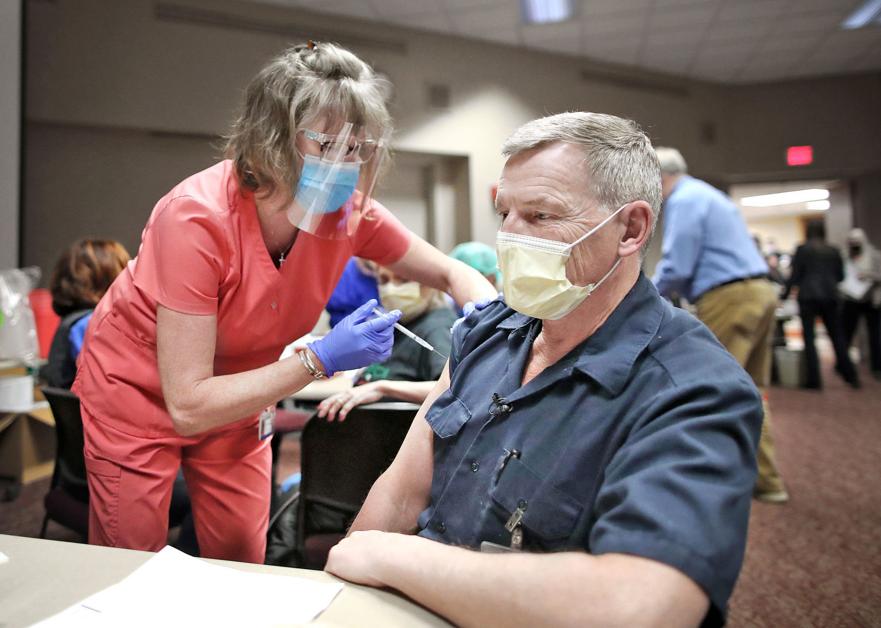 Kravick learned he could get the vaccine about an hour before he got it, he said, and he did not hesitate to get in line.
As a maintenance worker, Kravick has as much risk as many health care providers to being exposed to COVID-19, he said.
Kravick is regularly in and out of hospital rooms to make fixes to beds or other equipment, he said.
Since the pandemic started, Kravick has worried about getting the disease and spreading it to his loved ones, he said.
Steve's twin brother, Stan Kravick, also has worked doing maintenance at Mercyhealth for 43 years, Steve said. He hopes Stan will get the vaccine soon, too.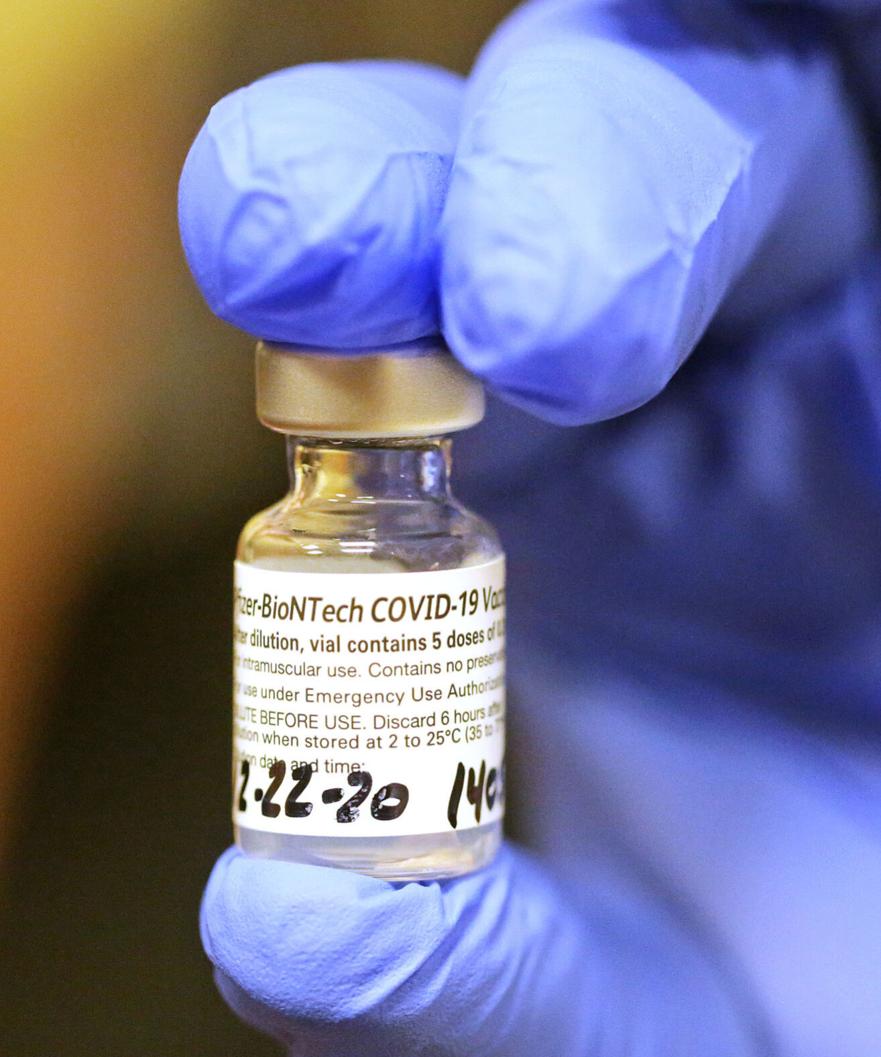 Minutes after being vaccinated, he said he felt completely fine.
Mark Mounajjed, infectious-diseases specialist at Mercyhealth, was vaccinated last week at the Rockford campus and said he had no issues after getting the vaccine.
Mounajjed said he is relieved to have gotten vaccinated and cannot wait for the rest of his family to do so.
COVID-19 vaccines are prioritized now for frontline health care workers and residents and staff of long-term care facilities.
Mercyhealth has prioritized vaccines within the system for workers who work in "high-priority, patient-facing areas such as the emergency department and medical intensive care units, and areas where health care workers are at a higher risk for COVID-19 exposure," according to the news release.
The state learned Monday it would be receiving about 100,000 doses of the vaccine created by Moderna, but local health care systems do not know yet when or if they will receive an allotment of Moderna vaccines.
After receiving the shot, health care workers Tuesday were given stickers and information about receiving their second doses.
Both the Pfizer and Moderna vaccines require two doses about three weeks apart. It is crucial that people who get vaccinated receive both doses to build proper immunity to the disease, experts say.
Health officials nationwide predict vaccines will not be available to the general public until spring or summer 2021.
Advisers to the Centers for Disease Control and Prevention on Sunday recommended adults ages 75 and older and frontline "essential workers" be the next groups to receive vaccines.
State officials say they will likely use that guidance moving forward, however, the definition of "essential workers" is in flux.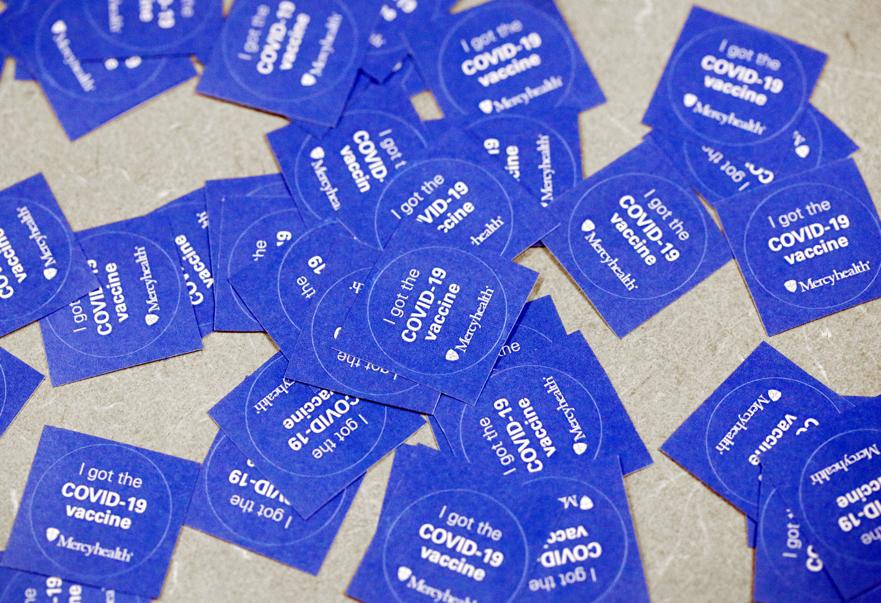 CDC advisers include first responders, people in the education sector, those who work in food and agriculture, those in manufacturing, corrections workers, U.S. Postal Service workers, public transit workers and grocery store workers as essential workers in their phase 1b planning.
It is likely because of demand that there will need to be prioritization within each phase of vaccine rollout.