JANESVILLE
Neighbors Margaret Udey and Glenda Hemmerling wore their masks and came to vote at the former Sears store in the Janesville Mall on Tuesday morning.
The two elderly women—Udey walking with a cane—had requested absentee ballots, but those hadn't arrived, so they decided to vote in person.
They were among several voters interviewed who knew about the health risk from the coronavirus but came anyway.
"I feel it's the most important thing we can do," Udey said.
"I have a feeling there are going to be a lot of people that are going to do that, especially with the court order that the absentee ballots have to be postmarked by today," said Rock County Clerk Lisa Tollefson.
The U.S. Supreme Court on Monday reversed a lower court ruling, saying that absentee ballots must be hand delivered by 8 p.m. Tuesday, or be postmarked by Tuesday and arrive by 4 p.m. next Monday.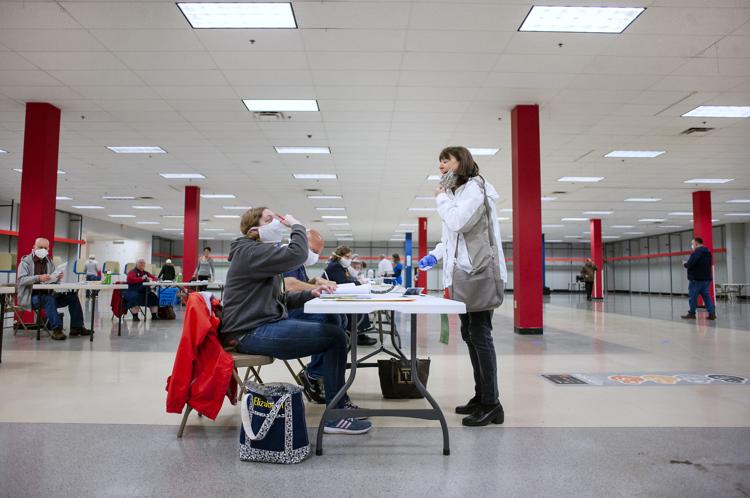 Some election officials were concerned that word would not get out on time, and voters might remember the previous ruling, which would have allowed them to drop off their ballots through Monday.
Another court ruling is keeping the results of the elections unknown until after 4 p.m. Monday. So no one will know who won the Democratic presidential primary, a state Supreme Court race and hundreds of local races and referenda around the state until then.
One thing officials were allowed to release was the number of votes cast.
More than 9,600 people voted at the polls in Rock County on Tuesday, according to a news release Tuesday. More than 32,000 ballots were sent or voted in-person before Tuesday.
As of Tuesday morning, voters had requested 29,591 absentee ballots, and 20,916 absentee ballots had been received by clerks around Rock County, said county Clerk Lisa Tollefson.
In the release, she called the pace of voting in most of the county "steady and slow."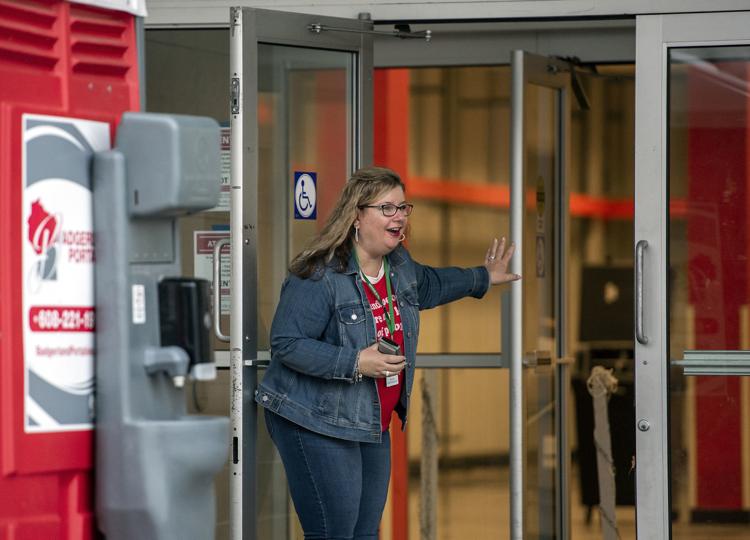 The empty Sears store was converted to a polling place in order to consolidate five polling places, especially for this election. A similar consolidation was done across town at the Rock County Job Center. The only Janesville voting places that didn't change for this election were Hedberg Public Library and City Hall.
About 20 people were in line before 7 a.m. at Sears, and people streamed in almost continuously for the first 40 minutes that a reporter observed. Some voted with no lines at all, and the lines that developed at some tables were short.
"We are busier than I thought we were going to be, way busier," Chief Elections Inspector Tammy Brown said.
Poll workers wore face shields, which allowed them to bypass state guidance requiring them to stay at least 6 feet from voters at all times, and this seemed to speed up the process.
About half the voters observed wore masks. Some voters were asked to pull down their masks so poll workers could check their faces against their photo IDs.
Around the county, several National Guard members helped out at the polls at town and villages.
Janesville asked people to bring their own pens to fill out their ballots. The town of Fulton gave each voter a new pen to use and take home. Everywhere, 6 feet was the distance.
In front of the Sears store, people lined up with substantial gaps between them, even though there were no markings on the sidewalk to prompt them.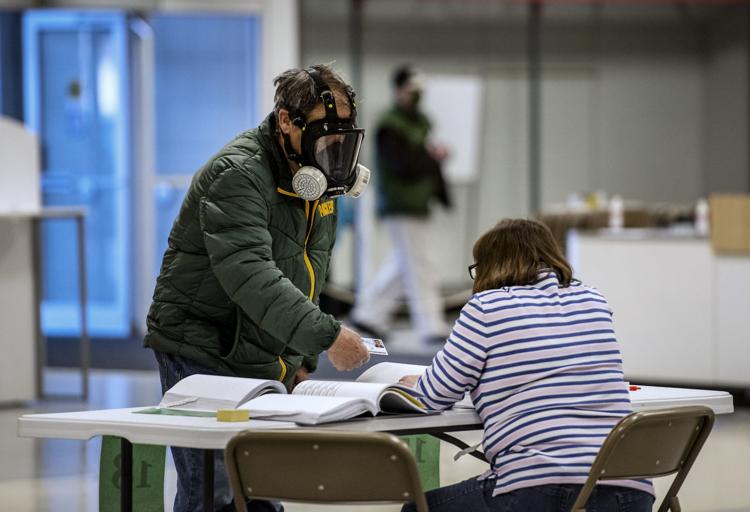 Many voters were older, despite the fact that health experts have been saying for weeks that the elderly are more at risk from the coronavirus than healthy young people.
Silver-haired poll worker Jerry Moore was working at Sears, unlike many longtime poll workers who decided not to take chances with their health.
"I figure, come on, what are the odds?" Moore said. "This is probably the safest place in the whole city."
Officials had gloves and sanitizer on hand in addition to their masks and shields.
Moore said people his age are more familiar with contagious diseases, having lived through times when tuberculosis and polio ravaged the population.
A younger Janesville voter, David Gretzinger, was among several voters who sensed politics played a role in Monday's events, when Gov. Tony Evers ordered the elections postponed, and then Republican leaders asked the state Supreme Court to nullify that order, which it did along ideological lines.
Gretzinger was among those not wearing a mask.
"We sent all the masks to my sister," an emergency room doctor in Texas, he said.