JANESVILLE
Janesville police started their own plan for social distancing Monday morning.
Police are now working out of four new locations around the city, in addition to the downtown police department.
Chief Dave Moore said the change is intended to reduce the risk of officers and other employees exposing each other to the coronavirus.
The police department estimates the plan will reduce the employee-to-employee exposure rate from about 80% to 20%. Previously, all officers came to the police department at the start of their shifts, and the outgoing and incoming shifts met for a briefing. Now, briefings will be by videoconference.
Officers will also receive briefing information through their squad car computers.
Moore said Monday that no department employee had contracted COVID-19. He would not say whether any employee was in self-quarantine at home, citing concern over federal privacy law.
Eighteen patrol officers, divided into shifts, are assigned to each of two substations, and five officers are assigned to each of two support offices. Each location will operate on its own, contacting others in the department only by phone, radio or computer.
Janesville schools Superintendent Steve Pophal quickly agreed to let police use Franklin Middle School, 450 N. Crosby Ave., and Marshall Middle School, 25 S. Pontiac Drive, for the patrol substations, Moore said.
Two support offices were established at Hedberg Public Library, 316 S. Main St., and the Janesville Senior Center, 69 S. Water St.
The downtown police department, 100 N. Jackson St., will continue to operate, but workers on each of the two floors are not allowed to be in contact.
Eighteen more patrol officers will work out of the lower floor of the police department. The detectives and administrative, records and other offices are in the upper level.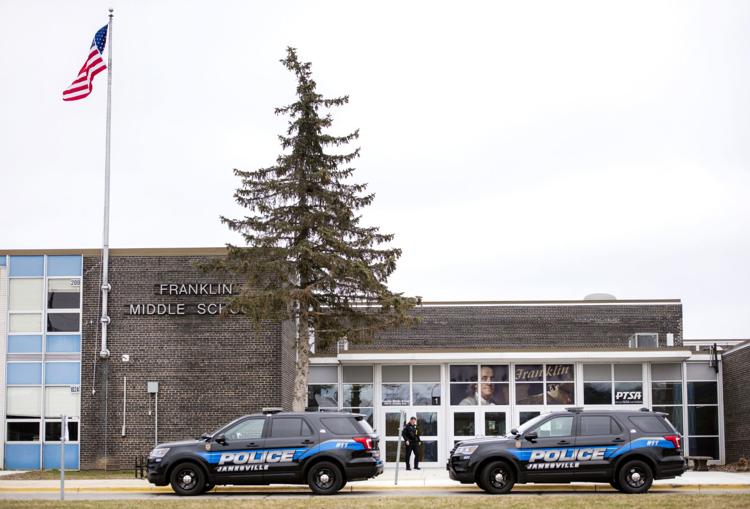 One sergeant and four officers are assigned to each of the two support stations. They will not be available for response to calls. Moore said he wants to hold them in reserve in case they are needed to fill in for sick patrol officers.
At the library support station, the team will support patrol, detectives and records section, working on tasks such as domestic violence follow-up, crisis intervention, COVID-19 matters and investigative follow-up.
The support officers formerly worked on patrol or were school officers, Moore said.
The second support group, at the senior center, is the Calls for Service Reduction Team. Those officers will look at buildings and situations that account for frequent police calls and look for ways to reduce those calls.
The call-reduction team will use phones or computers to interact with other officers in the field, Moore said. They might look for ways to reduce domestic violence, calls to problematic residences, problems on the Milton Avenue cruising circuit, in schools or in stores where shoplifting happens frequently, Moore said.
Moore said city residents can help police during this difficult time: "Be patient with one another. Be understanding of others. Be empathetic with one another. Don't let issues build to crisis so police are needed, so we can keep our resources for emergencies only."