JANESVILLE
At the YMCA of Northern Rock County, Cassy Schyvinck says members are stopping at a 67-ounce tub of hand sanitizer at the front desk to give it a few liberal pumps before they hit the gym.
That's the usual protocol for March as people using the busy downtown Y try to survive the last shreds of winter without getting sick.
But Schyvinck said she's seeing new levels of germ-consciousness after Gov. Tony Evers declared a public health emergency Thursday and media reported that a few Rock County residents were waiting to learn if they have COVID-19, the disease caused by the novel coronavirus.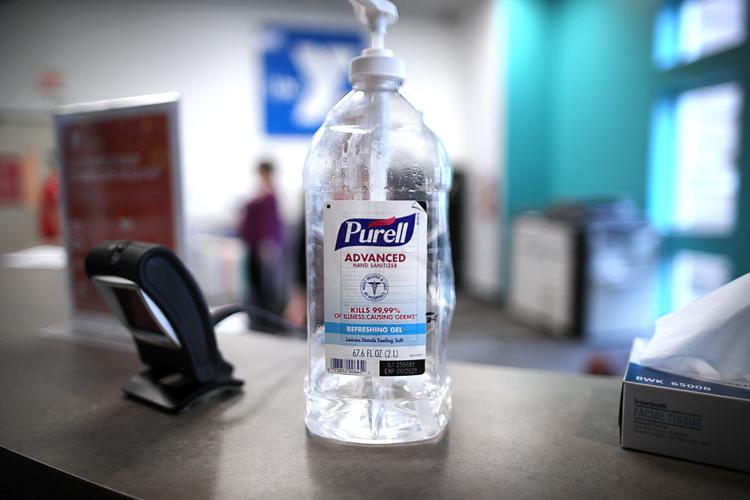 "They're asking who is cleaning the pump on the top of the hand sanitizer bottle before they touch it," said Schyvinck, the Y's membership services director.
At the YMCA and other places where large numbers of people congregate, those in charge of sanitation and cleaning say they're stepping up efforts to keep crowded spaces clean.
CEO Angie Bolson said the Y has new guidelines for how its downtown and Milton gyms are cleaned to try to keep germs and viruses to a minimum.
The Y plans to release the guidelines to some 6,000 members this week. Among the changes, Bolson said, are extra bottles of hand sanitizer throughout the facilities and extra cleaning of surfaces, including door handles, light switches, countertops and even chair armrests.
Members are being asked to stay home if they're sick, and staffers will be sent home to rest and isolate themselves if they're showing signs of flulike illness.
Also among the new policies is a recommendation that members to wipe off gym equipment before and after they use it. The usual policy is for members to use a germ-killing cleaner after use.
Bolson said Y directors across the nation plan to have a conference call Friday with their national charter, the YMCA of the USA, on a uniform set of protocols to deal with a possible COVID-19 outbreak.
While some health officials have recommended "social distancing," Bolson said she has not seen a dramatic falloff in gym use.
Fifty-three people showed up for a member luncheon Thursday at the downtown Y, which tells Bolson that members are still going out of their way to get to the gym.
Still, the Y is taking precautions, she said. When a member vomited in the pool this week, standard policy called for cleaning the pool and shutting it down for an hour. The Y decided to close the pool for the rest of the night. 
"It can be a little frustrating for our membership, but I think right now, we've really got to lean in on caution where we can," Bolson said. "We want all of our people to stay well."
JPAC
The Janesville Performing Arts Center announced it is not canceling any upcoming events, although it indicated in a news release that could change.
"This situation is obviously evolving, and we are doing everything we can to ensure the safety and security of our patrons, artists, employees and volunteers," the release states.
JPAC announced it was sanitizing high-touch areas, putting up signs urging hand washing and covering coughs, and encouraging volunteers and patrons to stay home if they have cold or flu symptoms.
All bartenders and volunteers are asked wear plastic gloves while handling beverages or tickets.
Bartenders are asked not to touch money and drinks with the same pair of gloves. They may work in tandem so one handles drinks and the other the money.
At the movies
Sarah Lehr, manager of Wildwood Movies 16, said coronavirus concerns haven't seemed to put a dent in the number of moviegoers at her Janesville theaters. She said recent customer traffic has been no different than the late-winter doldrums typical for movie theaters.
As a matinee crowd heavy on senior citizens filtered in Thursday, Lehr said her staff has begun to clean seats and other surfaces "people touch a lot" at least three times a day to prevent spreading illness.
"Literally, I have a pack of probably, like, 25 Lysol bottles right now. We're going around spraying all the surfaces," Lehr said. "We're doing the best we can."
The bigger impacts from the coronavirus might come later—and likely will have little to do with people isolating themselves. Lehr said film production companies have pushed back release dates on at least two blockbuster films this year.
One major action film due out this summer is being delayed a year because it was being filmed in China during the initial outbreak there, Lehr said.
"Something like this has all kinds of different impacts to different businesses," she said. "But I don't think in all the time I've been doing this, I've ever seen an illness outbreak that changes when movies can get released like this. Later on, it could really be a hit-home situation for us."
For additional stories and information, visit GazetteXtra.com/coronavirus.