WHITEWATER
There's still plenty of water in Cravath and Trippe lakes in Whitewater, but more draining is planned this summer.
The lakes' drawdown is the first step in a war on water weeds and sediment. Dam gates were opened July 8 as the city began work to turn its lakes into prime recreational assets.
This coming summer, the muddy lake bottom should become cracked with "Mars-looking sediment," Heidi Bunk, a DNR water resources specialist, told a crowd of more than 40 at an informational meeting at the municipal building Saturday morning.
The cracks allow air into the sediments, spurring bacteria to consume organic material and resulting in deeper water, although only by a matter of inches, Bunk said.
Bids for dredging of a channel through the linked lakes will likely take place in September or October, with dredging next winter, officials said.
The dredging could extend beyond the channel, if the city wants to pay for it, Bunk said. The city should have several dredging plans drawn up so officials can make an educated decision, Bunk said.
City Manager Cameron Clapper said the city is working to find a site to receive the dredged material.
"We have some sites in mind, but we haven't been able to shake out costs or necessarily get commitments from property owners," Clapper said.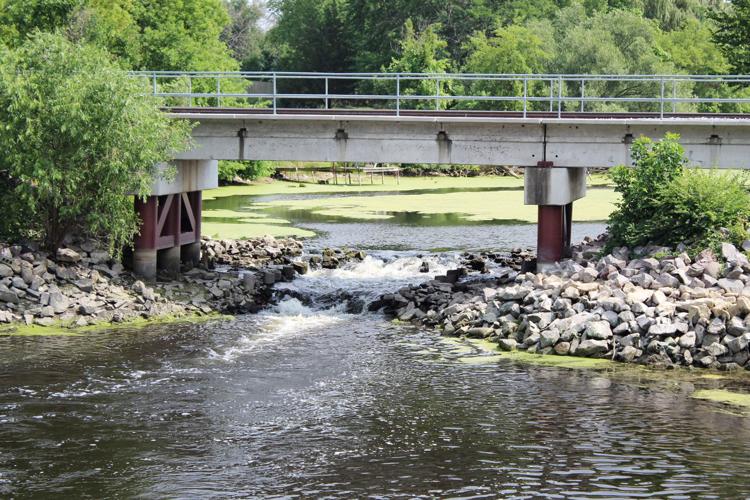 The city has been cutting the weeds each spring, giving about a six-week window before the weeds close in again, keeping most boaters out, said Eric Boettcher, city parks and recreation director.
Hopes are that exposing the Eurasian milfoil, coontail and other shore-choking species and leaving them to freeze over the winter will kill them off.
"I fished that lake for 60 years, and this is the worst I've ever seen it, as far as the lily pads go," said Lonnie Ripley. "People who live on the lake can't even get to the water."
Bunk said the drawdown won't do much to combat the lily pads.
Officials showed slides of School Session Lake near Dousman, which was dredged in 1990 and drawn down without dredging in 2017-18. The result was lots of clear water free of invasive weeds.
Several residents expressed concern about farm runoff contributing to the sediment that clogs the lakes. Clapper said Whitewater is working to better understand how Rock County manages the stream that feeds Cravath Lake from the west.
The city also is talking to Walworth and Jefferson counties, Boettcher said.
Counties can offer incentives to farmers to pull back and allow vegetation to grow along streambanks, Clapper said.
Bunk told the crowd that while government incentives are available to farmers, many farms are in an economic crisis, and farmers may not have the resources or energy to get that job done.
Several lakeshore residents asked about dredging along their properties. City officials indicated they would support lakeshore work the landowners pay for.
Bunk said in other lake projects, residents have banded together to hire a dredging contractor.
Officials plan to refill the lakes in the spring of 2021. They expect grasses and cattails to grow on the former lake bottom that spring, and they are considering burning those plants to speed up the lake's recovery, Boettcher said.
The dredging will come at an estimated cost of $1.27 million, Boettcher said. No grants are available for dredging, but there are grants for restocking fish and planting desirable water plants, officials said.
Goose populations in the area increased around the lakes in recent months, possibly because so many fish were available to eat during the drawdown, officials said, so the city will explore ways to reduce the population.
Property owners can keep geese out of their yards by planting tall grasses and flowers along their shorelines because geese don't like areas where they can't see the water, officials said.
The lakes were created by dams in the late 1800s, Boettcher said. The lakes are fed by Spring Brook from the west, Whitewater Creek to the north and local springs.
The lakes are called impoundments, Bunk noted, and impoundments trap sediment, "So that's why we are here today, because you're trying to create an artificial situation," Bunk said.
Just how deep dredging will go isn't yet known because plans haven't been drawn, officials said.
Bunk said she recommends drawdowns on the lakes each seven to 12 years to continue the battle against the undesirable plants.