TOWN OF LA GRANGE
Sadie Gunnink and her husband, Dennis, have discussed selling their town of La Grange home on Highway 12.
The couple and their children have lived there for only eight months, but a double-fatal car crash that spilled onto their property two weeks ago reinforced their concerns about safety in the area.
"The cars are going by way too fast here. It needs to be slowed down," Sadie Gunnink said. "People are dying.
"So it almost gives you fear, and I don't like having that."
The May 29 head-on crash killed an Elkhorn couple and sent a man and a teen to the hospital. Although it was the most serious, it was not the first crash near the Gunninks' home.
There have been four other crashes nearby—Gunnink was aware of three of them—one of which resulted in a suspected minor injury in December near Pleasant Lake Road, according to state data that tracks car crashes.
Gunnink is not the first to raise safety concerns about the stretch of Highway 12 that runs between Whitewater and Elkhorn. Walworth County community leaders, citing safety and traffic concerns, have called for the completion of a long-postponed environmental impact study of reconfiguring the highway.
"It makes me think, 'Did we make a major mistake moving here?'" Gunnink asked.
The human cost
The Gunninks had just returned from a trip to New York, and they had to run out and get groceries.
When they were close to home, they saw the flashing lights.
At 4:27 p.m. May 29, the Walworth County Sheriff's Office received a report of a two-car, head-on crash on Highway 12/67 just south of Sterlingworth Drive.
A preliminary investigation showed a 2011 Kia Forte driven by Dennis Hinze, 67, of Elkhorn, was southbound on the highway when he crossed the center line and struck a northbound 1999 Pontiac Grand Prix, driven by Matthew Kilroy, 40, of Fort Atkinson, according to the sheriff's office.
Hinze and his wife, Joy, 60, were pronounced dead at the scene. Kilroy and the 15-year-old girl he was driving with were taken by helicopter to a trauma center, the sheriff's office said in a news release.
Sheriff's Capt. Dave Gerber, who oversees the patrol division, said June 5 he had not heard that either Kilroy or the teen had died of their injuries. The news release from May 30 states, "Occupants in both vehicles were found in critical condition."
After learning the medical examiner had been called to the scene, Gunnink said she and her husband talked about how dangerous the section of road was. The 50 mph speed limit outside their home is too high for a residential area, she said.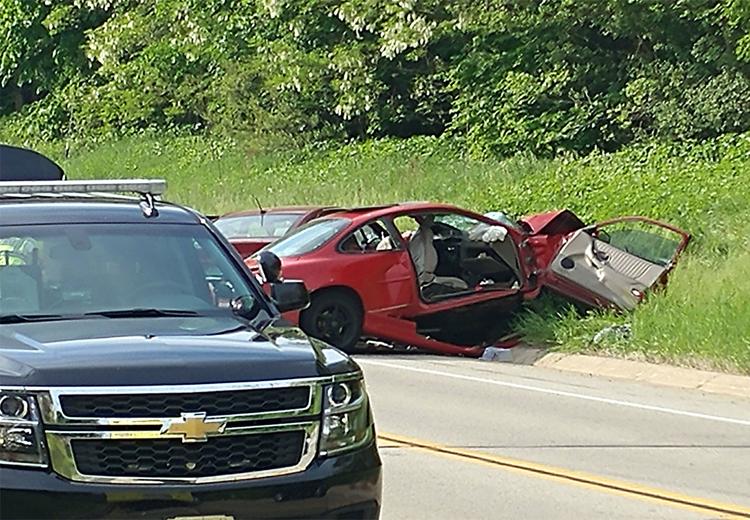 In 2017, there were four deaths in three crashes on Highway 12 between Elkhorn and Whitewater, according to state data.
Jan. 11, 2017: Ryan Gellings, 21, of Whitewater, died after a head-on crash with a semi-trailer truck on Highway 12 near Clover Valley Road outside of Whitewater.
Oct. 6, 2017: Eufemio Jimenez Ferrel, 24, of Round Lake, Illinois, was pronounced dead at the scene of a crash on Highway 12 a little north of County ES in the town of Sugar Creek. Ronald Passfield, 52, of Genoa City died later at an area hospital.
Nov. 12, 2017: Brandon Lee Garecht, 28, Janesville, died at the scene just east of County P after his car collided with a pickup truck in the town of Whitewater.
In total, Gerber said, the county saw 24 traffic deaths last year, with three of them being ruled as suicide. Gerber is the chairman of the county Traffic Safety Commission.
Gerber, pointing to the state data, said Highway 12 between Whitewater and Elkhorn does not have a disproportionate number of crashes.
Highway 14 through the southwestern part of the county, for example, saw eight fatal and suspected-serious-injury crashes in 2017, according to the state data. The stretch of Highway 12 saw the same amount, although a few other crashes were reported on other roads near—but not on—Highway 12.
Gerber said the commission cannot make laws, and it can only bring everyone to the table to make requests of lawmakers.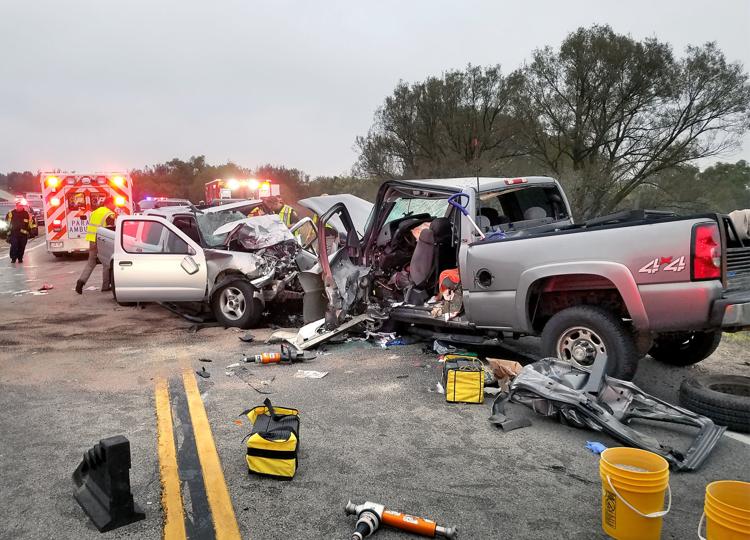 Within the last few weeks, Gerber said they had heard back regarding a request for a traffic light at Highway 12 and ES, near where the October 2017 double-fatal crash took place. He said the state Department of Transportation completed its study and determined the intersection did not warrant a light.
Still, a local group, the Redline Coalition, is calling for action to make Highway 12 safer.
'We won't rest'
Highway 12 is four lanes between Genoa City and Elkhorn, but it switches to two lanes in the winding stretch between Elkhorn and Whitewater.
Local officials have signaled the need for a state Department of Transportation environmental impact study of a new Highway 12 route between the two cities mapped out more than 50 years ago, said Jeffery Knight, president and CEO of the Greater Whitewater Committee.
Money had been included in the 2013-15 state budget to complete the study, but it eventually was taken out.
Last year, community and elected officials held the Highway 12 Transportation Forum at Gateway Technical College in Elkhorn.
On top of traffic concerns is that Highway 12 is dangerous, Michael G. Hahn, executive director of the Southeastern Wisconsin Regional Planning Commission, said last year.
Between 2011 and 2015, 404 crashes were reported on the stretch of Highway 12, according to Hahn's presentation. That stretch of road "exceeds the average state crash rate of 74 to 90 crashes per 100 million vehicle miles of travel on similar facilities," the presentation states.
Of those 404, 59 had a fatality or observed injury. About 59 percent of Highway 12 between Elkhorn and Whitewater exceeds the state's average crash rate of 18 fatal/observed injury crashes per 100 million vehicle miles of travel on similar facilities, according to the presentation.
Also last year, the Redline Coalition sent legislators a petition requesting the study be finished.
Since then?
"Right now, it's dead," Knight said of the study.
Knight pointed to other large transportation projects throughout the state that didn't make it through last session's budget process, including those in Milwaukee and on the way to the Wisconsin Dells.
Knight also emphasized the impact a congested or dangerous road can have on tourism, business and UW-Whitewater.
"If they are in traffic or don't feel safe, they will go somewhere else," Knight said.
He said the group still is promoting the idea to make the road between Elkhorn and Whitewater four lanes.
"This has serious, serious needs," he said. "And we won't rest."
'Talk about it'
So the status of the Highway 12 study is, for now, still stalled.
Gunnink said, however, she is motivated to ask the highway commission next month to look at lowering the speed.
She will also ask the town board about a "no engine braking" sign. When trucks drive by, the engine braking rattles her windows, she said.
She did not wait until the latest double-fatal crash to see what could be done to make the road safer. On May 8, she emailed the town of La Grange clerk, asking what could be done.
"It is dangerous and a noise nuisance," Gunnink wrote.
Gunnink has lived in Walworth County since 2004. She worries about her kids at her new home. Her 17-year-old is driving. Her 7-year-old likes to explore.
"The first thing I felt (after the May 29 accident) was fear for my kids," she said.
With all the discussions about structural impediments to a safe highway, Gerber emphasized most accidents are caused by driver error.
Drivers should "slow down and pay attention" and follow traffic laws, he said.
"Focus on driving," Gerber said.
Still, Gunnink is troubled by yet another accident near her property.
"Now is a great time to talk about it," she said.