Rock County Clerk Lisa Tollefson rested easier Wednesday after finding out no recount of the presidential election would take place in the county.
Tollefson and her staff listened to angry phone calls in recent days from people who were wrongly led to believe the county had gotten the results wrong.
At the same time, Tollefson had to prepare for a recount in case one was requested.
Asked if those who had spread the false information should apologize, Tollefson replied, "That would be nice."
She had not heard any apologies as of midday Wednesday, but she was receiving calls of support after The Gazette reported sheriff's deputies had increased security for her and her staff in the wake of the angry calls.
President Donald Trump's campaign filed for recounts of Milwaukee and Dane counties on Wednesday morning, but Tollefson noted the deadline was 5 p.m. to file for recounts, and she said anything could happen.
Trump supporters, including presidential son Eric Trump, had accused Rock County of a mistake in its election night reporting. News reporters checked and found no problem.
"A recount would've proved we did it right, but I don't like putting people's health in jeopardy just to prove we did it right, when we know we did it right," Tollefson said. "That's my biggest concern about a recount, (the potential for) spreading COVID to everybody."
Tollefson sees the fact that no recount was requested here as another confirmation that the election night glitch was what she has said it was, a reporting error by the Associated Press, which for a short time appeared to give Joe Biden's votes to Trump and Trump's to Biden.
The final tallies for the main presidential candidates were 46,658 for Joe Biden/Kamala Harris and 37,138 for Trump/Mike Pence. The Libertarian slate got 1,094 votes. Other candidates totaled 472 votes.
The county board of canvassers added nine votes for Biden and five for Trump, Tollefson said. Those votes came from provisional ballots and for ballots on which people wrote in the candidates' names rather than filling in the oval next to their names.
Tollefson spent hours this week preparing for a possible recount, including getting advice from the county health department on best practices to avoid coronavirus infections.
The law allows 13 days to complete a recount, and Tollefson was going to make Thanksgiving a day off, so she wanted to have everything in order, she said.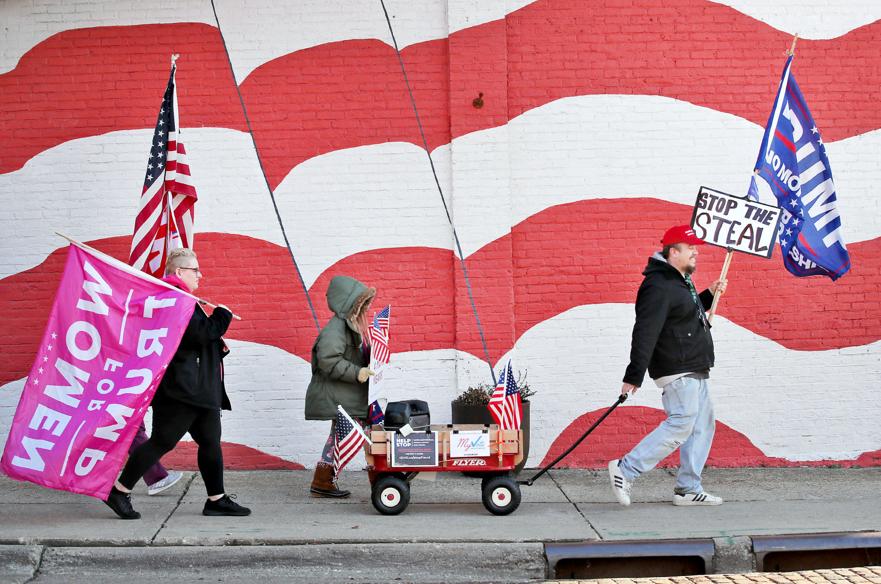 The county set a record Nov. 3 with 85,627 votes cast. A recount was held here in 2016, but the ballots then totaled just 76,851, Tollefson said.
The 2016 recount took 10 days, and this time, the process would have taken more time because of the record deluge of absentee ballots, which take longer to check because the ballot envelopes must be checked as well as the ballots.
Tollefson's recount preparations included things for COVID-19 that weren't needed in the 2016 recount. Those included renting a big room so recounters could space out, cameras to allow the public to view the process without entering the building, protective gear, tables and chairs.
Tollefson also got quotes for costs of stationing law enforcement at the recount site, and she lined up workers, mostly experienced pollworkers from around the county, who are familiar with the paperwork.
Even food for the staff would have been more expensive. Buffet-style serving could have spread the virus, so box lunches were planned, and those cost slightly more, Tollefson said.
Tollefson and her staff fielded phone calls over the past week from people who had heard the incorrect information and demanded the vote totals be changed. After trying to explain to them what happened, she doesn't believe a recount would have changed many minds.
"It's almost that they have blinders on and they … don't want to hear or understand how it works," Tollefson said.
Eleven adults and two children with Trump flags demonstrated in downtown Janesville on Wednesday afternoon. Some carried signs that said "Stop the steal," a reference to the unfounded belief that votes were not counted fairly.
"Trump won. Get over it!" said one man who appeared to be the group leader but would not give his name.
"Every legal vote counts!" he also shouted.
The demonstrators in front of The Gazette building at the corner of Milwaukee Street and Parker Drive chanted, "Four more years!" for a short time.
The man said he was happy for the recount in Dane and Milwaukee counties but said more counties should be recounted.