The city of parks will never be called the city of Kwik Trips, but some might find the designation fitting.
The gas station/convenience store chain got approval from the Janesville Plan Commission on Monday night for yet another store, this one on Wright Road across from Mercyhealth East.
Kwik Trip plans to build at 1030 N. Wright Road, opening probably in August 2023, said Dax Connely, the chain's real estate manager.
The approval for a conditional-use permit to build the store and gas pumps came on a 5-1 vote, which does not need city council approval.
Voting against was Paul Williams, who said the store would be too close to homes.
"I don't believe this is an area where we want to put a gas station in for the next 40 to 50 years," Williams said.
Commissioner Barry Badertscher agreed with Williams, saying the property seller had land available nearby on Milwaukee Street, where gas stations are allowed.
Badertscher, however, voted "yes" when the time came, saying "Kwik Trip has been a great partner for the city, and I'm sure they will do great job."
Kwik Trip plans to offer a liquor store and one-lane car wash at the site, as it has done with some of its other projects. The store would operate 24 hours a day.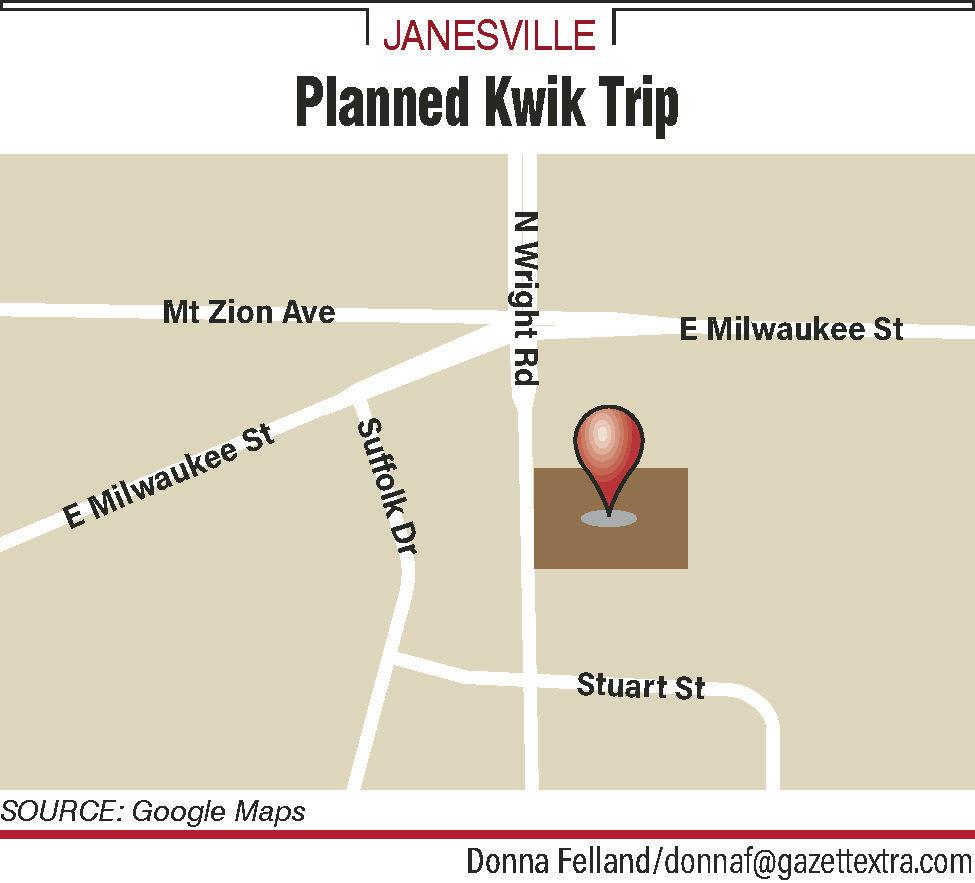 A study by Kwik Trip found the nearest residence is about 650 feet away, where the store's noise would be about 40 decibels, similar to that of a bird call, City Planner Jon Wolfrath said.
John Bieberitz of Traffic Analysis & Design, who did a traffic study for the Wright Road store, said traffic levels will be well within state transportation and city standards.
The study assumed a 52,000-square-foot office building would be built to the south of the convenience store, Bieberitz said.
Connely said Kwik Trip worked hard to satisfy city planners on the Wright Road project and that the store is one more step in showing Janesville that Kwik Trip wants to be in Janesville.
"We love Janesville," Connely said. "We've been working hard on our Stop-N-Go stores. It certainly has been shown in the community that the Stop-N-Go stores had to be cleaned up."
Connely said he hoped the new store would be "a catalyst for this undeveloped area on North Wright, and we hope to bring more development with us by being here."
The commission also sent a related matter to the city council with a favorable recommendation to allow a portion of Wright Road to be added to the ordinance that allows gas stations with conditional-use permits.
Planning staff recommended allowing gas stations between the Wright Road intersections of Stuart Street south of the Milwaukee Street intersection and La Mancha Drive north of the intersection.
Commissioner Steve Knox moved to allow gas stations between Stuart Street and Milwaukee Street only. He noted Wright Road becomes a boulevard north of Milwaukee Street, turning for vehicles could be a problem, and open lots in that segment border residential back yards.
The commission also agreed to remove portions of streets in the downtown business district and near Mercyhealth Hospital and Trauma Center from those where gas stations could be allowed. The street segments are on north and south Franklin Street and Jackson streets, Mineral Point Drive, and north River, Terrace and Washington streets.
The gas-station siting ordinance had not been updated since 1981.