The city of Janesville will get significantly less money per person from the new American Relief Plan Act than other cities, a fact that became a political football this week.
"The spending bill bails out reckless spending cities like Chicago and shortchanges hardworking hometowns like Janesville," Republican Rep. Bryan Steil said in a news release.
"Only in Washington would someone think it is fair to send $735 per person to Chicago while providing Janesville only $188 per person," Steil continued. "The spending shows this bill is more about redistributing wealth than it is about coronavirus relief. Congressional Democrats chose a funding formula that rewards certain areas over others, and it is clear Janesville is not high on their list."
Asked for a reaction, Democratic Sen. Tammy Baldwin, who voted for the relief bill, noted Janesville is slated to receive more than $12 million.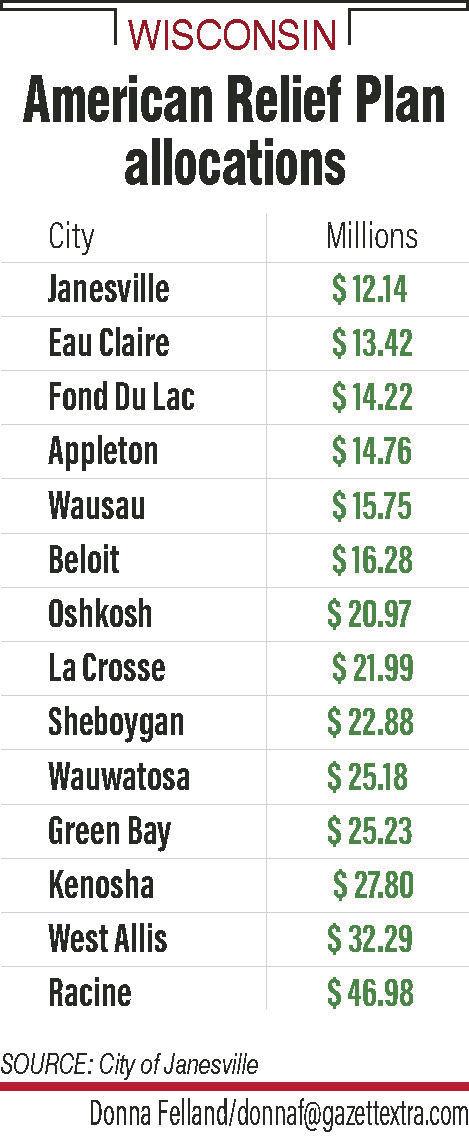 "If he wants to worry about Chicago, that's up to him, but I'm focused on working for Wisconsin because our people need help and it's our job to provide it," Baldwin said by email. "That is what the American Rescue Plan does, and now help is here."
The Gazette asked Tia Johnson, president of the Beloit NAACP, and YWCA of Rock County Executive Director Angela Moore about Steil's comparison of Janesville and Chicago. Both said they were disappointed.
"Yes, Janesville is a hard-working hometown. Guess what, Chicago is also a hard-working hometown," Johnson said.
Johnson noted big cities tend to have greater needs and higher poverty.
"To think we should give the same number of dollars to the people in Waukesha as the people in Milwaukee, with that great of a disparity, would do nothing but perpetuate the vast problems we are experiencing as a country," Johnson said. "One of the things I really appreciate about this bill is that it is putting funding where it's needed."
"It is unfortunate that language was used that could be interpreted as divisive and polarizing," Moore said.
Moore noted that Steil, a Janesville native who voted against the relief bill, represents both Democrats and Republicans and said Steil could be more helpful "if he included more about the impact of the bill and not blame the Democrats."
"Bryan opposed the bill because it was not targeted to providing COVID relief," Steil spokeswoman Sally Fox said. "This funding formula provision is an example of that. And it's an example of congressional Democrats ignoring the real challenges facing workers and families by simply sending money to their large-city allies."
A majority of Janesville voters chose Democrat Joe Biden for president on Nov. 3, and they preferred Democrat Roger Pollack over Steil by 2.4 percentage points.
Politics aside, Steil's statement highlights the fact that Wisconsin cities of similar size are getting more money than Janesville.
"It does raise the question of what's their calculation and what are numbers they're using to run the calculation," said Janesville City Manager Mark Freitag.
Allocations were based on funding formulas used in the federal community development block grant program, Freitag said, but he doesn't have further details other than its factors include population, poverty and "housing overcrowding."
Freitag has asked staff who work with the block grants to contact federal officials to make sure the numbers are correct.
"We're very appreciative of additional federal funding," Freitag said. "... Twelve million dollars is a nice chunk of change, and I think we can put it to good use in our community."
Freitag said he appointed Deputy City Manager Ryan McCue to head a city task force to consider spending priorities. Ultimately, a plan likely will be presented to the city council, perhaps in May.
The law allows the money to cover local costs of COVID-19 response, offset revenue losses, bolster the economic recovery and pay essential workers, but more specifics are needed, Freitag said.
The $12 million is expected to arrive in two installments, half in May and the second half in March 2022, Freitag said
Baldwin noted the American Relief Plan includes a $1,400 stimulus check for individuals or $2,800 for married couples, money for vaccine distribution, extension of unemployment insurance, and grants to struggling small businesses.
"This legislation delivers funding to help schools reopen, and it distributes emergency resources to counties, cities, towns and villages in the 1st Congressional District so local communities will have the support they need to move forward," Baldwin said.
Not all municipal funding amounts were immediately available. Baldwin's office had some figures: $20 million for Walworth County and $990,000 for Elkhorn.
That's about $94 per resident of Elkhorn, a city of about 10,500.