A problem with work already done during City Hall renovations last year has delayed the project again.
Work on City Hall was supposed to resume this spring, but City Engineer Mike Payne said crews have not returned to work.
Payne estimated in fall the renovations would be completed by the end of June. Now the city hopes the project can be finished by the end of 2020.
A waterproofing system already installed was determined to be noncompliant with renovation designs, Payne said.
The city is working with general contractor Klobucar Construction to solve the problem, Payne said. He hopes crews can return to the site soon.
"We feel we have an obligation to the taxpayers and public to get what we pay for and expect," Payne said.
Jim Klobucar, project manager, said his team has been working with the city on a new plan that he hopes will be finalized within the next week.
The contractor intends to continue the work, Klobucar said, with the goal to finish by the end of the year.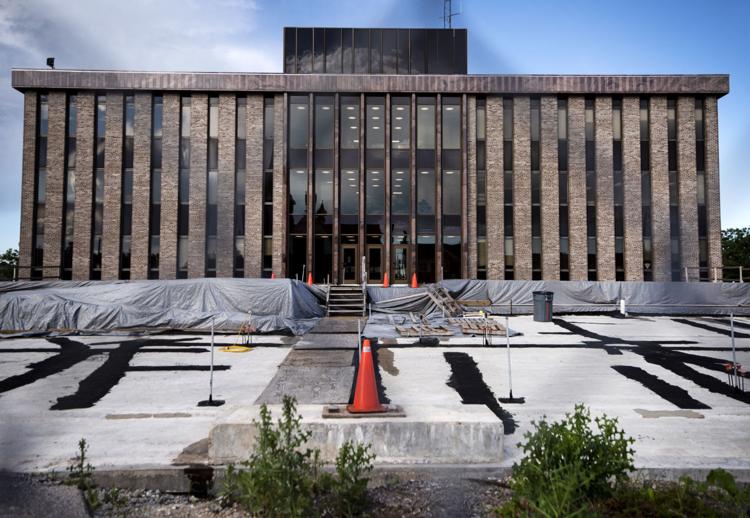 The city's 2020 capital improvement plan says the City Hall plaza renovations include the following:
Structural repairs of the underground parking structures.
Removal of upper plaza concrete deck.
A waterproofing membrane.
A new green roofing system over the first-floor parking structure.
Sidewalk modifications.
Uplighting in front of City Hall.
Window replacement and glazing.
Tuck-pointing and sealing of the brick exterior.
Interior lobby modifications.
Front door replacement.
The project in 2019 was estimated to cost $2.65 million and to be funded through prior note proceeds and general fund borrowing in 2019 and 2020, according to the 2019 capital improvement plan.
The 2020 capital improvement plan lists the total cost as $2.89 million, a $240,000 increase from initial estimates.
The project's overrun was borrowed as part of the city's 2020 debt issuance.
Payne said the overrun was mostly caused by interior leaking found once the project started and not because of project delays, which do not necessarily increase construction costs but do cost the city staff time and resources.
The city is trying to manage the project within its budget and does not plan to borrow any more money to complete it, Payne said.
The waterproofing portion of the project costs about $150,000. It is up to the contractor to figure out funding for redoing that piece of the project, Payne said.
"Nobody likes to see a project sitting idle," he said. "We are anxious to get restarted and do what is necessary to make (the project) compliant."