The Janesville City Council set the city's 2021 tax rate Tuesday morning, meaning residents have a better idea what to expect once property tax bills reach mailboxes.
The tax rate and 2021 budget were approved unanimously during a three-minute-long meeting Tuesday morning. The budget had been discussed in greater detail in meetings and budget sessions leading up to Tuesday.
The city set its tax rate at $7.83 per $1,000 of assessed valuation, a 0.6% increase from 2020. The owner of a home assessed at the median valuation of $149,000 will pay $1,278 in taxes to the city in 2021, according to figures provided by the city.
Property tax bills in Janesville include charges from four taxing jurisdictions: the city, Janesville School District, Rock County and Blackhawk Technical College.
Tax rates from those jurisdictions and the state school tax credit combined create a net tax rate of $23.15 per $1,000 of assessed value, a 2.31% increase from 2020.
That means owners of a home valued at $149,000 in the Janesville School District will pay $3,241 in property taxes, a $97 increase from 2020 (some Janesville residents live in the Milton School District, so their cumulative tax rate is slightly different from other Janesville residents).
Janesville's tax levy—the amount of money collected from all property taxes— will total $39.9 million in 2021, a 1.51% increase from 2020, which officials have said is a modest increase. Officials intended to keep the levy increase slight this year because of the economic impact of the COVID-19 pandemic.
The city's total budget will jump 1.9% to $127.1 million in 2021.
The Janesville School District's tax levy will be the highest among the four taxing jurisdictions covering Janesville for the first time since 2015, according to data compiled by The Gazette.
The school district had the highest tax levy from 2001 to 2015. Since 2015, the city has collected more in property taxes than the school district, though some years have been almost identical.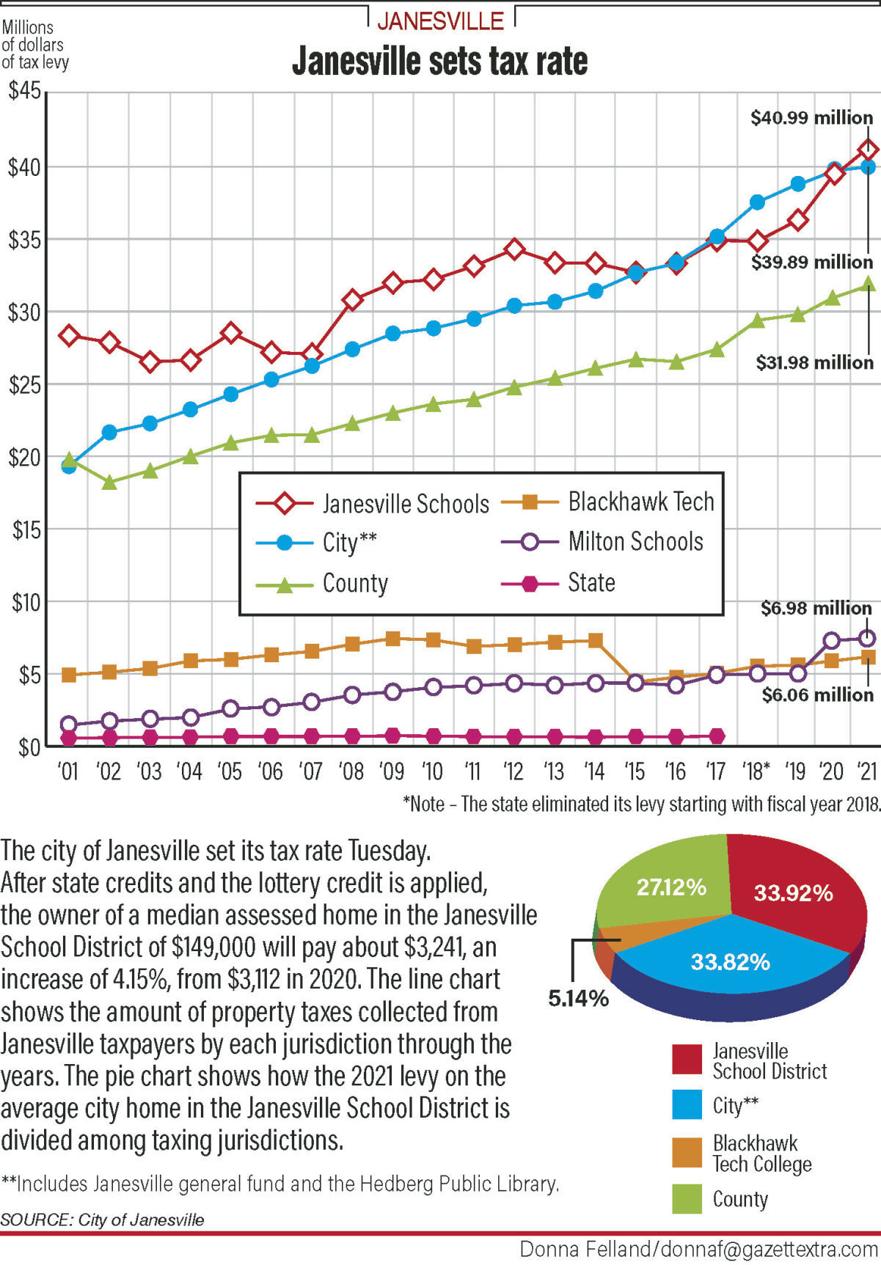 Janesville schools saw the highest year-to-year increase in tax levy from 2020 to 2021 with a 4.69% increase. The city saw the smallest year-to-year increase.
The school district in November approved two referendums allowing the district to increase taxes for capital and operational needs.
Rock County and Blackhawk Tech saw 2.63% and 2.5% levy increases, respectively. Blackhawk Tech also passed a referendum to allow for an increase in taxes for capital needs.
Tax bills will be mailed out this month and will be due Jan. 31. Those who choose to pay taxes in two installments will have payments due Jan. 31 and July 31.