'It's not right': Rock County gets ready to change bail system
JANESVILLE
For well over 100 years, courts in Rock County and elsewhere have ordered people held in jail after they are accused of crimes.
But only some of them.
Those able to pay their bail walk free as their cases continue in court. Those who can't afford bail sit in jail, sometimes for many months.
That's morally wrong and possibly unconstitutional, say local officials who are planning to change things as soon as this summer.
Kelly Mattingly of the local public defender's office said the clients his office represents are unlikely to be able to pay even a small amount of bail—also referred to as cash bond.
Stuck in jail, they lose their jobs, and their families lose breadwinners. Eventually, some lose their homes, Mattingly said.
All the while they're locked up, they have not been found guilty of anything.
Mattingly said many defendants are never found guilty, but they are deprived of their freedom just the same.
"Over the years, we've seen a lot of lives very seriously, adversely, affected by a relatively small amount of cash bond being placed on them," Mattingly said.
District Attorney David O'Leary recalled the 2002 case of William J. Mereness, who killed his estranged wife, a Janesville teacher.
Mereness was able to post $100,000 bail, setting him free while the case was pending.
"In my mind, that was a significant risk to the community as well as a significant flight risk," O'Leary said.
The night before the trial started, Mereness tried to arrange a meeting behind a school with the only witness to his confession, O'Leary said.
"And what would have happened if the guy showed up? I don't know, but I have my suspicions," O'Leary said. "So you have high-risk individuals being able to get out because they have money, and you have low-risk individuals not being able to get out because they don't have money, and it's not right.
"So we're trying to fix that."
O'Leary, judges, the public defender's office, law enforcement and others—both locally and statewide—are involved in making the change. They are part of a criminal justice reform effort called evidence-based decision making.
In addition to the desire to do the right thing, officials know counties are being sued throughout the nation for bail systems that don't provide the 14th Amendment guarantee of equal protection under the law.
In the current system, a court commissioner holds a hearing for every person accused of a crime and held in jail.
Lawyers for the defense and prosecution will argue over bail: Should the defendant be released because he's likely to show up for his court dates? Or should a high bail be imposed because he's likely to flee? That's the main purpose of bail—to ensure the defendant's appearance at future hearings.
Also argued is whether the person is a danger to the community. The court commissioner listens and decides.
Some are released on signature bonds, which costs them nothing. Some are held on cash bonds, which they must pay or else stay in jail.
Under the new process, officials hope that many more defendants will be given signature bonds.
Defendants who are jailed will be asked to fill out a short questionnaire called a public safety assessment. The 11 questions include age, previous criminal convictions, current charge, previous incarceration and previous failures to appear for a court hearing.
Defendants are not asked questions about race or ethnicity or questions that might disadvantage them because of where they live, such as number of previous arrests.
People of color tend to live in areas that are highly policed, so they tend to have more arrests, Mattingly said.
An organization called JusticePoint, which already is doing similar work for Milwaukee County, will check the accuracy of the answers and issue a risk assessment tool, which will tell court officials the chances the person might commit a new crime if released and the chances the defendant would not show up in court.
Court commissioners will still listen to lawyers' arguments, and they'll still set bail, but the risk assessments, which are based on research and have proved themselves elsewhere, will have a great influence over the process.
"Research shows that 85 percent of the time the tool is accurate, but there's still times where it's not," O'Leary said. "But research also shows that by using both your professional discretion and a risk assessment tool, you're right 95 percent of the time."
The court could also release someone with supports to make sure they don't miss court dates.
Some will simply get phone calls or text messages reminding them of the date. Research has shown this system—much like what dentist offices do—makes a huge difference.
Others might also be required to attend periodic meetings, similar to meeting with a probation agent, and some could be drug-tested or be required to wear alcohol monitors, depending on risk level, said Elizabeth Pohlman-McQuillen, county justice system manager and Evidence-Based Decision Making Committee member.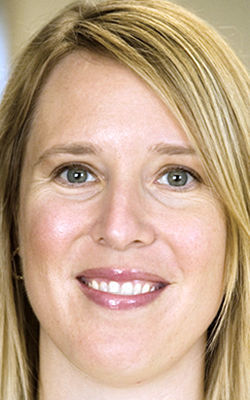 Another part of the current system officials say is wrong is that it puts low-risk offenders in jail with high-risk offenders.
The low-riskers are exposed to people who can tell them how to raise the money they need by selling drugs or burglarizing homes, O'Leary said.
Research shows this contact greatly increases the probability that the low-riskers will commit crimes, "so basically you're doing more harm to your community by locking up low-risk offenders," O'Leary said.
The Arnold Foundation, which created the public safety assessment, says it is used in more than 40 jurisdictions nationwide, and early results include fewer defendants held in jail, lower rates of defendants failing to appear in court and less crime committed by those on pretrial release.
The local effort will be duplicated in six other Wisconsin counties. The vision is to expand it statewide at some point, O'Leary said.
Officials will collect data to see if the new way of doing things does what they think it will do—keep low-risk offenders out of jail and, potentially, save on jail or other criminal justice costs.
Janesville Police Chief Dave Moore, also a committee member, said he will be interested in the results.
Asked if he worries the new system will result in the release of someone who then commits a crime, Moore said he worries about the current system doing that.
"It is my hope this evidence-based system will provide more safety for our community because we'll be holding the people who should be held, and the low-level offenders who are less likely to offend will be released," Moore said.
"Although it's evidence-based and science-based, it's not bulletproof, it's not guaranteed, but it's a better system than we have now," Moore said.
"We are in an era of very finite resources, and we need to be very cautious about where we spend taxpayer dollars, and we need to assure they are used as effectively as possible, Moore added.
The new initiative won't affect another aspect of the system that critics have said is unconstitutional.
People who are arrested are either given a court date and released by police or they are jailed pending a court appearance, when bail is set.
The decision to release or hold depends on the severity of the crime as determined by something called a bail bond schedule.
The schedule tells arresting authorities how much a suspect must pay to be released. If the suspect has the money, he walks. If not, he sits in jail until court. That could be overnight or over the weekend—again, putting low-risk and poor offenders in touch with high-risk offenders.
"That's bothered me for 30 years, and it's just wrong," O'Leary said.
But solving that problem requires changing state statutes, O'Leary said.
O'Leary said officials involved in evidence-based decision-making have been trying to get the courts and lawmakers to understand the issue.
O'Leary notes it costs money to keep people in jail or prison, but elected officials can be more interested in re-election than making the system more cost-effective.
"It's just not sustainable just to simply lock everybody up, but that doesn't win votes. 'Get tough on crime' does," O'Leary said.