Local officials are preparing just in case voters encounter harassment, intimidation or people carrying guns at the polls Tuesday.
People with guns, sometimes in military garb, have become a regular occurrence at political events in the area in recent years.
Those carrying them have said they are just exercising their Second Amendment rights or that they are providing security.
But some find the presence of a gun while they are waiting to vote intimidating.
Wisconsin does not ban firearms at the polls, but local governments can.
Janesville has never allowed weapons inside polling places, said city Clerk-Treasurer Dave Godek, and all four polling places are posted as such.
The city has limited the number of polling places because most voting is done absentee this year. The polls are Janesville City Hall, Hedberg Public Library, the former Sears store at Uptown Janesville and the Rock County Job Center.
But disruptions or carrying guns outside the polls is a gray area. Janesville Police Chief Dave Moore said people have Second Amendment rights to carry firearms, so police would handle guns as they did at a protest in February 2017 when two men with long guns circled protesters at Jefferson Park.
Officers were assigned to stay with the men to reassure the crowd and monitor the gunmen, Moore said.
"I would expect a similar circumstance if someone would (carry a weapon) around a polling place," he said. "I think you can expect Janesville officers to be very close, for that same purpose, to offer what level of comfort and security that we can."
At the same time, officers would not try to diminish the exercise of the Second Amendment, Moore said.
The 2017 protest was largely against newly inaugurated President Donald Trump, and Trump is the source of some current concerns.
The racist Proud Boys were emboldened by the president's recent statement that they should "stand back and stand by," according to news reports. Trump on other occasions has called on supporters to monitor polling places and look for fraud.
The killing of two protesters by a teen carrying a gun during the recent protests in Kenosha also heightens concerns.
Rock County Sheriff Troy Knudson said deputies are training this week on how to handle poll disruptions.
Guns are forbidden on school grounds, Knudson noted, and some government buildings ban firearms on their premises, but there's no ban on openly carrying weapons at some other polling places.
"If an election inspector says there's a problem with people intimidating voters waiting to get in, that would certainly get our attention, and we would send somebody there to help navigate that issue," Knudson said.
Knudson said he hopes such problems don't happen here.
State law forbids advocating for a candidate within 100 feet of a poll, but that's relatively short distance, and voters waiting in line could easily hear someone one yelling from 100 feet away.
Moore said people have their First Amendment right to express themselves, within limits, outside the 100-foot zone.
Godek said he would err on the side of voters being free from intimidation and would ask police to intervene if disruptors won't stop.
Moore said threats of violence are not protected speech, and "We certainly would intercede at that point and hope we could persuade people to behave properly. But sometimes, our fix is an arrest."
Pointing a gun at someone could also prompt an arrest, Moore said.
Godek said disruptions at the polls are rare here.
"We've had a lot of success in Janesville and in Rock County. I think our voters for the most part wouldn't stand for that," Godek said. "I just don't see people in our community supporting outright voter intimidation or any of that stuff, on either side. It's just that Midwest common sense that we have, that we can disagree politically, but we don't have to be disagreeable about it."
Godek said anyone feeling intimidated should tell the chief election inspector or call his office, 608-755-3073.
"Don't engage that person. Let us handle it," Godek said, and if a voter feels his safety is threatened, call 911.
No one interviewed for this story had heard of any threatened disruptions at the polls.
Moore said he will appoint officers to monitor potential threats.
Knudson said he appointed a deputy to stay in touch with Rock County Clerk Lisa Tollefson, whose office collects and stores election results but does not run elections at the poll level.
Other rules
Some election inspectors might allow a voter wearing a campaign button or T-shirt in the polls, while other inspectors might ask that the button or shirt be removed, Godek said.
On the other hand, "driving through the parking lot with a bullhorn and saying vote for this person, that's electioneering," Godek said.
What constitutes harassing behavior is the purview of the chief inspector at each poll, and he or she could remove anyone who is disrupting voters, with police help if needed, Godek said.
Parking a car with a big campaign sign on it won't be allowed, Tollefson said, but bumper stickers in the parking lot are OK.
Voters won't be kicked out for wearing campaign garb, Tollefson said, but voters are not allowed to campaign while in line.
Police at the polls
Moore and Knudson said in the past, their officers have dropped in at the polls from time to time.
But not this year, Moore said, because recent racial-justice demonstrations have changed things.
Those demonstrations protested police brutality in cities around the nation. There have been no such incidents locally.
Republicans have pointed to violence associated with some protests and have made law-and-order and back-the-badge rhetoric part of their campaigns.
"The perception of the police has changed significantly in the last number of months," Moore said. "I wouldn't want our officers' presence to be viewed as support for any one candidate."
"That's not a good look; I don't think it's necessary," Godek said. "I think there's a segment of the population that unintentionally could be intimidated by a police presence, even though they would be there to maintain safety and order."
Election monitors
Election observers are common, often working for political parties.
Observers affiliated with the Trump campaign and Democratic Party have been at Janesville's early voting site the past two weeks with no problems, Godek said.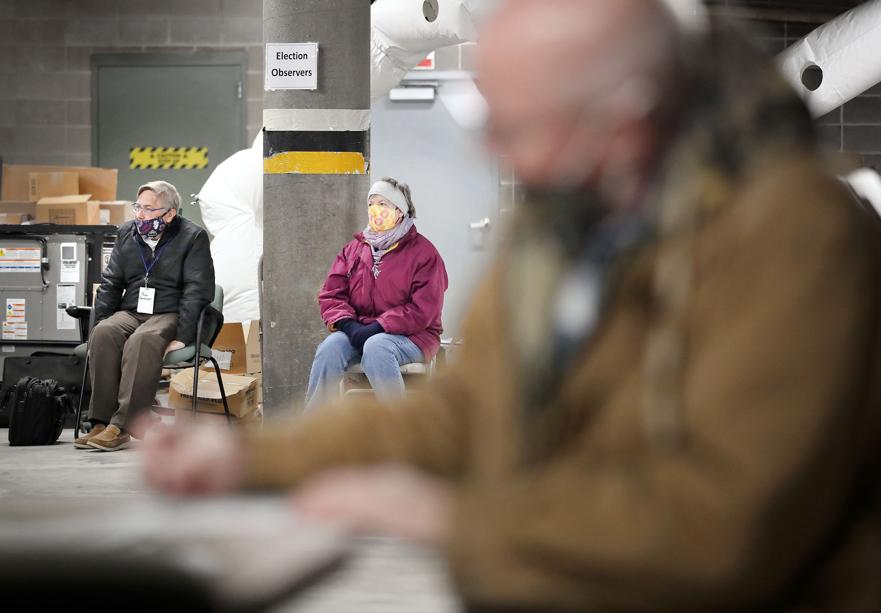 Anyone can show up and ask to observe. They must sign in and show ID. They must follow rules that include no talking to voters and staying within physical limits the chief inspector gives them, Tollefson said.
Coronavirus restrictions have limited the number of stations where observers can sit. If too many show up, they will be limited on how long they can stay so others get a chance, officials said.
Observers are allowed to ask questions of poll workers. They are not allowed to take photos or video or talk on their phones. Texting is allowed. They may not wear anything indicating support for a candidate. They can be removed for causing a disruption.
Observers are required to wear masks. Voters are not required to wear masks because of an elections commission ruling that says only the Legislature can impose restrictions on voting, Godek said.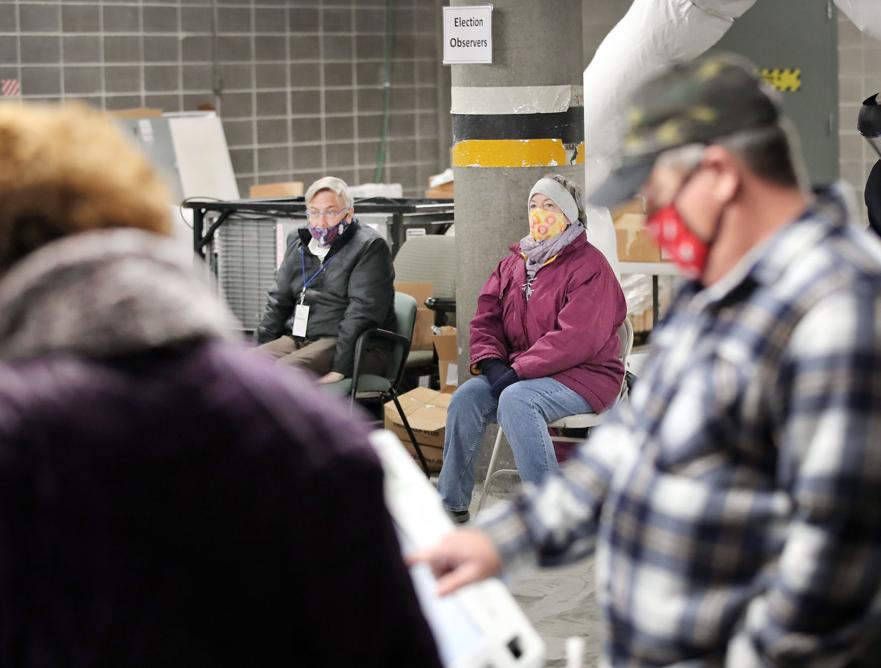 Voters, however, will be encouraged to mask up, and masks will be available.
Tollefson and Godek said they like having observers.
"Having someone understand the checks and balances and see how the system works, I think that's a positive for the system," Tollefson said. "Most people don't understand what we do and how much goes into an election."
"I think what they're going to find is observing the election is really boring," Godek said. "It's a really regimented, routine process."