JANESVILLE
A new spec building could be coming to an industrial park on Janesville's far south side, pending city council approval Monday of a tax increment financing deal.
Under the proposal, the city would sell two parcels totaling about 16 acres for $1 apiece and provide $40,000 for the removal of a home, according to a city memorandum.
The site is located at 200 Innovation Drive, north of the Dollar General warehouse and west of the under-construction NaturPak pet foods facility. The 16 acres of farmland is valued at nearly $550,000, while the home is worth an estimated $164,000.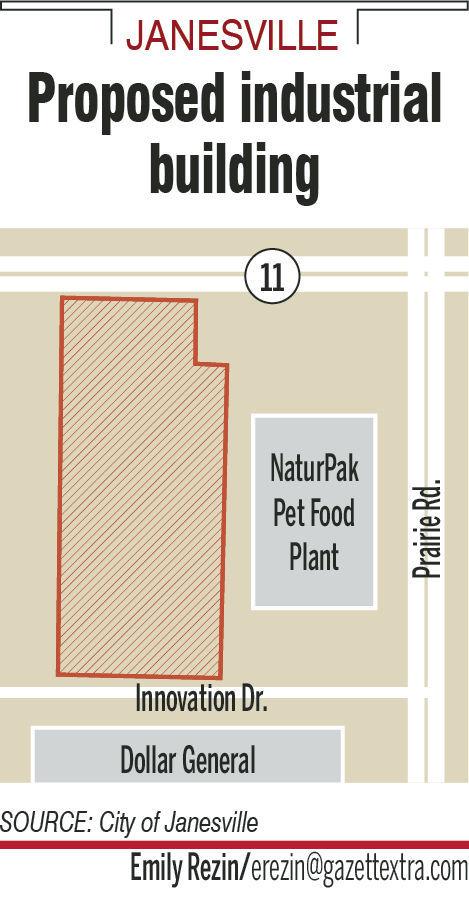 The home, located at 123 W. Highway 11, recently was purchased by the city and needs to be annexed from the town of Rock. The council will hold its first reading for annexation and rezoning of that property and a neighboring home at Monday's meeting.
Annexation and rezoning of the two residential properties could be completed in June. Only the home at 123 W. Highway 11 would be part of the speculative industrial building's property.
Badger Property Investments would construct a 100,000-square-foot facility for a future industrial tenant. The company has built three other industrial spec buildings in Janesville in the past four years, and all secured a tenant before construction was finished, according to the memo.
Those three buildings have helped create 150 jobs in the local economy. The city has found that spec buildings are attractive to companies, which often give preference to facilities already under construction, according to the memo.
Badger Property is guaranteeing $3.8 million in property value for the new building. It would add at least $87,000 in annual increment to the surrounding TIF district and be repaid within 10 years, according to the memo.
Economic Development Director Gale Price, who wrote the memo, was unavailable for further comment Friday. The city recommends the council approve the proposed incentive agreement.