A public-private housing project could convert an aging downtown storefront in Edgerton to apartments geared specially for military veterans at risk of homelessness, city officials said.
Edgerton City Administrator Ramona Flanigan said Edgerton's city council approved a tax-incentive package that would pay owner Andrew Arnett $150,000 to sell his three-story storefront at 210-212 W. Fulton St. to the city.
The city's incentive deal also would provide Edgerton Community Outreach, a nonprofit social service agency, up to $200,000 to rehab the second and third floors of the West Fulton Street building to create six apartment units at the building, which is located at the intersection of Albion and West Fulton streets, just east of Edgerton City Hall, Flanigan said.
Under the deal, the city has agreed to buy the property from Arnett.
Flanigan said the property has an active financial investment office in the storefront, while the space in the upper floors is partially gutted and vacant.
Under the deal, the city would sell the West Fulton Street building to Edgerton Community Outreach for $1.
Flanigan and Edgerton Community Outreach Executive Director Sarah Williams said the apartments would be made available through a transitional housing program Edgerton Community Outreach has run since 2005.
Williams said the apartments would be available to both veteran and non-veteran residents, but the new units—which could be renovated as early as 2022—would double the amount of transitional housing units Edgerton Community Outreach owns or leases from six apartments to 12.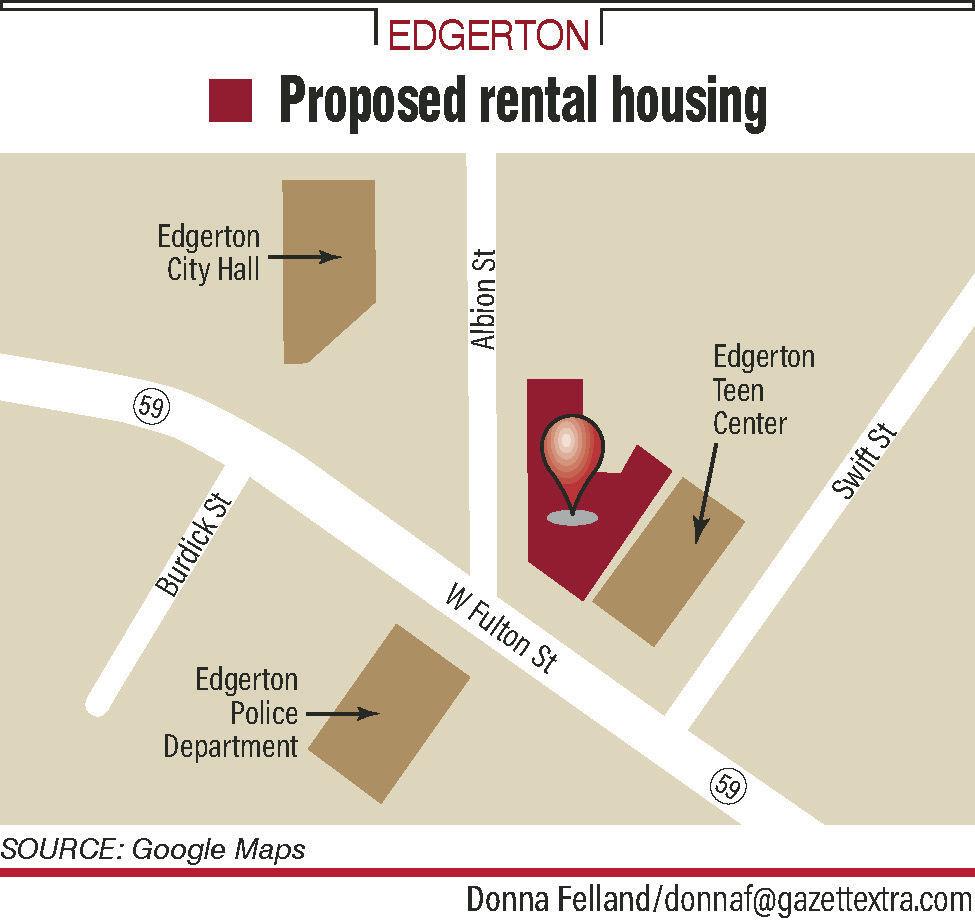 The project comes at a time when Williams said Edgerton is seeing just a 1% vacancy rate for apartments. She said Edgerton Community Outreach now has a waiting list for apartments through its transitional housing program, and the agency has had to turn down the last 27 residents who have inquired because of a shortfall in available rentals.
Williams said the Edgerton's chapter of Veterans of Foreign Wars has been in talks with Edgerton Community Outreach for "several years" over the possibility of a housing project that could meet the needs of homeless veterans.
Flanigan said that Williams, the city and VFW officials have learned that Rock County has just one existing housing program in rural Beloit for veterans at risk of homelessness.
Furthermore, she said, that agency appears only to focus on male veterans. There doesn't appear to be another program that caters to female veterans or families with at least one, if not two, veterans.
In Wisconsin, military veterans make up about 7.5% of the overall homeless population, according to data from the U.S. Interagency Council on homelessness and services website Porch.com.
Overall, veterans here are more than three times likelier than non-veterans to face homelessness, according to the data. Although the bulk of homeless veterans are male, a significant portion have families, and about 25% of all military veterans in the state are burdened by the cost of housing.
Fred Falk, who leads Edgerton's VFW chapter, said the VFW intends to partner with Edgerton Community Outreach in pursuit of private donations and grant funding to make the project work.
Falk said the VFW itself is considering setting up a meeting space on the ground floor at the West Fulton Street property—part of which is already occupied by an investment office that has been a longtime tenant. Williams said decisions have not yet been made on whether the investment office would need to relocate.
Under the deal, the city would require Arnett to pump at least $50,000 in proceeds from the sale of the West Fulton Street building into repairs and renovations of another downtown property Arnett owns at 2 Burdick Street.
Flanigan said the Burdick Street property has had parts of its brick facade collapse in the past, a state of disrepair that has drawn past repair orders by the city.
Edgerton Mayor Chris Lund said the project will "save" two downtown buildings while creating another housing option for vulnerable local families.