WHITEWATER
At Wednesday's ribbon-cutting ceremony in Whitewater, Boomer interrupted City Manager Cameron Clapper a few times.
He wasn't the only one. Others besides the 15-year-old Australian shepherd chimed in during Clapper's brief remarks, which officially opened Bark Park, the city's new dog park.
Boomer is short for Boomerang—a nod to his active breed, said his owners, David and Sylvia Linton.
Boomer doesn't have the same energy he used to, they said. As younger, more limber dogs bounced around the grass, Boomer usually trailed after them, adding a few barks.
"He'll go home and sleep all evening," David said.
About 10 (very good) dogs attended the ceremony, which started at 5 p.m. The sun was still out. Boomer found a spot in the shade and also helped himself to the ice used to chill water bottles the city provided for the two-legged crowd.
The park, which is open from dawn until dusk, sits at the northwest corner of East Starin Road and North Jefferson Street. It is fenced and includes a space for large dogs and another space for small- and medium-sized dogs.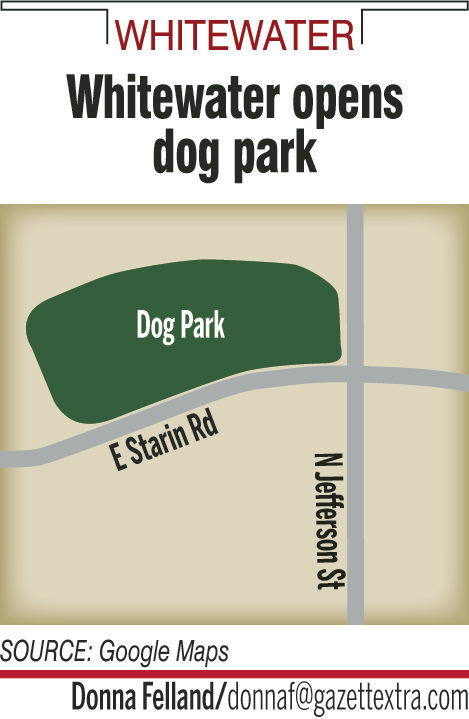 The park currently has benches and picnic tables. It also has "Mutt Mitts" and garbage cans to help clean up after dogs.
Whitewater's old dog park had problems, David said.
Located by the industrial park, the park often got muddy because it was in a wetland area, said Eric Boettcher, city parks and recreation director.
Boettcher came to Whitewater from Minnesota a year ago, and he said lots of residents were unhappy with the old park.
"I think it's a great facility for them to now use," Boettcher said. "They kind of did their time at the old one, and it wasn't what the dog owners wanted. Now they have a good spot to come to that we can keep maintaining for them."
Some features the city plans to add include an information kiosk, water spigot, play features for dogs and pavers with paw prints, according to a news release. The city is also considering allowing residents to donate shade trees in memory of pets or family members.
Residents can donate money to help pay for those additions, Clapper said.
Parks are a benefit to the community because as they promote health and boost economic development, he added.
By 5:30 p.m., it was time for Boomer to go home.
"Boomer says he's hot," Sylvia said.
When he goes for walks, Boomer takes it slow, David said. But when he's around other dogs, he feels pressure to exert himself.
Boomer broke into a run for about three steps before he remembered he was old, Sylvia said.
David said he was "really happy" with the new park, and they would "absolutely" bring Boomer back.
But for tonight, David said Boomer likely will get an aspirin with peanut butter on a dog treat to help his hip.
"He'll sleep well after this," he said.