ELKHORN
An African-American man who lives in Elkhorn says the nearly $4,000 in zoning citations he received after hosting a private event were racially motivated because those violations are rarely if ever enforced on others.
Lawyers for John Neighbors, 36, filed a notice of claim with Walworth County in October seeking $500,000 for emotional injury and $3 million in punitive damages for how the county punished Neighbors for hosting party-goers during a concert at the Alpine Valley Music Theatre.
The Walworth County Board denied the claim last month, and county zoning officials dispute Neighbors' assertions, saying they have issued citations for a similar campground violation before. The official who issued the citations said the Neighbors case was not racially motivated.
Two former Walworth County prosecutors representing Neighbors say what their client did is "rampant" throughout the county but never enforced.
The county cited Neighbors, however, for not having a conditional-use permit when he hosted people on his property in June when Dead & Company performed at the East Troy theater about 3 miles away.
Neighbors, a business owner who has been in the area for 19 years, told The Gazette on Tuesday his property was not open to the general public and that all money from attendees was used for accommodations and not for personal profit.
Daniel Necci, who was the Walworth County District Attorney until 2016, and Cody Horlacher, who is in the state Assembly and also used to work in the DA's office, want a judge to dismiss the citations for selective prosecution of "broad" ordinances.
"It stinks," Necci told The Gazette. "It stinks to high hell."
'Solely because
of his race'
Prior to the June weekend, Neighbors reached out to a sheriff's deputy, a county judge and those who lived near his 25-acre tree farm at W3936 County ES north of Elkhorn, court documents say.
Neighbors said he had security workers for the property, and they searched cars to make sure no guns or "riffraff" came back from the concert. He said he did not want people who were drinking getting hurt during the weekend.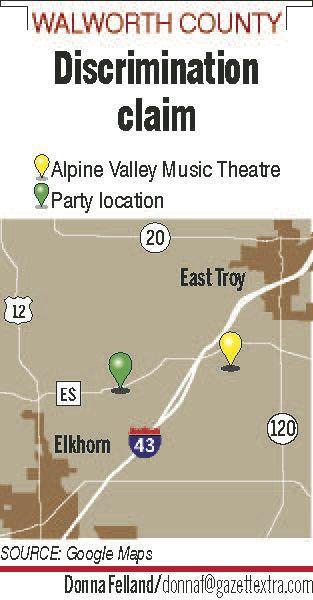 Walworth County Land Use and Resource Management Senior Zoning Officer Nicholas Sigmund gave Neighbors two citations for each of the three days. He cited Neighbors for not having a conditional-use permit and for having a campground in an A-2 district.
Later in the summer, Neighbors' attorneys filed open records requests for all similar citations in the last 10 years. None that match what Neighbors was in trouble for on private property came up, Necci said.
Necci filed the notice of claim Oct. 15, and Horlacher on Jan. 3 filed a motion to dismiss the citations for selective prosecution.
The case file includes five affidavits from law enforcement officials and others saying they have witnessed "innumerable" instances of camping on private grounds that were in full view of public roadways and/or landowners.
One affidavit from Town of Linn Police Chief James Bushey says he has personally asked the county to investigate a campground. They "failed to prosecute said campground."
Figures from the 2010 census show Walworth County is 1.3 percent African-American, and the percentage of business owners who are black is likely even smaller, the motion states.
"Mr. Neighbors was prosecuted solely because of his race," the motion states.
"Simply, Mr. Neighbors has demonstrated that L.U.R.M.'s (Land Use and Resource Management) actions had a discriminatory effect and that they were done with a discriminatory purpose."
County responds
Sigmund, the Land Use and Resource Management official, said he issued the citations to Neighbors after a complaint was given to the county. Sigmund said there was one complainant.
Sigmund viewed the property after receiving the complaint and issued the six citations a few days later. Sigmund said he has met Neighbors several times and that race wasn't a factor in the decision.
County officials say they do not patrol for zoning violations and they are primarily tipped off to violations through complaints. Sigmund said the county hasn't received any complaints "remotely close" in similarity to the one against Neighbors in the past few years, with the exception of one filed in July 2016.
That complaint was filed against a commercially zoned property in Delavan that had a conditional use permit to operate 12 camping sites. The county ultimately issued three citations to the property owner, claiming there were more than 12 sites—one complainant wrote there were more than 200 tents on the property—and that those sites did not meet the standards outlined in county code.
Sigmund said the citations given to Neighbors and the Delavan property are similar.
"The issues are all the same with anything like this. There's issues about sanitation and traffic and safety and fire and water and fireworks and parking," Sigmund said.
Necci disagrees. He said the two incidents are "entirely different" because the Delavan property is commercially zoned. Neighbors' property is zoned as an agricultural land district, and Necci said camping on similar properties happens "everywhere" in the county.
"What we're talking about is all the people all over the county, all the good ol' boys, all the folks having campouts in their backyard. ... All of them are eligible to be cited," Necci said.
"The one person in a decade they decided to cite for it happens to be an African-American gentleman. ... I don't believe any reasonable person is going to believe that over the course of a decade, the only person ever complained about was John Neighbors."
Sigmund said there has been a dip in activity near Alpine Valley in the past few years. There were no concerts there in 2017, he said, and the majority of camping events occur during multiday outdoor concerts at the music venue.
Sigmund said a set of citations were issued to two properties in East Troy in 2002 for camping violations. Sigmund said to his knowledge those are the only other citations issued by the county for similar camping violations in recent history.
'Injustice'
Neighbors has not yet decided if he wants to file a lawsuit, Necci said, but filing the notice of claim leaves that option open.
At this time, Neighbors is set to appear on Feb. 4 and 5 for a court trial on his citations.
The Elkhorn man said this was not the first "injustice" he has faced. But other times, he has had to "turn the other cheek" in order to move on with his work.
Neighbors said he has "worked really hard" to get everything he owns. He has gone for permits before and paid his taxes and other dues when required.
"So if it was something that was that bad, I just felt like a warning or something could have been better than slapping me with $4,000 worth of fines," he said.