As summer 2020 rolled along, many local families knew tough decisions about school lay just around the corner.
Faced with educating thousands of students during a pandemic, the Janesville School District came up with three options: a fully virtual experience at ARISE Virtual Academy, a traditional in-person learning environment in classrooms or a hybrid combination of the two.
ARISE enrollment boomed, and face-to-face instruction continues today. But Elizabeth Paull's family is among the families who chose a fourth option: home-schooling.
"We really, really struggled all summer long with what this school year was going to look like and what would make sense for our family," said Paull, who is home-schooling two of her three children.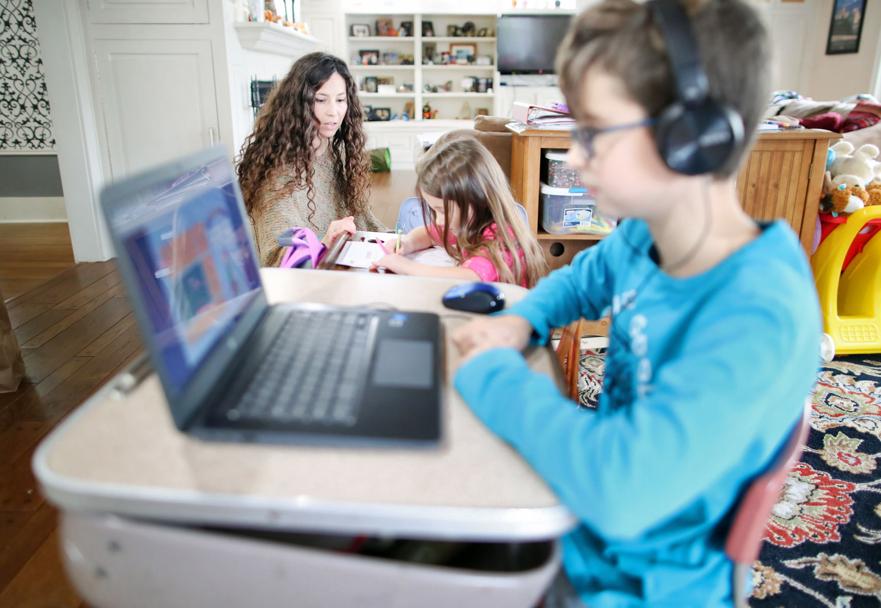 Paull decided to home-school her two youngest children, third-grader Oliver and kindergartner Elaina, this school year because of the risks posed by COVID-19. The Paulls' oldest daughter Evelyn, 13, learns at ARISE.
"We went back and forth so much, and I wish that I knew then what I know now because I could have removed so much anxiety from those summer months. It's been great, it really has been," Paull said.
The number of students in home-school education programs across Wisconsin increased by 55% this year.
From July 1 to Oct. 11, some 23,027 students had enrolled in home-school programs, according to data shared by Chris Bucher, a spokesman for the Wisconsin Department of Public Instruction. That number was 14,862 last year.
Janesville home-schooling numbers were not available Monday.
The process Wisconsin families need to follow to home-school their children is simple compared to other states. Those looking to do it must:
Fill out the state Department of Public Instruction's Homeschool Enrollment Report
(Form PI-1206) before Oct. 15.

Provide 875 hours of instruction to each child ages 6-18 from July 1 to June 30.

Provide a course of education for each child that allows the child to progress in reading, language arts, math, science, social studies and health.
Families can switch back to their respective school districts by returning to the DPI website, editing the home-school form and then contacting their districts.
Preserving the family business
Liz and Andrew Paull own and operate Paull Chiropractic in Janesville. The family chose home-schooling to keep employees and patients safe and reduce the likelihood of COVID-19 exposure.
"Our primary decision in keeping them from face-to-face instruction this year was in support of supporting our family business and keeping that healthy and intact as much as possible," Paull said.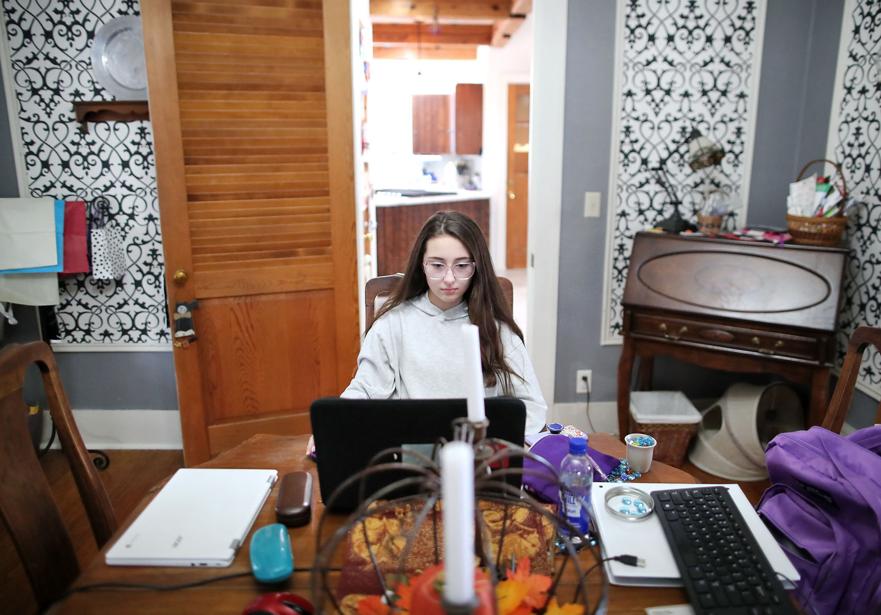 Lindsey Bussie also decided to home-school her two children this year to ensure the family business stays open. Bussie and her husband, Jake, own Alkali Tattoos in Janesville.
"With that objective in mind, it just seemed like sending them in person anywhere would be the quickest way for us to have to stay home again," Bussie said.
"They (the kids) did some virtual in the spring, and we had tested part-time virtual, and it just wasn't really a fit for how both of the kids like to learn. So we decided that home-schooling with my husband's schedule and my work schedule would probably work out best for us."
Paull is a former high school Spanish teacher with a master's degree in education, so she was confident she could teach her children at home. She said she never really envisioned home-schooling for her kids because she believes in public education, but she thinks the pivot is going well.
What it looks like
The Paulls didn't know much about how home-schooling worked before they decided to do it. Paull said she sought advice from friends who home-school before settling on learning platforms.
Paull can access the platforms and assign premade homework and tests for her son. She acts as the facilitator and teacher, but the lessons are already set up. She also helps her kindergarten daughter with her coursework.
The Paulls try to keep their kids on a consistent schedule. The children work on core classes from 9 a.m. to noon each day. For Oliver, that means English, math and social studies. Elaina works on kindergarten skills such as reading, writing and counting.
"I miss seeing my friends and not going to a classroom. It just feels different," Oliver said. "I do like being able to learn with my cats here."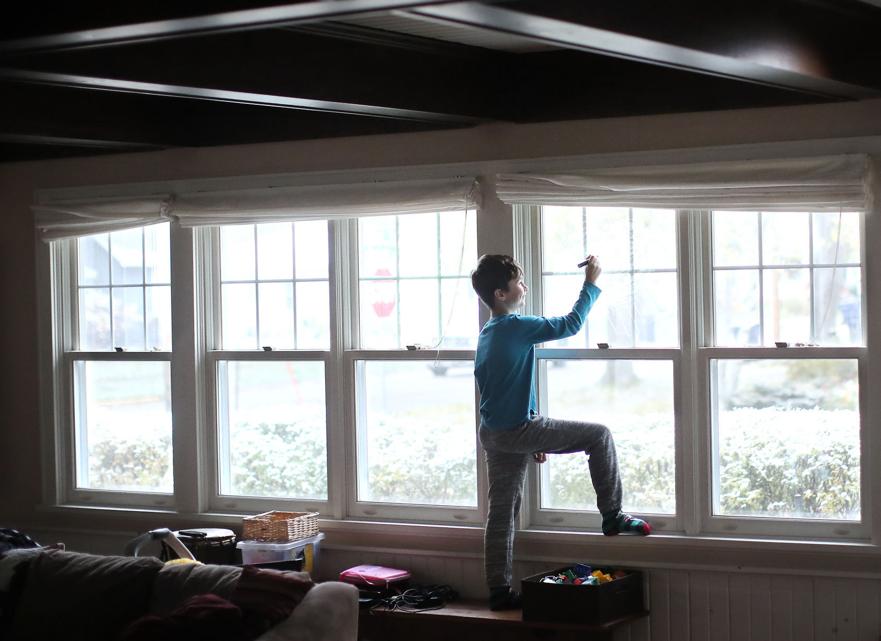 Afternoons are designed for creative activities in other subjects, such as science, art and physical activity. Because the kids don't have to worry about logistics such as walking to class or recess, they save time, Paull said.
The Bussies also focus on core classes each morning. Their kids—Quinn, who is 9, and Rory, 7—begin school around 8 a.m. at their own work spaces. They focus on math and English until about 10:30 a.m., when Mom and Dad have to go to work.
The Bussie kids spend their afternoons at their grandparents' house, where they finish schoolwork in other classes, such as social studies and science. Sometimes, they bring books from the library to help further the lessons. Mondays are for science, and Tuesdays are for social studies and art.
The Paulls experienced a learning curve as the kids adjusted to Mom as their teacher, but the flexibility of home-schooling was a nice change, Liz Paull said.
Lindsey Bussie shared that sentiment. But because she and her husband have to report to work, it sometimes feels like they are rushing the kids instead of allowing them to learn at their own speed, she said.
Bussie said the family has enjoyed the home-school benefits.
"I always wanted to home-school as a romantic type of notion," she said. "Like it seems really neat to see how your kids learn because as a parent it's always neat to see them learn and grow."
Still, both families look forward to the day that their kids can return to classrooms.
"I know they both want to be in person, and I would support them in whatever they want to do," Bussie said. "It is fun, and it's really cool to kind of be a part of your kids' learning and see how they learn. But as far as juggling everything, it would be a bit of a relief to have them be in person and not have to juggle so many schedules and so many other things."
"I'm not the traditional home-schooling mom. I am home-schooling kind of in a temporary place, but we're embracing it with open arms while we are in this," Paull said.
"We would love to be back in our schools with our friends and our teachers as soon as things look like they will be safe and our business will not be interrupted for having to close down. We definitely plan to return to traditional schooling, but we are absolutely enjoying our time together. This is not a miserable experience at all."