UW-Whitewater is planning to cut its budget by $12 million over the next two years and lay off employees to compensate for a "drastic decline in enrollment," the university's chancellor announced Thursday.
For the third year in a row, enrollment for the Whitewater campus went down, dropping 4.1%—from 12,084 students in 2018 to 11,586 in 2019, according to data from the fall semester.
Enrollment at the university's Rock County campus in Janesville is down 11.6%—from 975 students in 2018 to 862 students this year.
An administrator told The Gazette on Wednesday that enrollment is down more than the university expected.
Chancellor Dwight C. Watson in his announcement said the university's current plan is to make base budget cuts of $6 million in fiscal years 2020 and 2021. These are not one-time reductions, he wrote.
"In the past, UW-Whitewater had robust reserves that allowed campus to weather challenges," he wrote. "That is no longer the case, and we must align our spending to the revenue we generate."
Along with layoffs, Watson wrote that other "immediate savings" they must make include contract non-renewals and reduction in appointment times.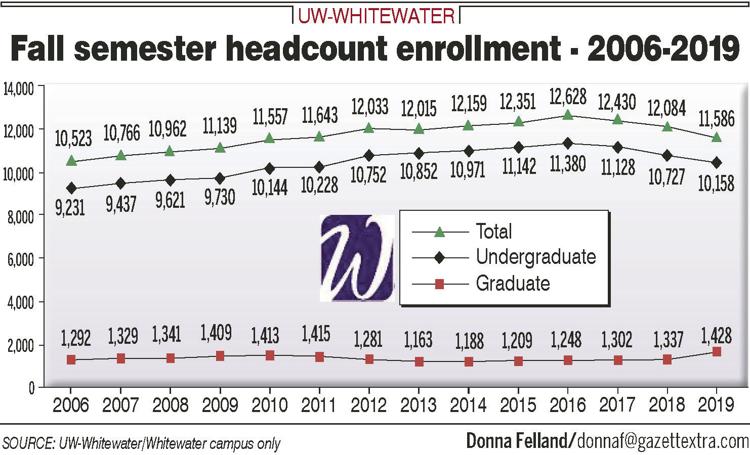 Before the latest three years of decline, UW-W had record enrollment seven times in eight years.
Tuition is a university's "primary source of revenue," Watson wrote, adding that the declining enrollment has cost UW-W about $11 million since the university's peak in 2016.
Decisions will come from the division and department level, as well, with Watson saying, "All divisions have been asked to reduce operating budgets by comparable amounts."
Watson broke down planned changes into three areas: reductions, reinvestment and revenue.
Reductions: Some plans here include "centralizing some operations," posting positions only internally for the first two weeks, imposing a moratorium on new tuition reimbursement requests and returning professional development funds to previous levels.
Reinvestment: The university's Strategic Enrollment Plan, approved in the summer, is meant to beef up numbers or prevent more losses. Some planned actions include expanding the recruitment of student populations, specifically with "Latinx students and students with disabilities;" focusing on degree-completion programs; expanding online programs and guaranteed transfer agreements with technical colleges and other two-year institutions; and increasing available scholarships.
"These initiatives need to provide enrollment growth," Watson wrote. "For this reason, all investment initiatives will receive consistent evaluation."
Revenue: Ideas for new revenue streams include creating new academic programs, degrees and certifications; finding new grants; and expanding transportation to bring more people to campus.
"I understand this news may be difficult to digest," Watson wrote. "Let's remember that UW-Whitewater has discerning and dedicated employees ... I know this is a campus that cares deeply about our students and our mission to serve, and as we tap into that dedication to UW-Whitewater we will overcome these challenges."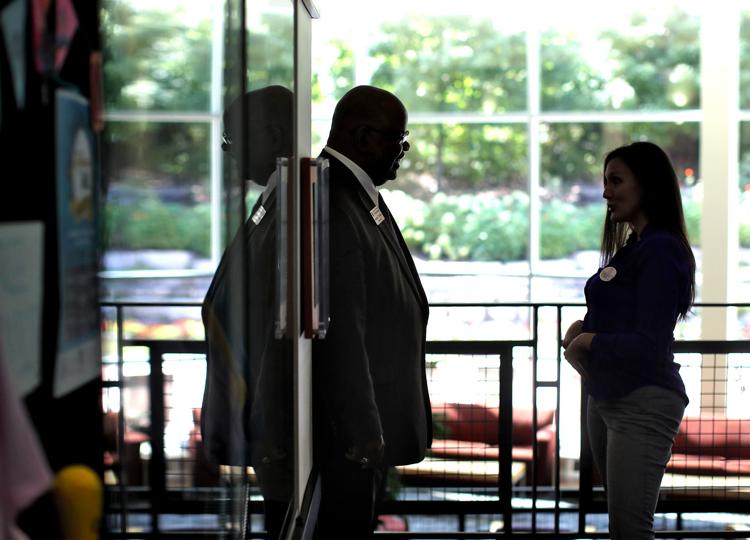 The decline on Whitewater's campus comes entirely from the undergraduate student population, which went from 10,747 in 2018 to 10,158 in 2019.
There was a 6.8% increase in graduate students—from 1,337 to 1,428.
Matt Aschenbrener, associate vice chancellor for enrollment and retention, said the graduate school numbers did not increase as much as he thought they would, however.
That, combined with the decrease at Rock County and the cutting of two classes as part of the university's Partners in Education program, contributed to the overall decrease, he said. The program allows high school students to earn university credits while still in high school.
Aschenbrener said the university has been working "diligently" in the last 18 months to change its marketing, build new programs and initiatives and make the admissions staff more closely match the region's demographics.
He said they recently brought on a bilingual admissions counselor.
Some parts of the region UW-W recruits from are turning out fewer high school graduates, but others have more, Aschenbrener said.
Last year, the university reported seeing record-high retention of about 82%. While Aschenbrener said in a follow-up email they don't yet have the new rate, he thought it would be "near or just below 80%, which is still a really strong retention rate compared to our peer institutions."
University officials expressed hope that next year will buck the declining enrollment trend.
Watson wrote that an "uptick" in applications and admissions are "good signs for the fall of 2020 class," and Aschenbrener said campus tour numbers have been up since early summer.
"We think that we're headed in the right direction," Aschenbrener said.
This story was updated at 6:12 p.m. Thursday.