UW-Whitewater's chancellor and his cabinet addressed a packed and anxious room Wednesday about how the university is looking to prevent an $11 million budget deficit driven by declining enrollment.
The steps UW-W is taking to confront its budget situation did not begin this week, but Wednesday's listening session was the first such meeting listed in a letter Chancellor Dwight Watson shared with campus last week.
Watson on Jan. 23 announced preliminary plans to cut the university's budget by $12 million over the next two years and lay off employees. But he stressed at the listening session that his letter was a "preamble" for a series of campus conversations about how to steer UW-W to a more sustainable position.
In the letter, Watson said the university plans to make base budget cuts of $6 million in fiscal years 2020 and 2021. He said these are not one-time reductions.
He said Wednesday that he wrote the letter because he heard from his cabinet that "people are not taking this seriously" and "they might not know as much as we know."
Watson said Grace Crickette, vice chancellor for administrative affairs, shared a report on first-quarter spending and how it was $2 million ahead of spending from the same time last year.
"If everybody had sort of known that we are in a budget crunch, but they're still continuing the same practices, and continuing them in an excessive way," Watson said. "That's when the cabinet says, 'They're not getting the seriousness of what we're saying.'"
The university is dealing with what Watson called a "drastic" decline in enrollment, which is a major funding source for a university. He previously wrote that UW-W no longer has "robust reserves to weather challenges."
On the university's Whitewater campus, enrollment fell for the third consecutive year—dropping 4.1% to 11,586 students in 2019. The Rock County campus also saw a decline in 2019—an 11.6% decrease to 862 students.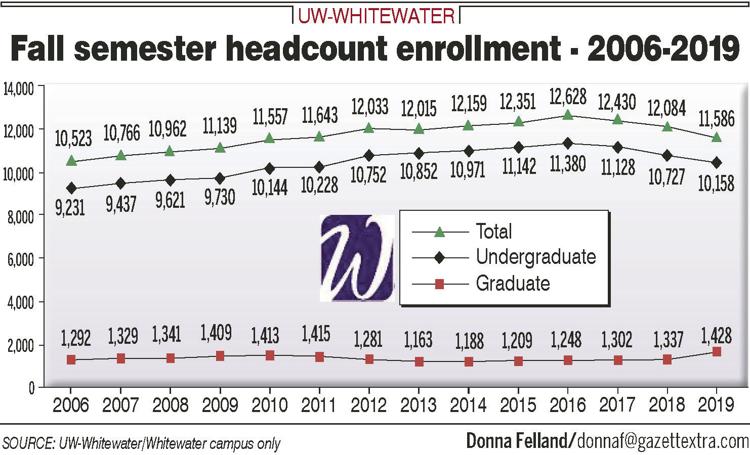 Whitewater Student Government livestreamed Wednesday's hourlong listening session, where nine speakers shared comments or questions. The university is holding another one Thursday morning, also in the University Center.
The first question came from an associate professor in the history department, who wanted to know specifics about the proposed cuts and how officials arrived at them, even if they are preliminary.
"This is important," he said. "We're being asked to make some decisions very quickly—in what appears to be days, hours, weeks."
Crickette said the administrative affairs budget is about $12 million, and the office is targeting cuts of $2 million this year and another $2 million next year.
Greg Cook, interim provost and executive vice chancellor for academic affairs, said officials plan to reduce the budget by 11.8% because enrollment is a little over 11% lower than its peak of 12,628 students in 2016-17.
Among other offices it oversees, academic affairs funds the different colleges, Cook said. The "framework" of cuts—and he stressed that this is a starting point because some figures are unknown—looks like this:
13% from the College of Arts and Communication.
10.2% from the College of Business and Economics.
8.3% from the College of Education and Professional Studies.
14.5% from the College of Letters and Sciences.
He said the percentages are different because officials looked at student credit hours, comparing the credit hours from UW-W's peak enrollment to the 2019-20 projections to look at student demand.
"All decisions about budget are difficult decisions," he said.
The next question focused on the effects on students.
Cook said they expect to offer fewer sections of courses in fall 2020 because of lower enrollment.
Artanya Wesley, interim vice chancellor for student affairs, said officials have "concerns" about University Health and Counseling Services after declining enrollment, "because we know that over 90% of their budget is reliant on student fees."
But she said students—and their wellness and safety—are the top priority when making budgeting decisions.
Other questions and topics brought up by the audience can be viewed on the Whitewater Student Government's Facebook page.
Watson began his speech Wednesday by calling the session a "courageous conversation." He said the guidelines for such a conversation included speaking your truth, experiencing the discomfort and staying engaged.
He also stressed that those at the university should be prepared if they are answering questions in the community. He said he did not want people to think the university is insolvent.
"When we have speculation, we are alarmed. We are fearful. And we begin to talk in a spin-based way," he said. "Now, we are the keepers of our culture. We are the spokespeople for our culture. We are the people that should be shaping and shepherding the message."
Update: This article was updated Thursday to clarify that UW-Whitewater officials are acting to prevent a potential budget deficit in the future.