The Franklin Middle School lunch room was exploding with noise.
The 1990s hit "Macarena"—you remember the dance—played at max volume while 11- and 12-year-olds chattered with each other in excited voices. So much had happened since they last saw one another—when was that?—about three hours prior.
That's a long time not to see your friends—and an even longer time not to have access to your cellphone.
Under new rules at Franklin, students must stow their phones in Yondr pouches during the morning period that serves as a homeroom and wait to take them out at lunch. Then after lunch, back in the pouches the phones go.
Yondr pouches, for the uninitiated, are soft cases that snap shut and stay closed with a strong magnet. The company sells their products to schools, concert venues, courts and individuals motivated to curb their phone habits.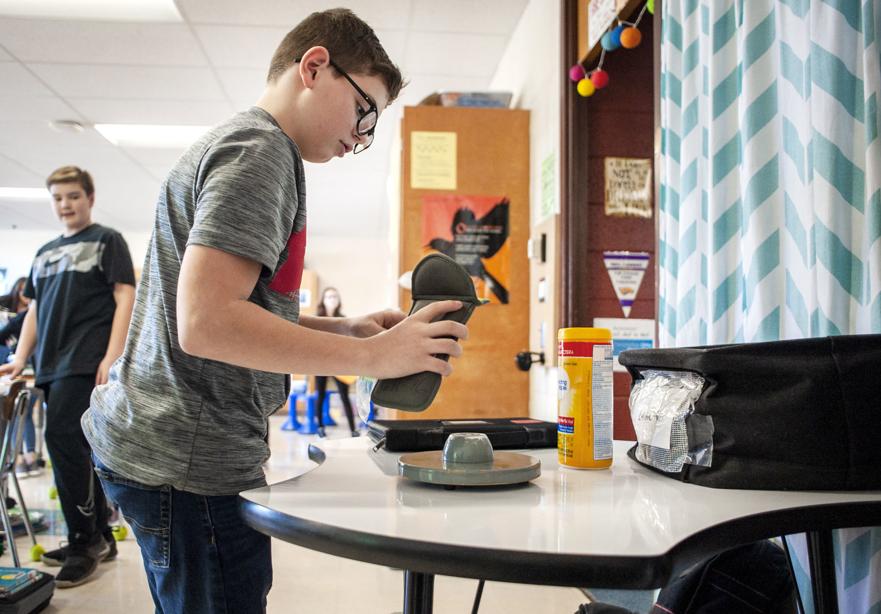 The protocol has worked so well at Franklin that the district is considering expanding it to all the middle and high schools, Janesville School District Superintendent Steve Pophal said in a recent interview.
Since the advent of cellphones, teachers have struggled to keep students from using them. The ability to pass notes was nothing compared to the ability to send texts—or the answers to exam questions. Now, smartphones can channel the entire internet, with its entertaining animals, streaming television shows and mountains of memes, straight into students' pockets. It became nearly impossible to get students to follow the rules, and constantly telling tto put their phones away turned into another disruption to the class routine.
"It's kind of a new reality we're dealing with, not just in education but in society," said Franklin Principal Charles Urness.
Even adults try to dodge any cellphone rules they come up against, Urness noted.
For example, during the impeachment trial earlier this year, senators were not allowed to have cellphones.
"So what were they doing? A lot of them were using their smartwatches to send messages," Urness said. "And these were 50- 60- and 70-year-old grown adults."
How do the students feel about the school's effort to curb their phone use?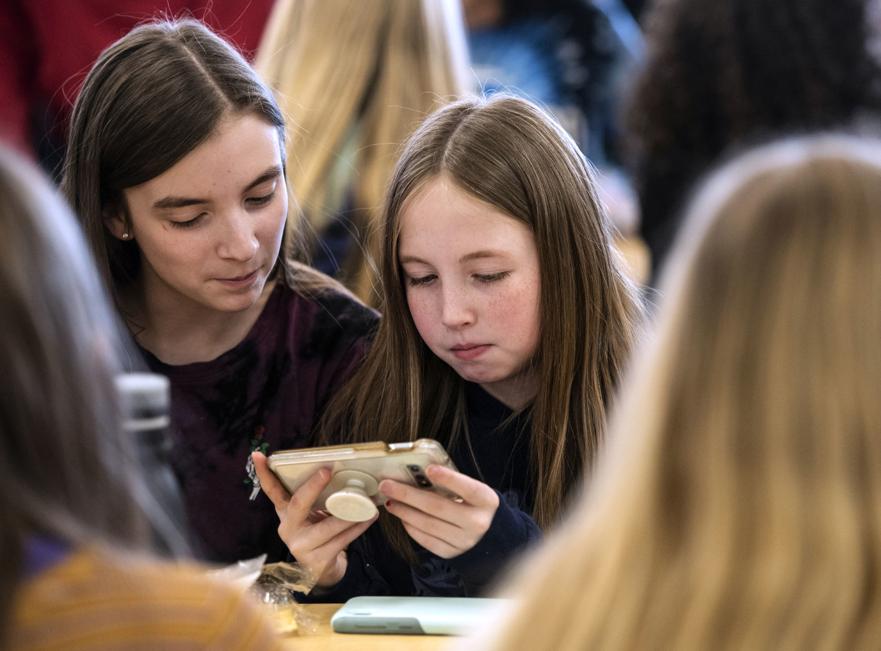 Leah Chitek, 11; Rylee Schmidt, 11; and Tayanna Kahl, 12, were watching TikTok dances on their phones during lunch. This was not a solitary activity—they all watched together, trying to learn the moves.
Chitek said she liked the pouches because they allow her to keep her phone with her rather than in a locker or at home.
The other girls agreed. Both Schmidt and Kahl said the pouches help them focus in the classroom.
Kylee Comstock, 11, wasn't a fan. She said the long pin that goes into the magnet scratched the surface of her phone.
Not all the parents were thrilled with the pouches, Urness said. How would they get a hold of their children in an emergency?
Urness reassures them that they can always call the school office or the classroom directly—just as people had done before cellphones existed.
He also acknowledged the Yondr pouches might not be the final answer.
"Technology is always going to be something we're dealing with, either a couple of steps ahead of it or a couple of steps behind, and trying to catch up," Urness said. "That's just a fact of life."