JANESVILLE
You could say it's been a rough couple of years for Catholic schools in Janesville.
St. Patrick School closed after 150 years in existence, and St. Mary came close to losing its middle school.
But you also could say that it's been a great couple of years for Catholic schools in Janesville.
When St. Patrick closed, it had only 11 students enrolled. And when the Diocese of Madison suggested moving St. Mary's middle-schoolers to St. John Vianney School, the Catholic community came to the rescue, raising more than $100,000 in less than six months.
It's not a miracle on par with the loaves and fishes, but it does give local schools plenty to celebrate during Catholic Schools Week, which runs through Saturday.
Catholic Schools Week is designed to honor the importance, value and uniqueness of Catholic education.
For St. Mary Principal Kim Ehrhardt, it's a time to celebrate family, community and faith at his school. That culture has always existed, but it's been more evident than ever in the past year, he said.
Last May, a planning group recommended that St. Mary's grades five through eight be moved to St. John Vianney School by 2020. Parents and supporters were dismayed by the news. Janesville has plenty of elementary school options, they said, but few pre-kindergarten through eighth grade options.
At a meeting, a church finance committee member told families that it would take an additional $100,000 to keep the school going. That would mean recruiting more students and more fundraising.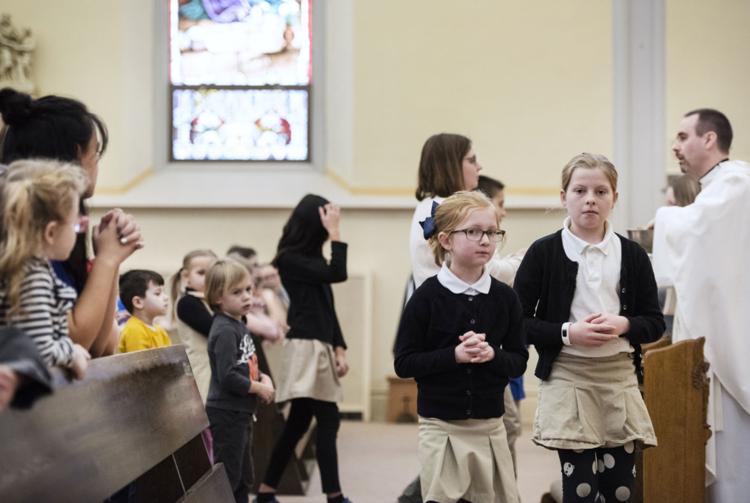 Rumors circulated that the school was going to close. By the time the dust settled, the school had lost 30 families, its principal and several teachers.
In turn, it gained the leadership of Kim Ehrhardt, former director of instruction and student services for the Janesville School District, and it reignited the Catholic community.
A homecoming gala, an appeal to alumni and parishioners, and a program of business sponsorships brought in more than $100,000.
"It was a huge success," said Dan Cunningham, a Friends of St. Mary's spokesman.
Cunningham said the crisis connected families that might not have gotten to know one another otherwise.
Ehrhardt also saw the community ties strengthen.
Like all parochial schools, St. Mary holds numerous annual fundraisers that require parent participation. This year, the school had fewer families but still managed to run all the fundraisers—and added a new one.
That says something about families' commitment—that it's not just about money, but also about time and energy, Ehrhardt said.
"Sometimes I think, 'I'm 65 years old. What am I doing here?'" he said. "But when I go to their meetings, they are so energized, and they care so deeply about their kids and their school and the program."
The theme for this year's Catholic Schools Week is "Rediscovering the St. Mary's difference," Ehrhardt said.
"I think first and foremost the difference is the sense of community," he said.
Each of the older kids has a younger child as a prayer buddy. The older students take the younger ones to weekly Masses and serve as role models for them at church, in the lunchroom and on the playground.
"The older kids know that the younger kids are watching them," Ehrhardt said with a smile. "When the older kids get a little bit too full of themselves, we do remind them of that."
The Rev. Rob Butz, pastor at St. Mary's Church, said one of the main reasons people send their children to Catholic schools is for the academics. But that sense of shared values, the idea that people are living for something larger than themselves, is part of the choice, too.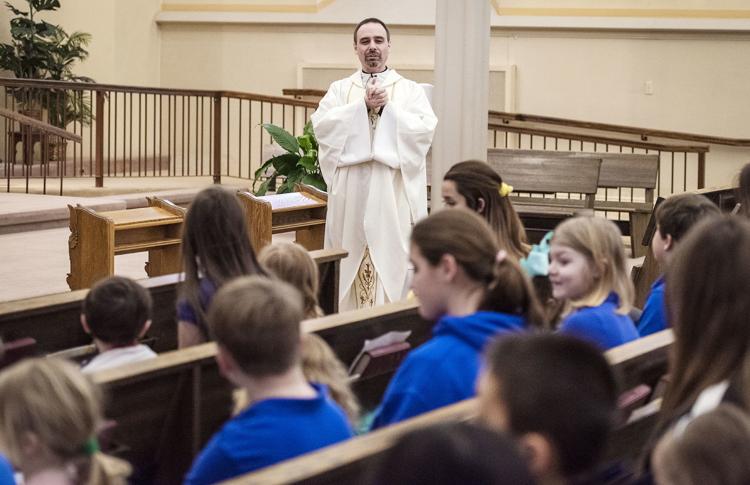 "I think what you can do in a private school that you can't necessarily do in a public school is ask the human questions: 'Who am I? What am I doing here? What is my vocation in life?'" he said.
The challenges for St. Mary and other Catholic schools aren't over. With families getting smaller, enrollment numbers are down in public and private schools across the state.
The Friends of St. Mary's will raise money again next year, but the amount needed is not yet known. The school also hopes to expand enrollment by offering another 4-year-old kindergarten class, after-school care for younger grades and busing between Janesville and Milton.
Ehrhardt said he also wants to reach out to Hispanic families who worship at St. Patrick's Church, which lost its school, to tell them what St. Mary has to offer.