The blaring of a trumpet echoed through Craig High School's band room Wednesday afternoon as band teacher Jake Wiele demonstrated the fine points of a musical arrangement to students on a video conference.
Miles away in the corner of his living room, Craig senior Jacob Hanekamp followed along on his laptop and then tapped out part of the song on the marimba, a deep-toned wooden xylophone.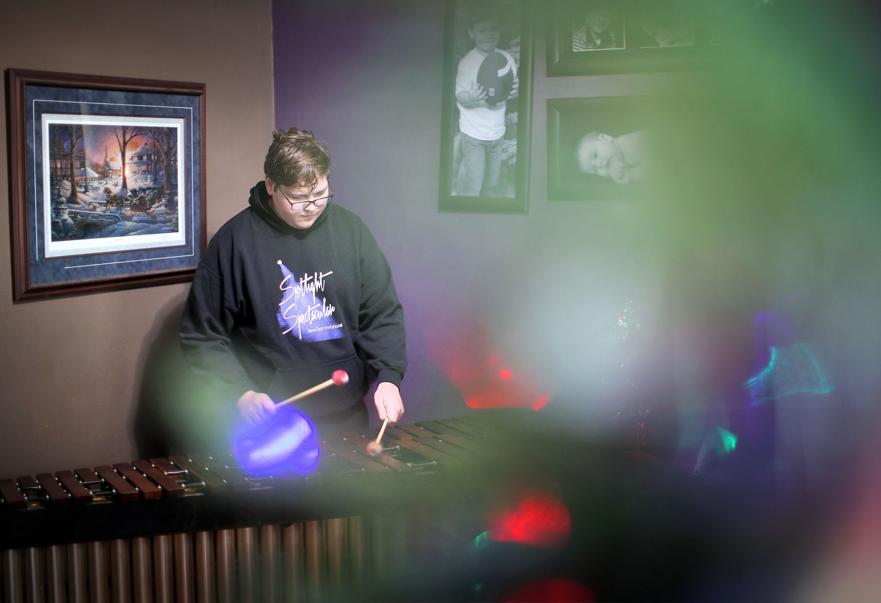 Music education looks much different this year because of COVID-19 restrictions. Band and choir teachers in the Janesville School District are among those who have had to adjust their teaching methods to accommodate distanced learning and safety precautions.
These days, the only instruments heard in middle and high school band rooms are those played by teachers. Students, meanwhile, will continue to learn and practice virtually until mid-January, per a school board decision last month.
When students are in person, Wiele teaches most of his classes in the auditorium instead of the band room so students can spread out. His largest class has about 60 students, which makes playing as a group more difficult, especially at a distance.
"I didn't realize how much being spaced out affects hearing because … music is really collaborative, and you're always doing it in synchronicity with everybody else around you based on what you're hearing," Wiele said.
"It was challenging, but at least we were together."
In a typical year, Wiele and Parker High School choir director Matt Knutson focus on group performances, teaching singers to make one cohesive sound. This year, the focus has been on individual skill-building.
"I've decided that the best way the kids are learning this year is just, we can't really collaborate," Wiele said. "It's like if we were to talk at the same time on the phone, you can't hear each other. Now multiply that by 60 kids all playing at the same time with varying internet speeds—it's kind of like a nightmare."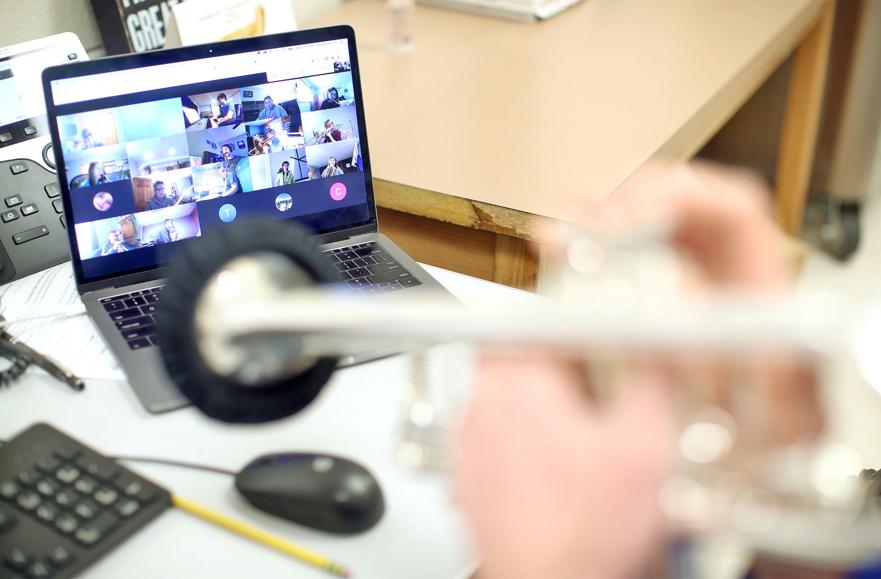 During a typical class now, Wiele plays his instrument for students to walk them through the music. Then he asks individual students to demonstrate their parts while other students stay on the mute setting. Students work on their own performances of the piece at home and send recordings to Wiele for critiques and grading.
For students such as Hanekamp, the individualized approach has a learning curve.
"A big thing about music is when you're first trying to learn, especially on marimba, it's easy to get lost. … So something I'll do in school is I listen for a cue from the band so I can jump back on. You can't really do that at home because you can't really hear the other people," Hanekamp said.
"It's definitely difficult, but it is possible."
Knutson follows a similar process.
He has students record themselves singing and then uses those recordings to offer critiques and suggestions. It's not a typical vocal learning environment, but Knutson said the students are seeing music in a new way.
"In a way, we've learned to be even more flexible with what we have in branching out and using technology in new ways so that students know they are improving and can then hear that and explain it," Knutson said. "And that gives students the opportunity to hear their voices, how it sounded early on, to how it sounds now and how their confidence has changed."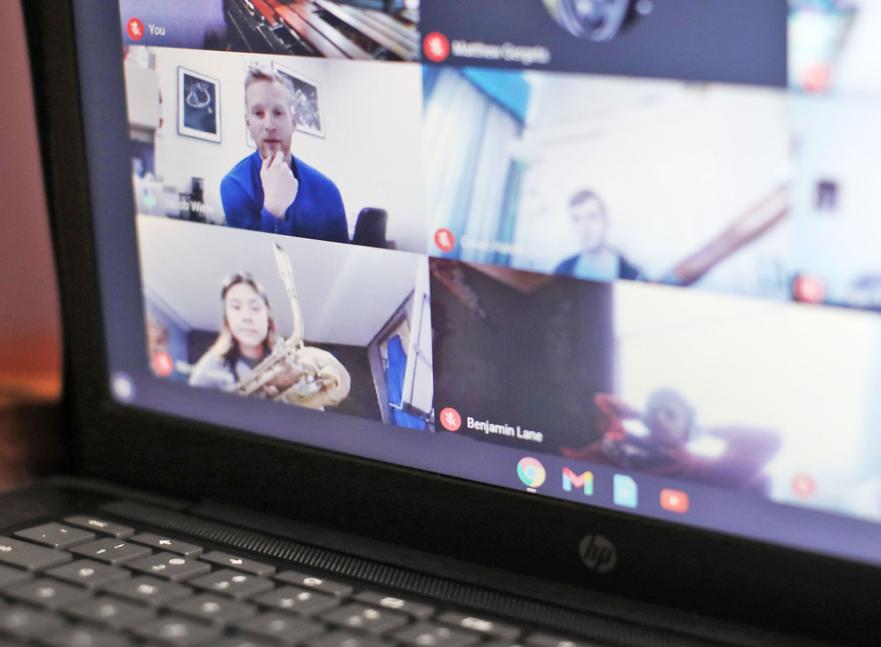 In-person classes with young musicians have changed, too.
Knutson's choir students wear larger masks, which allow more space for mouth movement. He sanitizes the seats after each class, and the classroom is set up to allow for social distancing.
Before colder weather moved in, Knutson would carry a keyboard outside so students could sing in the open air.
Changes are also evident when band students are in person at Craig.
Students have customized instrument masks that feature a small slit near the mouth just big enough for a mouthpiece.
Wiele discovered a study from Colorado that suggested providing a bucket for each seat. Inside each bucket is a bag with a paper towel to absorb the spit. Kids empty their spit valves into the bucket, and Wiele empties the buckets twice a day.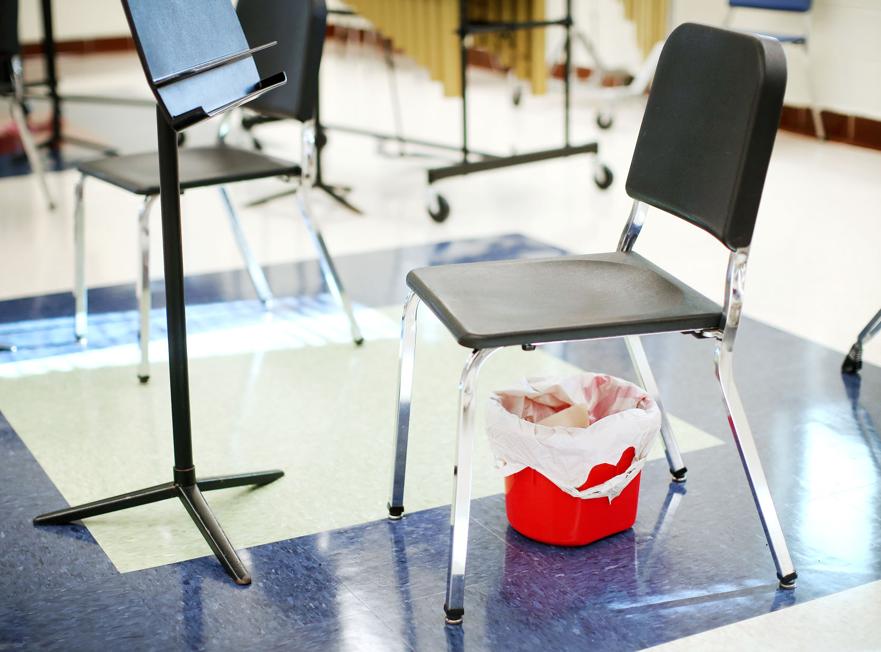 Music education has changed significantly, but both teachers say they are glad they can keep helping students discover their passion for music.
"I'm realizing how much I really enjoy being around, like, the energy of high school kids all the time, performing and those silly things that they do and that make my day really funny," Weile said. "It's those little things. Just like everybody else, we're missing those little things."
"It's like anything in life where we can be as prepared as we want, but there's always going to be changes, and we have to be flexible and remember at heart why we're doing what we're doing," he said.
"And even though we have masks, which makes it a little tougher to sing, the students made it work, and I'm really proud of everything that they've done up to this point. We've been able to put our music together and do it in a way that sounds like a normal year."