Kindness can result in big things.
This week, beatboxer, actor, poet and playwright Chesney Snow brought his school show "Kindness is a Superpower" to several Janesville schools. His Janesville appearances were funded by the local PTA.
Snow, who was born in Oklahoma, moved with his mother and sibling to Platteville when he was in high school. The family was homeless and lived for a time in a shelter for battered women.
"That experience of going to a place where, you know, not a lot of people looked like me," Snow said in an interview after his show at Van Buren Elementary School. "As a matter of fact, almost nobody looked like me."
It was kindness that got his family through hard times. It didn't make everything "just fine," but it made a significant difference in his life.
A theater teacher recognized Snow's potential and got him a part in a show.
"That moment changed the trajectory of my life," Snow said. "It made me feel like I was actually good at something."
That teacher stayed committed to him and even showed up at Snow's home and told his mother that he needed to go to college.
His music, beatboxing, is defined by Websters as "a musical style and technique based on the vocal imitation of percussion sounds."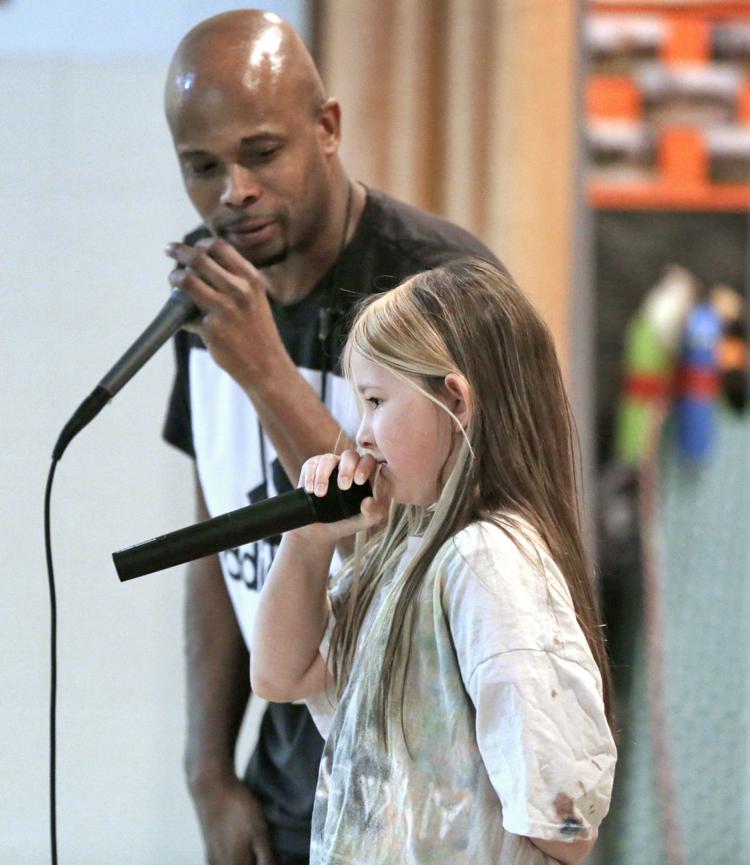 Snow has raised this to an art form, and the sounds go beyond the typical repertoire of drum sounds.
He rasps. He taps. He thumps, bops and drubs. He syncopates, chirps and generally just crushes it. It's like he takes apart music and puts it back together again, making a new instrument with his own voice.
In his presentations at schools, Snow talked and performed to students in their classrooms and in assemblies. He showed kids how to do this, giving them confidences and their own free musical instruments.
Snow's message was two-fold. First, acts of kindness matter. Second, students living in poverty and suffering from trauma can amount to something.
"They don't know that," Snow said. "They can't see it."
Snow ended up winning a Drama Desk award. He's a three-time artist in residence at Harvard University. He has written plays and inspired thousands of students in the New York City school system.
"I never knew all that stuff could happen to me," Snow said. "But at that time, those acts of kindness were the most important things to me."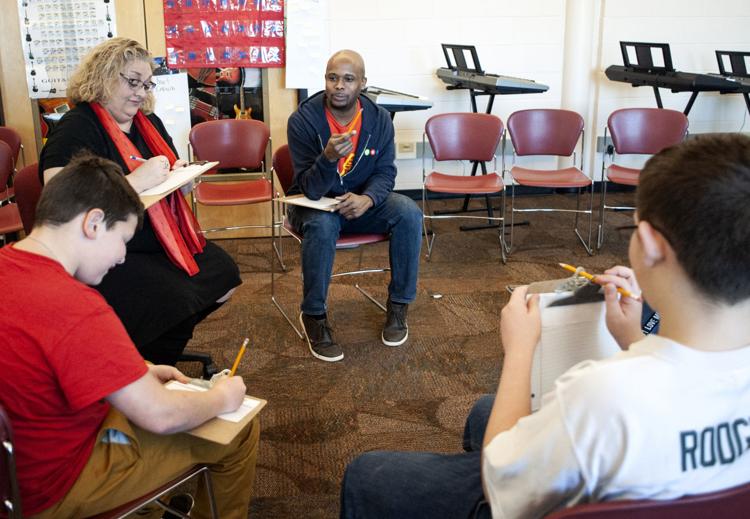 Snow's show made a particular impact on Van Buren Elementary School students.
February's theme is love and random acts of kindness, said Principal Stephanie Pajerski.
Teachers encouraged students to think about kindness in their classrooms, their schools and their communities.
Two of school's projects focused on homelessness.
Students collected 1,500 items for the House of Mercy homeless shelter. They raised $1,000 for Project 16:49, an organization that provides services for teens who are homeless.
The money came from what they're calling the "First Annual Lip Sync Contest" and spirit week in which kids paid $1 to dress up in spirit ware.
Those projects stressed community kindness. In school, older students became lunch and playground buddies for younger students who needed a little TLC.
Even the kindergartners got into the act. They celebrated the 100th day of school by bringing in 100 items for the Humane Society of Southern Wisconsin.
It's nice to be nice, of course, but celebrating kindness goes beyond that, Pajerski said.
For Snow, acts of kindness changed his life, launching him into a rich life. They also outweighed the vicious things that happened to him in high school.
Planning and carrying out those acts of kindness demonstrates to even the youngest children that they have the ability to do something meaningful.
"It empowers students," Pajerski said. "It shows that students can and do make a difference in the community and in the world."