A group of food service staffers wrapped up ham-and-cheese sandwiches on pretzel buns inside the Craig High School kitchen Wednesday as others across the room quickly filled to-go bags with chicken nachos.
Lunchtime is just one of many parts of the school day that has changed this year as the Janesville School District weathers a global pandemic.
"The world has been turned upside down for us," said Jim Degan, who oversees the food service program as nutrition manager.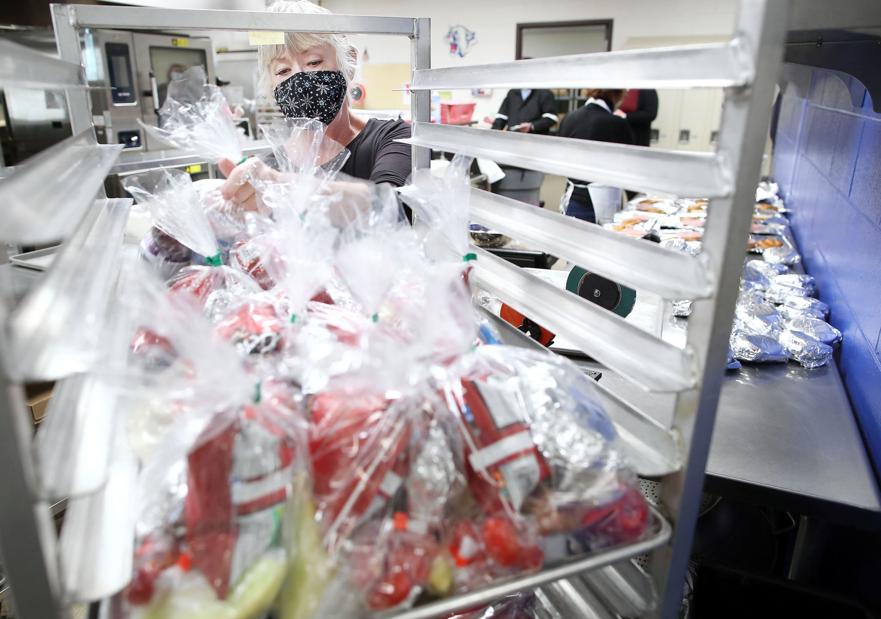 Elementary school students currently eat breakfast and lunch in their classrooms to prevent exposure to the novel coronavirus and unmasked time around other students.
Food service staffers leave meals in coolers or heating boxes outside classroom doors, and teachers bring them into the classrooms. Students have eaten breakfast in classrooms in the past, but the district added lunch this year to ensure safety.
When they deliver breakfast to the classrooms, staffers take orders for lunch, which offers two options.
Before November, when the middle and high schools switched to virtual learning, older students were eating together in their lunchrooms with fewer meal options and more distance between them.
Middle school students have about six meal choices in a typical year. That has dropped to three or four this year, and middle school principals are staggering lunch times to reduce traffic.
High school students have about 20 meal options in a typical year, and that number is closer to seven or eight now. One of the most popular meals, the sub sandwich line, had to be cut because meals no longer can be individually wrapped or created.
Serving areas also have been duplicated to create social distancing and eliminate congestion.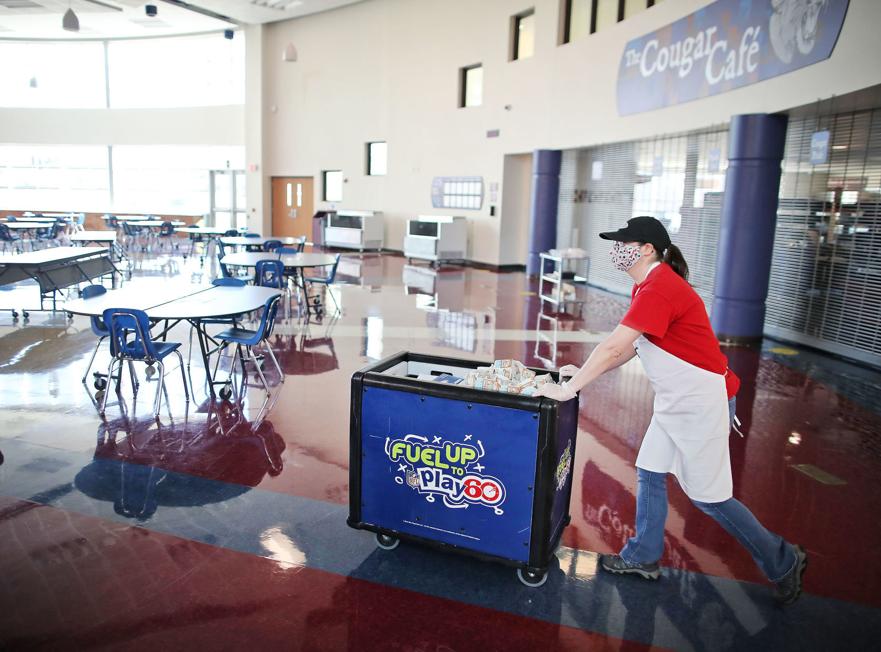 "I think all of our best laid-out plans we've kind of pushed to the wayside and sat and listened to the school board and the superintendent to find out what direction we're going to go in," Degan said. "Then we use critical thinking skills to make decisions and try to do what's best for the kids."
The numbers
During a traditional school year, parents deposit money for meals in students' lunch accounts. This year, traditional school lunches are free and covered by the district. Students at the middle and high schools can still buy a la carte items if they want.
The district serves about 10,000 meals a day between breakfast and lunch during a typical year. These days, it is serving about half as many.
When all schools were in person this year, the district served 5,000 to 6,000 meals a day. Since the virtual pivot in November, the district is serving about 4,500 to 5,000 meals a day.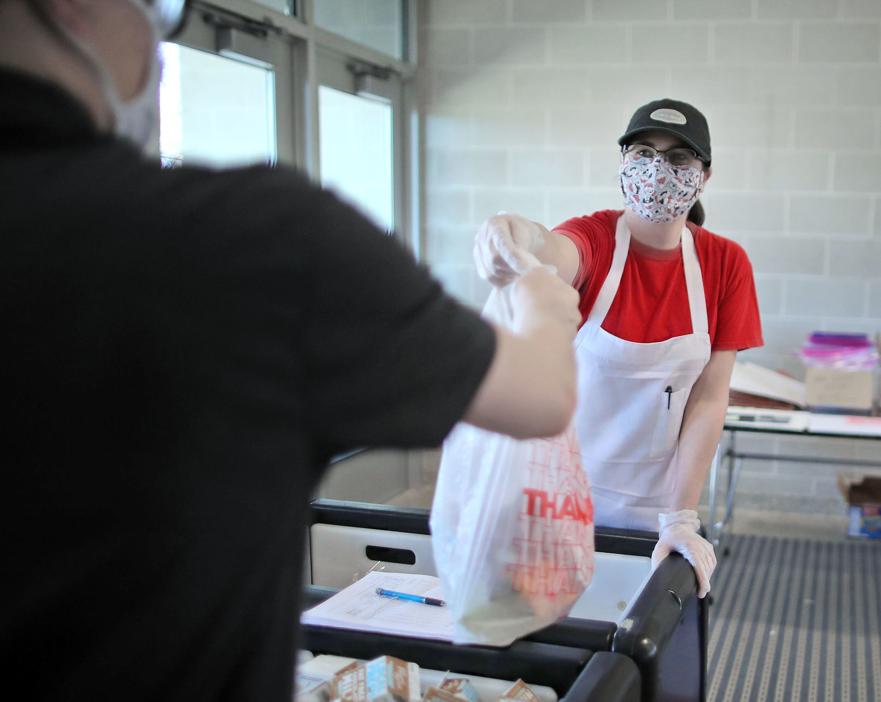 Any child who lives in the Janesville School District's boundaries can receive a free lunch and breakfast for the next day at one of eight pickup locations throughout the city.
Food service manager Elise Allen said the staff misses the kids.
"We miss the kids a lot," she said. "Our favorite time right now is 11:20 every day because we do have a few kids out there. ... That's the best part of the day."
The district is covering the cost of lunch through its summer food service program, which reimburses the district for meals at a higher rate than its traditional lunch program. That is possible through a one-year exception from the U.S. Department of Agriculture.
Degan said that allowance is important because the extra packaging and logistics this year have increased the cost.
"The reason they're higher is because you realize that there are added costs," he said. "A lot of times meals are given out at parks and different things like that, so there's logistics involved and there's added costs with logistics, as well. So for us, it's kind of a blessing. It's nice to have those added reimbursements."
However, the combination of paying for lunches this year and rising food costs means the nutrition program is losing money. District officials expected that, and officials have discussed it at past school board meetings.
Meals cost about $3.50 to $3.75 per lunch and $1.75 to $2 per breakfast, and revenue was down about $45,000 in September, for example, Degan said.
The problem should only affect this school year and won't dent district finances overall, he said.
"I'm thankful our program has been in sound financial standing in the past, so we have reserves so that we're able to cover things, so it doesn't come out of the district's pocket, out of Fund 10, which is important," he said.
"Next year I think we'll be back to normal, and I think our program is able to sustain itself, and we will be in positive standing. ... Right now, it's about trying to control what our costs and our losses are."
Fewer staff
Staffing changes have been common this year, too.
At the beginning of the year, eight to 10 nutrition department employees chose not to return to work because of the virus, and others were reassigned to work as paraprofessionals or in the custodial department so they could keep working.
With the middle and high schools learning virtually, some 12 to 16 more workers have been temporarily reassigned to keep them employed. They will return to food service when the students return.
About 10 employees opted to stay home. They will still have their jobs when students come back.
"Our staff are wonderful. They really are heroes," Degan said.
He hopes families take advantage of the free meals this year because they support the children and the district.
"I would urge all families in the community to take part in this program, because with them taking part in it, it helps our program so we aren't losing money," Degan said. "It keeps more people employed from the Janesville School District, and it provides a great service to the kids."