Families in the Janesville School District will decide for themselves what school looks like this fall.
The Janesville School Board on Tuesday unanimously approved a plan that will allow each family and student to decide whether children will learn in classrooms, virtually through ARISE or a combination of the two.
For all K-12 students, the district is offering the options of learning fully in-person or fully virtually.
Students in the middle and high schools will have a hybrid option: taking classes through ARISE and learning in person every day.
Communication will be sent to families Wednesday with next steps. Picking an education model for their children will be part of the registration process. The district will evaluate the responses from parents Aug. 1 to plan further for staffing.
Superintendent Steve Pophal said the district wanted to balance safety with academic needs, nutritional support, child care concerns for parents and other concerns.
"We came to the conclusion very quickly that only having one choice is a false choice," Pophal told The Gazette. "A one-size-fits-all (approach) is not what's going to be best for all kids in the long haul. We need to have way more diversity in our school programming than that."
The district resorted to a pass/fail grading system this spring, but traditional grading will return for all ages this fall regardless of learning method.
Schedules for students in the hybrid model will be customized for each student.
Students in the hybrid model could choose to take core classes such as science, math, language arts and social studies at ARISE before physically attending a Janesville school for electives such as band, welding and Spanish. The number of in-person classes will vary among students.
Special education students have individual educational plans, so the people on those teams will look at accommodations or modifications based on each student.
Pophal estimated ARISE could see more than 2,000 students with the changes, a large jump from last year's 200 students. Staffing ARISE likely will cost more this year as a result.
The district's charter schools—TAGOS, Rock University High School and Rock River Charter School—could offer smaller class sizes and in-person instruction for those uncomfortable with a full return, Pophal said.
No layoffs are expected with the changes, and the district is reaching out to retired teachers to see if they would be interested in helping at ARISE or in other areas.
Pophal said virtual learning, preferred by about 10% of parents in a recent survey, will be different from what students experienced at the end of this school year because they now have had time to plan and prepare.
"Don't confuse what happened this spring with what this virtual learning is going to be. We had no notice (this spring), so we had to really pare down the curriculum and shift what grading looked like because the circumstances necessitated us doing that. The virtual experience that awaits kids now will be robust, rigorous, comprehensive curriculums," he said.
Board member Michelle Haworth said her daughter has attended ARISE, and she applauded the curriculum. She said it is rigorous and intensive.
Allowing families to choose virtual or hybrid also will help those who prefer an in-person delivery method, Pophal said. Middle school and high school students already assembled their schedules for this school year, so the number of students in classrooms will go down as students choose hybrid or virtual.
"To the extent that people pick virtual or hybrid. ...What we're trying to do is reduce the size of the herd at each of our schools so that we have a better shot at keeping the people doing face-to-face safe. What we're trying to do is take 25 students (in a class) down to 15 or 18. To the extent that we can do that, we can get more space between kids."
Elementary-aged students will continue to use online learning platform Seesaw regardless of what model they are in. Middle school and high school students will use Google Classroom each day.
Teachers are training over the summer with the platforms, and the district has adopted an educational model dependent on the platforms that will be implemented district-wide, Pophal said.
Doing so will allow the district to quickly change to virtual education for all students if an outbreak occurs, Pophal said. The district is still working with the Rock County Public Health Department to determine what numbers would indicate an immediate shutdown.
"When kids come back to school ... they're going to be in these common learning platforms with common instructional pedagogy and agreed-upon curriculum across the district, which has not been in place. And so now if all of a sudden it's one o'clock on Wednesday afternoon and we find out starting tomorrow we're virtual for the next two days or the next two weeks, or whatever that is, it's kind of seamless."
Pophal said having the online platforms will allow the district to keep its promise of engaged and empowered learning and will likely change education for the foreseeable future.
"All of this is really wrapped around kids being more the creators of content instead of consumers of content," he said. "Here's a great example of how we're using something that's really unfortunate to pivot into an outcome that's going to really have long lasting benefits for the district."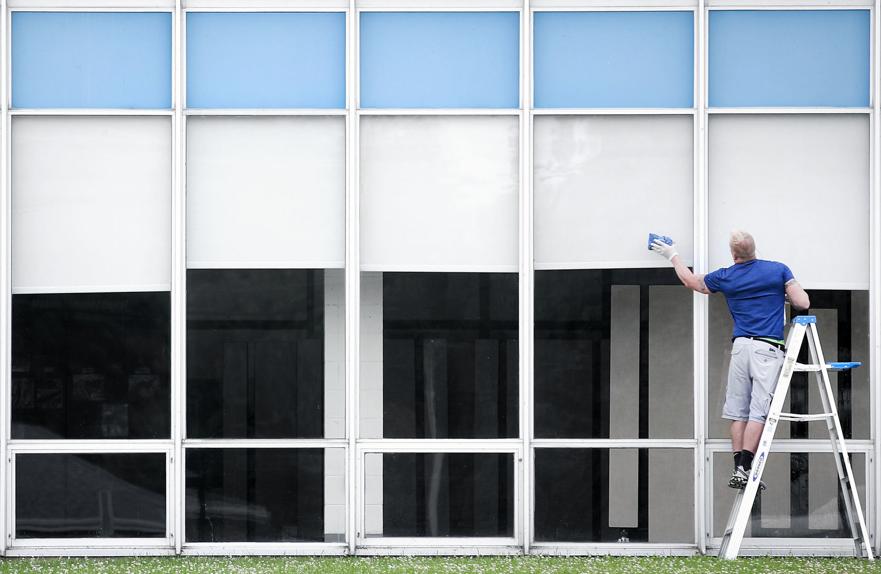 Protective measures
Students will not be required to wear masks when social distancing, but they will be highly encouraged. Masks will be required for small group work in which social distancing is not possible.
Protective equipment has been hard to come by for the district because of a nationwide shortage. The district is still waiting for some of the hand sanitizer it ordered in March, for example.
Prent Corp. donated 2,000 face shields to be used by teachers, and the district is expecting 40,000 cloth masks shortly, too.
Water fountains will not be open, but some water bottle fillers will be. Staff and students will be asked to complete health checks each morning before reporting to school.
Stickers that outline walkways in hallways will likely be added to schools. Principals and other building leaders are working to create building-specific plans for safety and daily operations.
Daily cleaning will continue, and sanitizing will be added. Students will be taught about hand washing and other best practices.
Two health rooms will operate at each school. One will be available to help with daily health procedures such as distributing Band-Aids, administering insulin and inhaler use. A separate room will hold students showing signs of COVID-19 until parents can pick them up.
Visitors will be reduced to appointments when possible. Almost all volunteer programs will be paused to reduce the number of people in schools.
The district has examined ways to accommodate employees who need time off, including the Families First Coronavirus Response Act. This will allow staff 10 days off without using sick days or vacation time. This leave of absence can be used if a family member tests positive and in other outlined COVID-19 situations.
Employees with health issues worried about exposure could be given the option to teach at ARISE, Pophal said.
Bridging the gap
Survey results shared earlier this month show 80% of parents would be comfortable with in-person instruction this fall. Those results helped the district build the reopening plan.
Pophal said the survey results were expected but were important to "confirm what we believed our parents want and what our community needs."
Students will take a reading and math assessment at the beginning of the school year to examine progress and educational landmarks. The assessment is given every year.
Teachers already are working together to rebuild the curriculum for the school year and may back-fill essential parts of the curriculum missed in the 2019-20 school year. As an example, fourth-grade math may begin by reviewing and learning parts of advanced third-grade math.
As the district navigates the opening, Pophal said, it will require buy-in from everyone involved.
"The key here isn't just to open on Sept. 1. It's to stay open in the long haul. A lot of people might be happy that we open on Sept. 1, but if we have to close on Sept. 30 and pivot to virtual … that's not good enough," Pophal said.
"We're going to ask parents, students and staff to be part of the solution. If you want school to stay open, then we all need you to help."
Ernesto Galindo, a student at Craig High School, disagrees with reopening school fully and worries about the spread of COVID-19 for both staff and students. He said virtual learning was working.
His mother, Evelyn, is a teacher in the Beloit School District and shared concerns, as well.
"There is no possible way that one student with the coronavirus cannot pass it to someone else," Ernesto said.
He was one of a handful of parents, teachers and students who spoke to the board about the policy.
David Groth, president of the Janesville Education Association, asked the school board and administrators to examine other school districts that open before September and take notes. He told them to make sure there are plans in place for transitioning out of in-person instruction.
Board member Cathy Myers, who also teaches English at Hononegah High School in Rockton, Illinois, started to cry Tuesday as she thanked those who created the reopening plan, saying she worries about returning to the classroom for both teachers and children, but the plan makes her feel better about it.